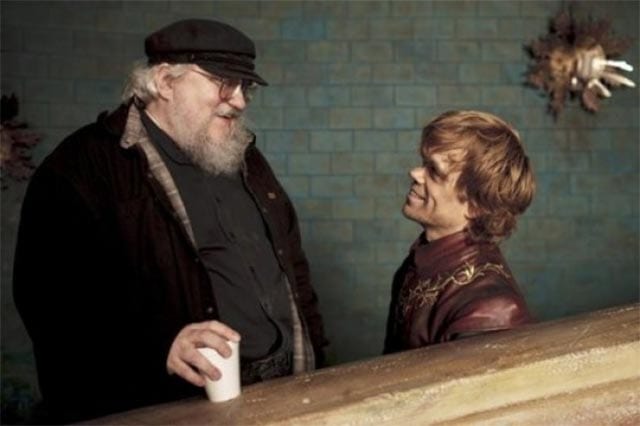 Mit Game of Thrones hat George R.R. Martin der Serienwelt ein Spoilerfass noch nie zuvor dagewesenen Ausmaßes beschert. Eine weltweit enorm erfolgreiche Serie, die auf Romanen besteht und größtenteils sehr nah an selbigen erzählt wird. Bedeutet: alle, die die Bücher bereits kannten oder im Nachgang gelesen haben, haben einen Wissensvorsprung – und eine neue Spoiler-Ebene besteht.
"Bist du aktuell mit Game of Thrones?" – "Bücher oder Serie?" – "Oh weh…"
Noch nie war es so schwer an Spoilern herum zu manövrieren, noch nie konnten Spoiler in einer Serie derart dramatische Konsequenzen haben. Wöchentlich sterben gefühlt Charaktere, die durchaus wichtig für die Handlung sind. Und doch ist der Erschaffer dieser Welten Spoilern gegenüber recht skeptisch unterwegs. Kein Wunder, er kennt die Story ja als Erster…
"This whole concept of spoilers is one that I've never gotten," he says. "Yes, there's a pleasure when you're reading a book, or watching a television show — What will happen next? Who will win? Who will lose? But that is by no means the only reason to watch a movie or a television show. It's not the only reason to read a book.

[…] I read a lot of historical fiction, you know? I know who won the Civil War — it's not a spoiler to me. But I can still enjoy Gettysburg, even though I know how the battle came out. I can still enjoy historical fiction about the Wars of the Roses, even though I know who won the Wars of the Roses.

And for that matter, I still enjoy watching Citizen Kane every few years even though I know 'Rosebud' is the sled. So there — I just gave a terrible spoiler to all the people who haven't seen Citizen Kane. Rosebud is the sled, but nonetheless, you should still watch Citizen Kane, because it's incredible!" Martin laughed a deep, satisfied laugh.
Das hat er in einem Interview mit The Verge von sich gegeben. Ja, kann ich irgendwie nachvollziehen, schließlich liegt vieles des rezeptiven Unterhaltungserlebens an der Inszenierung, der tollen Kameraführung, des großartigen Schauspiels und der Effekte. Wieso sonst sollte man Filme schauen, deren Ende man kennt (Titanic) oder gar mehrfach anschauen? Gerade, weil man eben die kleinen Details nach und nach erkennen und schätzen möchte.

Und doch bin ich ein Feind von Spoilern. Zumindest im Großen. Das nimmt dann doch die Dramatik, die Überraschung und den Impact, wenn man gewisse Ausgänge (bspw. der Kampf von Viper und Mountain) bereits zuvor mitbekommt. Höchstens kommt dann noch der innere Gedanken des "wie stellen die das wohl an?" als eine Art Vorfreude und Aufgeregtheit. Und doch kann Dramatik nicht ganz so intensiv erlebt werden, wie wenn man in Unwissenheit schwelgt.

Das trifft natürlich (in beide Richtungen) nicht für sämtliche Arten von Spoilern zu. Vermutlich macht daher weder die Verteufelung jedes Mini-Mini-Mini-Spoilers noch die totale Toleranz Sinn. Ich will euch jetzt aber auch nicht das Ergebnis dieser Diskussion spoilern und belasse euch im offenen Selbstbild… :)

via: pewpewpew | Bild: HBO

-->