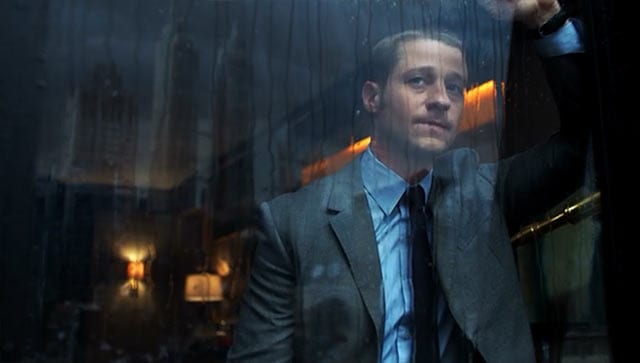 Mittlerweile sind sechs Folgen der ersten Staffel der DC-Serie Gotham vorbei. Zeit für ein kleines Zwischenfazit. Denn auch wenn mich der Auftakt noch nicht wirklich überzeugt hatte, schaue ich die Serie mittlerweile doch ganz gerne. Das liegt zum einen daran, dass es tatsächlich genug Futter zu geben scheint, um eine einigermaßen funktionierende Story zu basteln, aber vor allem an den einzelnen Charakteren.
"I'm gonna be someone in this town." (Penguin)
James Gordon als von Gewissensbissen gezeichneter Guter in einer verruchten Stadt und Cobblepot aka. "Penguin", der sich klangheimlich irgendwie zur Hauptattraktion der Serie gemausert hat. Genau diese verrückten Charaktere und teils das Wissen, was aus ihnen noch werden wird, macht den Reiz aus. Dazu hat die jüngste Episode "Spirit of the Goat" demonstriert, dass man durchaus an komplexeren Einzelfolgen und Entstehungsgeschichten von Charakteren interessiert ist.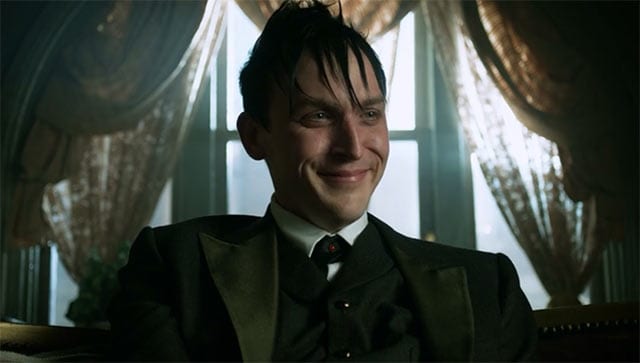 Wir erhalten einen Rückblick um 10 Jahre, sehen einen damals noch ambitionierten Junior Detective Bullock, der scheinbar Gordon gar nicht so unähnlich war. Hat die Stadt ihn herunter gezogen? Oder der damals bereits sehr Bullock-heute-hafte Partner Dicks? Oder einzelne Vorfälle wie der damalige? Ein verdammt nah an einer Batman-Optik aussehender Verrückter mordet Reichen-Mädchen – und der Fall taucht Jahre später nochmal auf.
"Gothams golden rule: no heroes!" (Bullocks alter Partner Dicks)
Schön sind auch kleine Gimmicks wie die Fragezeichen-Tasse von soon-to-be-Riddler Nigma, der bei der Polizei irgendwie von allen missverstanden wird. Hat was von der kühlen Denke eines Dexters gepaart mit dem Fremdschäm-Faktor von Stromberg. A pro pos DEXTER: David Zayas (aka. Sgt. Angel Batista) spielt einen Don, sehr schön den mal wieder zu sehen.
Insgesamt spielt die Serie mittlerweile schön das Potenzial aus, die Charakterentwicklung von James Gordon zu zeichnen. Wie sehr kann eine Stadt einen Mann verändern, wie sehr ein Mann eine Stadt? Und welchen Mann benötigt es dazu?
"I came here to be a cop. This city needs something else." (Jim Gordon)
Hinzu kommen liebevoll badassige Charaktere wie Alfred Pennyworth (einfach immer wieder der Knüller!), der großartige Penguin und auch all die kleinen, kreativen Klein- und Großkriminellen. Erste Vigilantes, wie bspw. ein Wetterballon-Killer, zeigen, in welche Richtung es geht und dass die Stadt sich selbst nicht aufgibt im Sumpf aus Korruption und Manipulation. Und der kleine Bruce Wayne hat aufgehört mit teils stumpfen Verbesserungs-Übungen, wie der Selsbtverkokelung und fängt an, die Beziehungsstrukturen und Machtpositionen Gothams zu studieren. Das wirkt alles etwas kompakter und stringenter als zu Beginn.

Alles in allem hat sich Gotham gemausert. Gemausert zu einer dunklen und einzigartigen Welt, die es auch immer wieder schafft, mir einer Prise Humor für Auflockerung zu sorgen. Für mich deutlich gelungener als S.H.I.E.L.D., weil eben ernster und sich ernster nehmend. Ich bin jedenfalls gespannt, wie diese Staffel endet und vor allem, ob wir in zukünftigen tatsächlich den kompletten Bogen zum "fertigen" Batman geschlagen bekommen. Da wäre so ein Kinofilm am Ende ja eigentlich Pflicht, oder?

-->