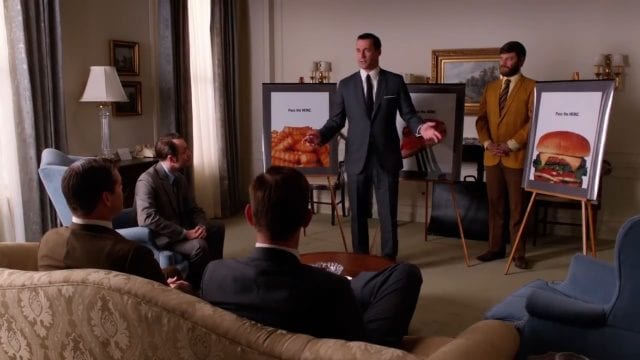 "Then"
Im AMC-Drama Mad Men hat der charismatische Don Draper so einige Ideen entwickelt, vor namhaften Kunden wie Lucky Strike vorgestellt und damit einige Pitches für sich und seine Agentur Sterling Cooper Draper Pryce gewonnen. Anders lief es da bei Heinz Ketchup: Draper präsentierte seine Idee, das Produkt in der neuen Kampagne nicht einmal zu zeigen, sondern das Verlangen nach diesem Produkt mit Bildern zu erregen, zu denen das Produkt perfekt passen würde. "Pass the Heinz" lautete sein Werbeslogan dazu. Doch der Kunde war in der fiktiven Welt von vor 50 Jahren von dieser unkonventionellen Idee nicht überzeugt und lehnte ab.
"It feels like half an ad."
Die Pitch-Szene stammt aus Episode 4 von Staffel 6 und trägt den Titel "To Have and to Hold". Ihr könnt sie euch hier noch einmal anschauen:
Now
Nun aber wird die fiktive Kampagne noch einmal hervorgekramt und umgesetzt – und zwar in echt! Denn Heinz will die Werbung genau so, wie Draper sie "damals" vorstellte, verwirklichen – in Print und auch in einer Out-of-Home-Reihe. So sind nicht nur Anzeigen in der New York Post und der Variety geplant, sondern auch große Billboards und natürlich die Verbreitung in sozialen Netzwerken.
50 years later, and we still don't believe you should settle for fries without Heinz. #passtheheinz https://t.co/OpJNjMLwGM pic.twitter.com/FjfLS70xUZ

— Heinz Ketchup (@HeinzKetchup_US) 14. März 2017
Credits
Hier hat nicht nur die Serie dem realen Unternehmen geholfen, doch auch das Unternehmen der Serie, denn die bekommt passend zum im Juli anstehenden 10. Jubiläum (der Erstausstrahlung) noch einmal ordentlich Aufmerksamkeit. Und das Beste an der ganzen Sache? Die Werbung wird nicht nur der aktuellen Agentur von Heinz, DAVID, zugeschrieben, auch Dons fiktive Agentur Sterling Cooper Draper Pryce sowie Protagonist Draper und Mad Men Schöpfer Matthew Weiner erscheinen in den Credits der Ad. Solch eine Kooperation aus einer realen und einer fiktiven Agentur gibt es wohl auch eher selten.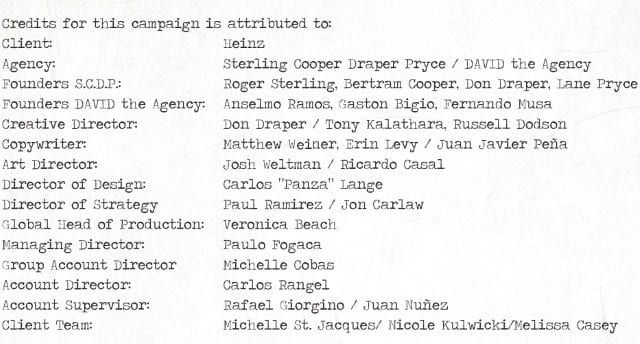 Kampagne
"Even though Don Draper created the 'Pass the Heinz' campaign almost 50 years ago, the communications still really work in today's world. Mr. Draper really understood the one thing every Heinz fan knows, which is to never settle for the foods you love without the great taste of Heinz. What we loved about the campaign is that it doesn't require paragraphs of copy to explain it. It features mouthwatering food images, and all that's missing is the Heinz." – Nicole Kulwicki (Head of Heinz)
Die "mouthwatering food images" wurden allerdings noch einmal aufgenommen, denn aus der Serie lagen die Dateien nicht mehr vor. Mad Men kann ja auch nicht die ganze Arbeit machen. Dies sind die Bilder der Kampagne:

Mouthwatering trifft es ganz gut!

via: Ad Week

-->