Die siebte Folge Helix: Eigentlich schaue ich nur noch weiter um meine mir selbst auferlegte Challenge "Watch Helix Season 1 – no matter the cost" zu erfüllen und – sogar etwas gewichtiger, Zugfahrten auszufüllen.
Also zu Folge 7. Ich habe mich auf dumme Dialoge, neue langweilige Geheimnisse und nervige romantische Avancen zwischen Alan und Sarah eingestellt aber was passiert, ein neues Gesicht, neues Leben in der Serie Helix. Die Schauspielerin Jeri Ryan, bekannt aus Star Trek Voyager, rettet diese Folge und könnte tatsächlich den Turnaround von Helix bedeuten. Auch bei Voyager hatte Jeri einen großen Anteil daran, dass die Serie es auf 7 Staffeln brachte.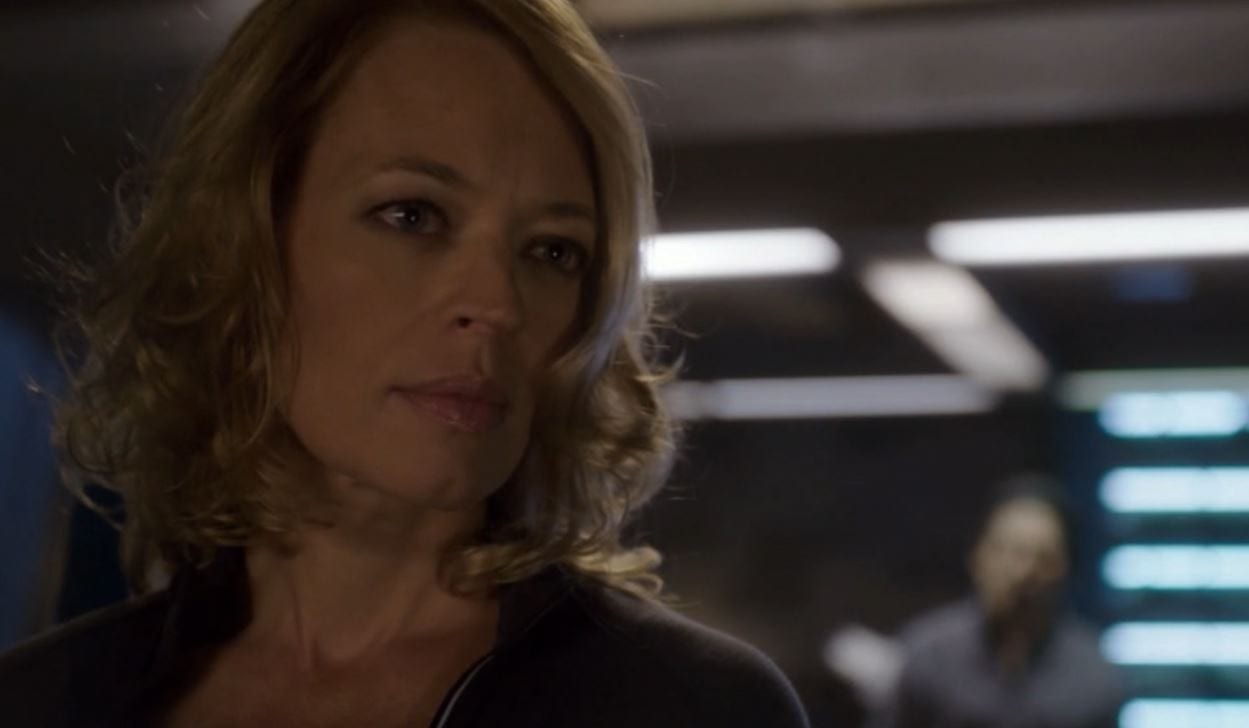 In diese Folge sehen wir Jeri bzw. Constance Sutton genannt, die mit einem Trupp Elitesoldaten in die Basis stürmt und Kante zeigt. Freundlich aber bestimmt tritt sie auf und weist Hiroshi in die Schranken. All negative Elemente der vergangenen Folgen sind natürlich nicht weggewischt, aber sie bietet endlich Halt. Ein Ende der ausschweifenden und nicht enden wollenden Geheimnisse, endlich eine klare Grenze in dem sich die Geschichte entfalten kann, ich zitiere mich selbst:
Seven of Nine saves the day
Constance ist der harte Hund, die Vertreterin der böse Firme oder Investoren, die hinter dieser ganzen seltsamen Operation im Eis stehen. Sozusagen Frau Dharma Corporation. Diese Rolle mimt sie sehr gut, tritt zunächst hinterlistig nett auf um dann, wenn die anderen nicht kuschen, ihr wahres Gesicht zu zeigen. Es macht einfach Spaß ihr in dieser Rolle zu zuschauen.
Was passiert sonst so? Daniel, Hiroshis rechte Hand wird zum Zweifeln gebracht, denn seine Schwester kommt in die Basis und erzählt ihm davon, dass er als Kind gekidnappt wurde. Ansonsten rettet Hiroshi Julia aus dem Quarantänebereich, um sie vor der neuen und bösen Constance zu retten.
Zusammenfassend bleibt der Eindruck, dass die Story nach wie vor nicht der Knüller ist und auch Seven (ja ok, hier heißt sie Constance) die Serie nicht sofort auf ein super Niveau hieven kann, aber die Talfahrt ist gestoppt! Ich habe tatsächlich Lust darauf die nächste Folge zu schauen.
Meine Meinung: