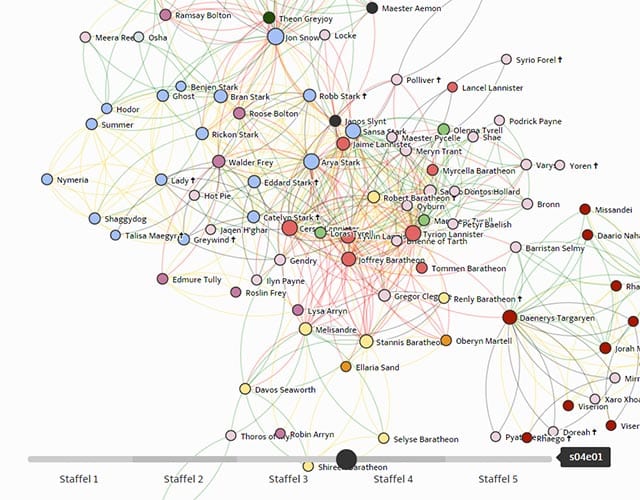 Durch die tolle interaktive Game of Thrones-Karte wissen wir, wo sich welcher Charakter zu welchem Zeitpunkt (von Serie oder Buch) aufhält. Die Süddeutsche hat jetzt aber ein feines Online Special veröffentlicht, bei dem es um die durchaus als wechselhaft zu bezeichnenden Beziehungen zwischen den Charakteren geht. Ist anfangs alles noch recht simpel gestrickt, wird es immer verwobener und da dann keiner mehr in ganz Westeros (außer vermutlich Varys und Littlefinger) durchblicken, wer da wen betrügt, ist das doch mal eine ganz gute Nachlektüre.
"Allianzen, Intrigen, Mord: Wer ist Freund, wer Feind im "Game of Thrones"? Das Beziehungschaos zwischen 116 Menschen, Wölfen und Drachen als interaktive Grafik – für jede einzelne der bislang 50 Episoden."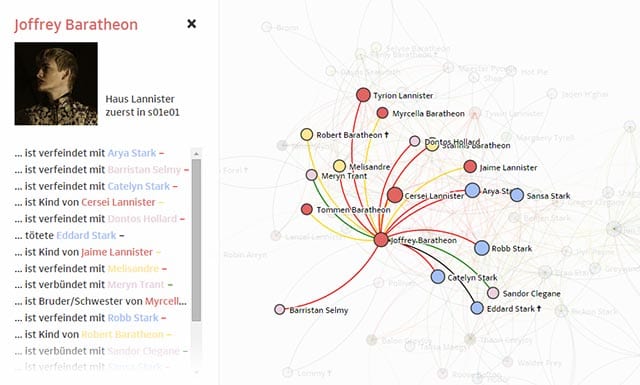 Sehr gelungene kleine Spielerei von Matthias Huber und Steffen Kühne. So machen Infografiken Spaß!
via: Deine Sky Serien