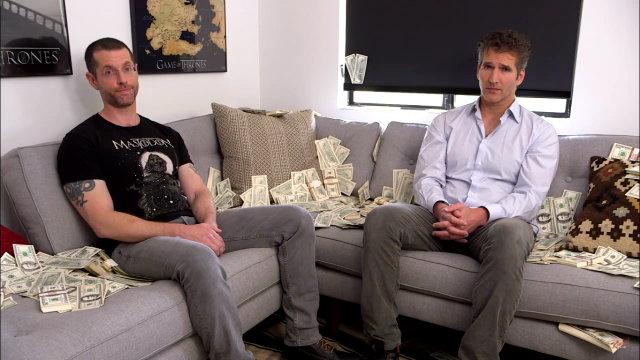 Der Schock sitzt nach der letzten Folge Game of Thrones noch immer tief, das Netz ist voll von Diskussionen von Menschen, die hin und her gerissen sind zwischen der guten Inszenierung der Episode und der Trauer, die am Ende zurück bleibt. Und mittlerweile findet man schon wieder unheimlich viele Videos von Fans, die sich beim Schauen von S06E05 gefilmt haben und deren erschütterte Reaktionen nun wiederum zu erneuten Reaktionen bei uns führen.
Nun haben sich die Macher der Serie, D.B. Weiss und David Benioff, im Rahmen der Jimmy Kimmel Live Show für das Ende der Episode "entschuldigt". Doch nicht etwa, weil sie mit Hodor eine so geschätzte Figur ausgeschaltet haben. Nö. Das haben sie nämlich laut eigenen Angaben schon 739 Mal mit wichtigen Figuren gemacht. Doch etwas anderes tut ihnen daran wirklich leid.
"We're sorry for all the iditos who from now on will be shouting 'Hodor' every time you go through a door." (David Benioff)
Wenn man sich dann allerdings anschaut, auf welch kreative Art und Weise Fans der Serie alles mögliche erschaffen, das über einen Fahrstuhl-Witz hinausgeht, will man das Wort "Idiot" ganz schnell wieder aus seinem Wortschatz streichen und niederknien.

via: TVLine Bild: ABC Studios