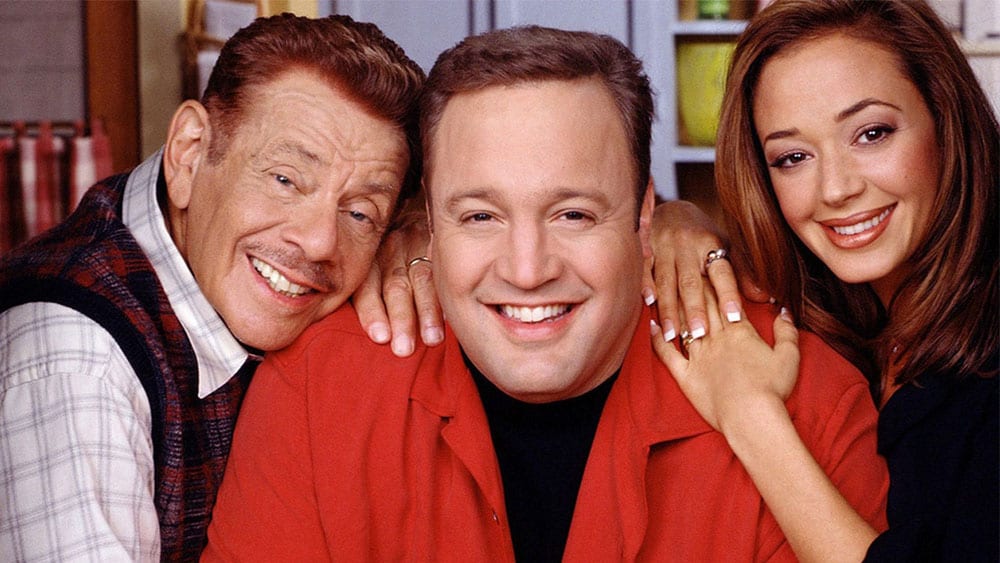 Ich habe etwas überlegt, ob ich "King of Queens" überhaupt als "Klassiker" nehmen kann, ist die letzte Folge ja nicht einmal neun Jahre her. Aber für mich fühlt sich das bereits wie eine Ewigkeit an und noch immer ertappe ich mich regelmäßig dabei, Sätze mit "Kennt ihr die Folge von 'King of Queens', in der…" zu beginnen. Ein bisschen wie die Simpsons hat mich die Sitcom um Paketlieferdienst-Truckfahrer Douglas Heffernan geprägt. Ich denke, da geht es nicht nur mir so. Und wenn man erstmal in alte Ausschnitte und Bilder der Sendung rein schaut, wird einem bei der schlechten Bildqualität dann doch bewusst, wie lange das schon her ist. Kennt ihr eigentlich die Folge von "King of Queens", in der Doug unbedingt einen HD-Fernseher kaufen will…?
"Friends just keep you away from TV." (Doug)
Die Figuren
Wie das bei Sitcoms so ist, dreht sich alles um Charaktere und die waren mit gewaltigem Gewicht vorhanden (pun intended). Anstatt sie euch plump aufzuzählen, lasse ich Doug sie euch einfach noch einmal ins Gedächtnis singen…
Mir hat aber eben auch gefallen, dass es einige richtig tolle Nebencharaktere gab. Eben Personen, bei denen man sich gefreut hat, wenn man sie immer mal wieder zu sehen bekam. Das hat nicht nur für Unterhaltung und Abwechslung gesorgt, sondern nebenbei auch noch wichtige Lektionen über Freundschaft und Familie erteilt. Und eben auch einige Schauspieler zu Stars gemacht hat. Fun fact: Eigentlich sollte Mega Mullall die Rolle von Carrie spielen, hat sich dann aber doch für "Will & Grace" entschieden. Tjoa…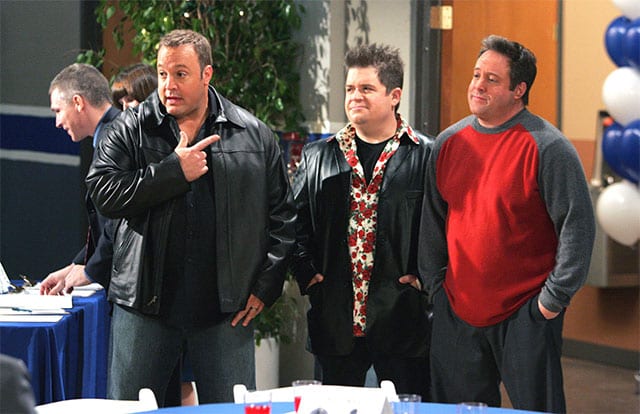 Dabei war Doug Heffernan übrigens keineswegs ein gänzlich neuer Charakter. Bereits vor der Ausstrahlung der ersten KoQ-Folge war seine Figur in Gastauftritten bei "Alle lieben Raymond" (1996 / S03E09+18), "Becker" (1998 / S01E20) und "Cosby" (1996 / S03E09) zu sehen.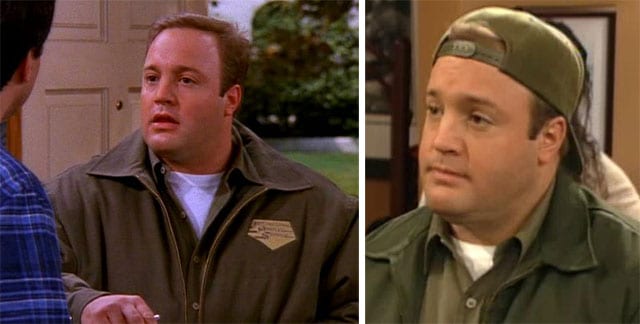 Wie eng die Serien teils verwoben waren, sieht man auch an den Retour-Gastauftritten und gar größeren Nebenrollen in King of Queens – hier trifft Doug auf Ray:
Der Humor
Der Humor von Doug lag total auf meiner Wellenlänge. Dazu ein vergreister-Zausel-Opa Arthur, der sich über zu salzige Salz-Cracker beschwert und die nötige Prise Pfeffer mitbringt. Wenn dann plötzlich Ben Stiller den Vater von Arthur spielt, der eigentlich von Jerry Stiller, also dem Vater von Ben gespielt wird, zerbricht nicht nur das Raum-Zeit-Kontinuum sondern auch der ein oder andere Schmunzelmuskel bei den Zuschauern. Und ja, "Schmunzelmuskel" ist ein wunderschönes Wort!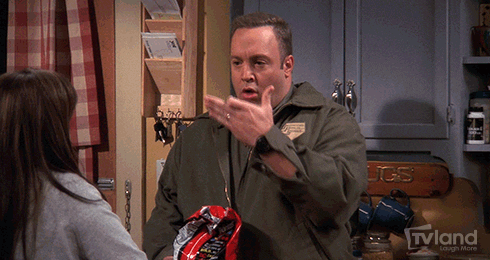 Irre Zufälle, aufgedeckte Scheinheiligkeiten und der normale Familien-Wahnsinn – immer wieder gab es Momente, die man einfach nachvollziehen konnte, weil sie so realistisch waren und man sie vielleicht selbst so oder so ähnlich erfahren hat. Bei Süßkartoffeln im Supermarkt-Regal muss ich jedenfalls noch immer daran denken, dass die guten vermutlich irgendwo im Lager liegen, damit die Stars und Promis sie sich abholen können.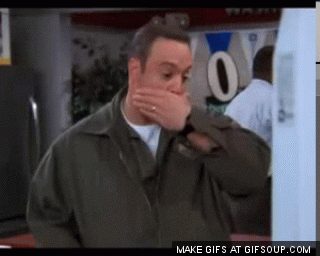 Ach kommt – ich weiß gar nicht, was ich noch schreiben soll. Ich habe die Serie geliebt, sie hat meinen Tag strukturiert und ich habe vermutlich jede Episode mindestens drei Mal gesehen. Hier eine Hand voll GIFs, um die Erinnerungen aufzufrischen.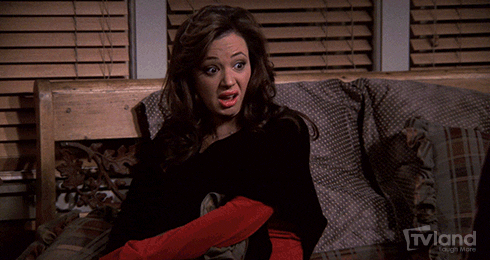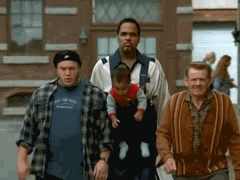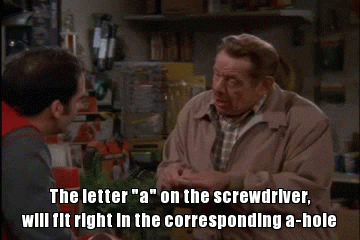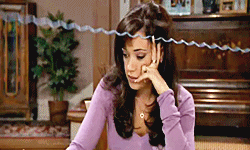 Und dann war es plötzlich vorbei – genau wie dieser Beitrag hier sich dem Ende nähert.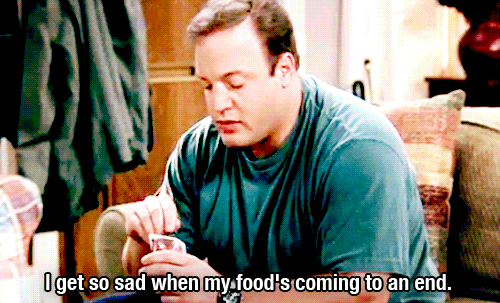 Seltsam ist auch, dass ich die Serie eigentlich komplett auf Deutsch gesehen habe. Immer wieder komisch, wenn sich plötzlich das Original seltsam und unpassend anhört. Das wird bei der nächsten Sitcom von und mit und um Kevin James dann anders sein. Fragt sich nur, wann sie kommt – wir berichten ja quasi jährlich darüber…
Der Serien-Steckbrief
Name: King of Queens (Original: The King of Queens)
Genre: Sitcom
Laufzeit: 22 Minuten
Folgen: 207 in 9 Staffeln
Erstausstrahlung: 21.09.1998 (USA/CBS) / 26.03.2001 (RTL II)
Letzte Ausstrahlung: 14. Mai 2007 (USA/CBS) / 15. Okt. 2007 (Kabel Eins)

Bilder: CBS

-->