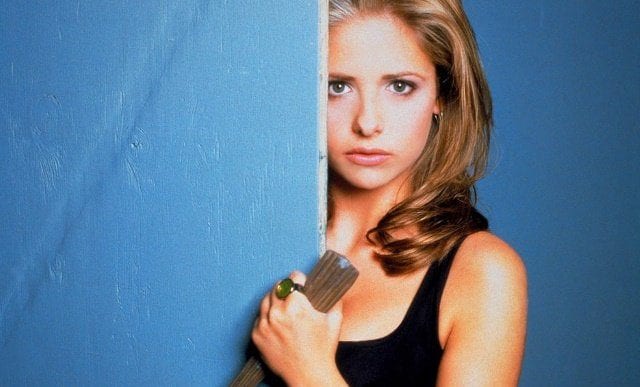 99. Klassiker! Wahnsinn! Doch umso erstaunlicher, als dass diese Schnapszahl dort steht, die bedeutet, dass wir euch seit 99 Wochen und damit seit fast 2 Jahren jede Woche Sonntag einen Klassiker bescheren, ist die Tatsache, dass Joss Whedons Buffy – Im Bann der Dämonen es noch nicht in unsere Reihe der Perlen der Vergangenheit geschafft hat. Das hole ich hiermit mal so schnell wie möglich nach, denn auch mich hat die Serie einige Jahre in meiner Jugend begleitet und hat heute einfach Kultstatus.
Seriensteckbrief
Titel: Buffy the Vampire Slayer / Buffy – Im Bann der Dämonen
Genre: Fantasy, Action
Laufzeit: 44 Minuten
Staffeln (Episoden): 7 (145)
Ausstrahlung: 1997 – 2003
Darsteller: Sarah Michelle Gellar, Alyson Hannigan, Nicholas Brendon, David Boreanaz
Intro
Inhalt
Die 16-jährige Buffy Summers zieht mit ihrer Mutter von L.A. in die kalifornische Kleinstadt Sunnydale. Es soll ein Neuanfang sein, denn an ihrer alten Schule brannte Buffy eine Turnhalle voller Vampire nieder. Doch auch in Sunnydale erwartet man sie schon – sowohl auf der guten als auch auf der Dämonenseite. Denn was sie noch nicht weiß: Die Stadt wurde auf dem Tor zur Hölle erbaut. An ein normales Leben ist für die Auserwählte nicht zu denken. So folgt sie ihrem Schicksal, die Stadt von Vampiren und Dämonen zu säubern.
"In every generation there is a chosen one. She alone will stand against the vampires, the demons and the forces of darkness. She is the Slayer."
An ihrer Seite: der Bibliothekar und ihr Wächter und Trainer Rupert Giles, ihre Freunde Willow und Xander und der geheimnisvolle Angel, der eigentlich zur dunklen Seite gehört. Ihre 'Crew' wächst im Laufe der Serie immer stärker, genauso wie ihre Gegner niemals weniger werden.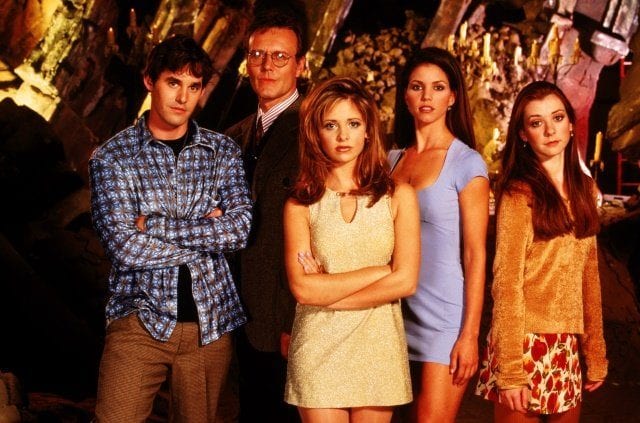 Die erste Begegnung
Alle, die die Serie gesehen haben und alle, denen auf der Hand liegende Wendungen schnell einleuchten, werden wissen, dass sich über kurz oder lang eine Beziehung zwischen Angel und Buffy entwickelt. Dies ist ihre erste Begegnung. Welcome to the Hellmouth.
Meinung
Auch wenn Buffy doch in vielen Punkten eine "normale" Teenie-Serie ist, die sich mit Themen wie der ersten Liebe, Freundschaft und dem Erwachsenwerden beschäftigt, ist sie doch insbesondere für die Zeit ihrer Ausstrahlung und der Inszenierung etwas ganz Besonderes gewesen: Die Serie dreht sich um eine starke Frauenfigur, eine weibliche Auserwählte, die es mit den schrecklichsten Gestalten auf sich nehmen kann und damit nicht nur ihre Familie und Freunde, sondern eine ganze Stadt beschützt. Dieses Mal ist das blonde Mädchen nicht wie in vielen Horrorfilmen die erste, die stirbt, sondern die, die den Kampf besteht.
Zudem ist die Serie ziemlich düster, schreckt nicht vor Blut und unansehnlichen Figuren zurück. Die Episoden stecken mal voller Humor, mal überwiegt das Dunkle und mal gibt es reine Action-Folgen zu sehen. Und ja, immer wieder holt uns der Gedanke ein, dass an der ein oder anderen Stelle der Trash überwiegt. Dennoch stehen die fiktiven Wesen und ihre Inszenierungen metaphorisch für reale Teenagerängste und sind nicht nur Gespinst eines phantasievollen Hirns. Diese Punkte machen die Serie aus, sie haben dazu geführt, dass Buffy Kult geworden ist.
Inspiration und Spin-Off
Buffy hat als Serie nicht nur Comics, Romane und Videospiele hervorgebracht, sondern auch viele darauffolgende Serien inspiriert. 1999 startete außerdem das Spin-Off Angel – Jäger der Finsternis, in der folglicherweise David Boreanaz als Angel die Hauptrolle spielt. Es wurden ganze fünf Staffeln der Serie produziert.
Reunion
Erst im März diesen Jahres kamen die Darsteller von Buffy nach (zum Teil) mehr als einem Jahrzehnt zu einer großen Reunion wieder zusammen. Dabei herausgekommen ist ein cooler Fotoshoot mit dem alten Cast für Entertainment Weekly.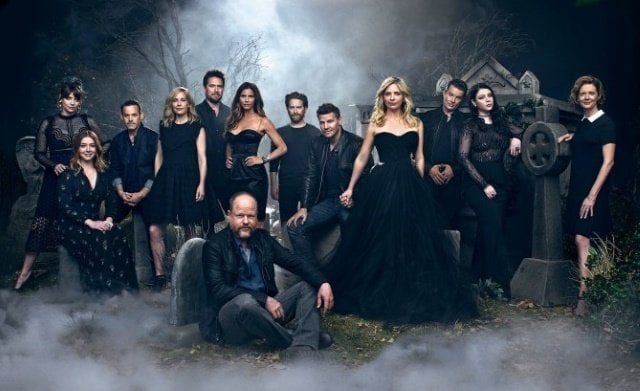 Verfügbarkeit, noch einmal mit Gefühl
Leider steht Buffy nicht als Stream auf Netflix zur Verfügung. Amazon hat einige Folgen im Angebot, allerdings nur zum Kauf. Wer von euch aber auf Singsang steht, findet auf YouTube alle Songs mit Originalausschnitt aus der Musical-Episode Once More, with Feeling (S06E07). Walk through the fire ist ein richtiger Hit geworden.

Buffy - Once More, with Feeling - Overture/Going Through the Motions

Schönen Sonntag!

-->