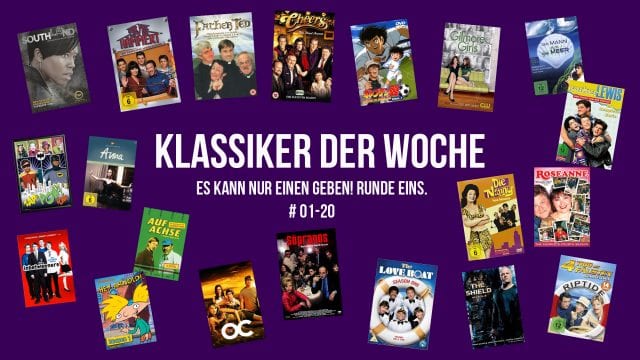 Mit dem 100. Klassiker der Woche haben wir unsere kleine Reihe an ausgewählten Serien beendet. Und wenn man mal so einen Blick in diese 100 Serien wirft, dann wird man viele Serienperlen finden. Viele wird man gesehen haben, von noch mehr Serien dürfte man gehört haben. Und zu allen hat man eine persönliche Meinung. Vor allem, wenn es darum geht, welches denn u.U. der Klassiker unter den Klassikern ist. Die beliebteste Serie unter unseren 100 Serien. The best of the best!
Und genau das wollen wir in dieser Woche wissen. Von Montag bis Freitag hauen wir hier jeweils eine kleine Abstimmung raus, die jeweils am selben Tag bis um 23.59 Uhr läuft. Und dann kommt in der Woche drauf das große Finale. Die Tagesgewinner treten dann noch einmal gegeneinander an und am Ende wissen wir welche Serie für Euch der wahre Klassiker der Woche ist. Der Klassiker der Klassiker.
Aufgeteilt haben wir die einzelnen Abstimmungen chronologisch. In 20iger Päckchen. So kommt es gleich zu Beginn zu den Derbys, den großen Serienschlachten, große Serien vs. große Serien. Aber es kann eben nur eine Serie geben. Und den Anfang machen wir mit den Klassikern #01 bis #20. Here we go. Und da sind bereits einige unserer großen Favoriten drin.
Eine kurze Übersicht zu den Ausgaben #1 bis 20 findest du übrigens auf der zweiten Seite.
Klassiker der Woche: Es kann nur einen geben!
Da es am Ende nur einen echten Klassiker der Woche geben kann, habt ihr auch nur eine Stimme. Also wählt weise. Auch wenn das bei der Auswahl schon recht schwierig sein dürfte. Aber nach einigen Minuten des Überlegens dürfte jeder seinen Favoriten für den Klassiker unter den Klassikern gefunden haben. Oder?
ABSTIMMUNG VORBEI! Hier die Ergebnisse:
(16 Stimmen)
Southland 0
Hör mal, wer da hämmert 2
Cheers 2
Gilmore Girls 2
Der Mann aus Atlantis 1
Parker Lewis – der Coole von der Schule 2
Batman 3
Die Nanny 0
Auf Achse 0
The O.C. 1
Love Boat 0
Trio mit vier Fäusten 1
The Inbetweeners 0
Captain Tsubasa 1
Father Ted 0
The Sopranos 0
The Shield 0
Anna 0
Hey Arnold! 0
Roseanne 1

Dieser Beitrag hat mehrere Seiten:

-->