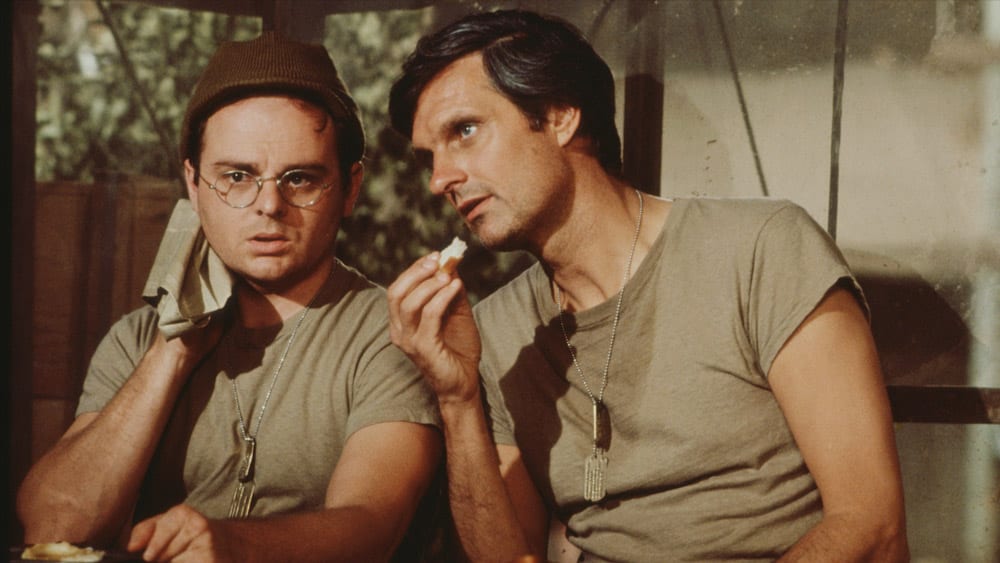 Im Gegensatz zu Maik in der letzten Woche habe ich noch keine Mühe einen Klassiker der Woche auszusuchen. Die Gnade der frühen Geburt, Michael wird wissen, was ich damit meine. Die heutige Serie begann als Comedy und endete im Verlaufe seiner 11 Staffel als nachdenkliches und bitteres Drama mit lustigen und witzigen Einlagen. Zu Beginn der Ausstrahlung tobte noch der Vietnamkrieg (1955-1975; Kriegseintritt der Amerikaner in 1964) so dass der gewählte Rahmen der Serie, der Koreakrieg, natürlich für Diskussionen und Aufsehen in den USA sorgte: "M*A*S*H".
Mit seinen 11 Staffeln und somit einer Laufzeit von 11 Jahren dauerte die Serie deutlich länger, als die Zeit, in der sie spielt, da der Koreakrieg Gottseidank nur 3 Jahre währte. Deutlich besser als wäre es andersherum gewesen.
Seriensteckbrief
Name: M*A*S*H
Genre: Dramedy
Laufzeit: 25 Min.
Staffeln (Folgen): 11 (256)
Ausstrahlung: 17. September 1972 – 28. Februar 1983 (CBS)
Darsteller: Alan Alda, Wayne Rogers, Larry Linville, Loretta Swit, William Christopher, Gary Burghoff, Jamie Farr u.v.m.
Inhalt
Die international mehr als erfolgreiche Serie "M*A*S*H" basiert auf Robert Altmans Film "MASH" aus dem Jahre 1970, dem wiederum der gleichnamige Antikriegsroman von Richard Hooker vorausgegangen war. Richard Hooker wiederum hat in seinem Buch seine unterschiedlichsten Erfahrungen aus dem Korea Krieg verarbeitet. Und alles zusammengenommen ergab am Ende der Ereigniskette einen unvergesslichen Serienhit.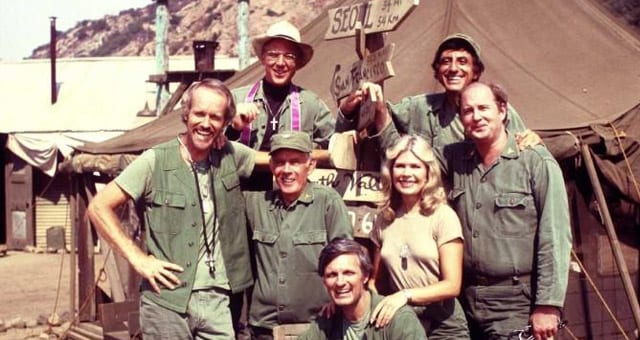 Im Mittelpunkt der Serie stehen die beiden Chirurgen Captain Benjamin Franklin "Hawkeye" Pierce und Captain John Xavier "Trapper" McIntyre, die zusammen mit anderen Ärzten und Schwestern während des Koreakrieges in einem mobilen Feldlazarett (M.A.S.H; kurz für "Mobile Army Surgery Hospital") um das Überleben der verletzten Soldaten kämpfen.
Zur Tagesordnung der Mediziner als auch dann natürlich zur Serie gehören dementsprechend medizinische Notfälle, verletzte und tote Soldaten und insbesondere die Sinnlosigkeit des Krieges. Dies spiegelt sich vor allem an Hawkeye wieder, da dieser eigentlich Pazifist ist. So dient Hawkeyes Sarkasmus nicht nur zur Aufheiterung des Camps und des Zuschauers sondern auch zur Bewältigung und Verarbeitung des Krieges und all seiner Folgen. Und natürlich als Kritik am sinnlosen Sterben. Auch und insbesondere im Hinblick auf den Vietnamkrieg. Und dies – aus Fernsehsicht – ganz schön erfolgreich.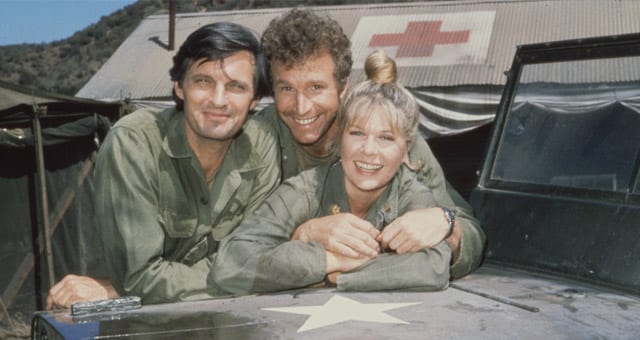 "M*A*S*H" erhielt insgesamt 99 Emmy Nominierungen und gewann den Preis 14 Mal. Hauptdarsteller Alan Alda wurde für seine Rolle sowie für seine Mitwirkung als Regisseur und Drehbuchautor mit fünf Emmys und sechs Golden Globes ausgezeichnet. Es dürfte nicht viele erfolgreichere Serien geben. Und beim Blick auf die tollen und interessanten Schauspieler sowie Figuren in Verbindung mit den vielschichtigen Geschichten sind die Auszeichnungen auf jeden Fall berechtigt.
Spin-Offs
Ganze drei Serien-(versuche) gingen aus "M*A*S*H" hervor wobei die meisten von uns nur "Trapper John, MD" kennen dürften. Die anderen beiden Versuche, die auch einige der Originalschauspieler aufbieten konnten, wurden nach der Pilotfolge ("W*A*L*T*E*R") bzw. nach der ersten Staffel ("After MASH") eingestellt.
After M*A*S*H - 01x01 Pilot
TRAPPER JOHN MD - PILOT EPISODE [Full Episode] 1979 - Season 1 - Episode 1 (First Episode)
Lediglich "Trapper John, MD" konnte die Herzen der Serienfans erobern und lief noch einmal 7 Jahre recht erfolgreich. In "Trapper John, MD" wird das Leben von eben jenem Captain John "Trapper" McIntyre nach dem Koreakrieg weitererzählt, dargestellt allerdings von Pernell Roberts. McIntyre ist nun Chefarzt am San Francisco Memorial Hospital. Wir haben hier also eine reine Krankenhausserie bei der der Humor aber auch nie zu kurz kam.
Also mit anderen Worten, ein Konzept und eine Idee, die "M*A*S*H" doch recht nahe kam. Ein sehr erfolgreiches Konzept, wie sich in den 7 Jahren herausstellen sollte.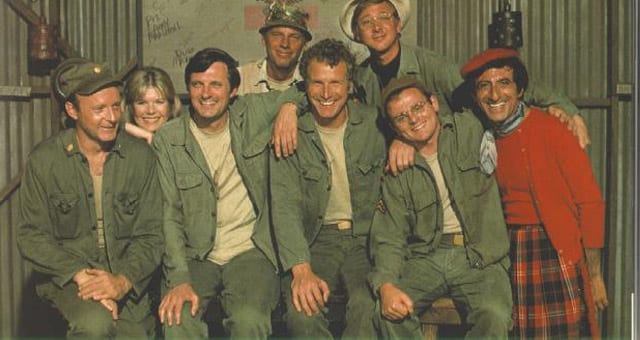 Goodbye, Farewell and Amen
Die "M*A*S*H" Schlussfolge am 28. Februar 1983 hatte mit 77 % die bis heute höchste Zuschauerquote einer Fernsehserie in den Vereinigten Staaten. Ganze 106 Millionen Amerikaner sahen jene letzte Folge und damit nicht nur mehr als Deutschland Einwohner hat sondern etwa doppelt so viele Zuschauer wie die letzte Folge von "Friends". Als Beispiel. Im Gegensatz zu den anderen Folgen hatte "Goodbye, Farewell and Amen" anstatt der üblichen 30 Minuten etwas oben drauf gepackt: 180 Minuten.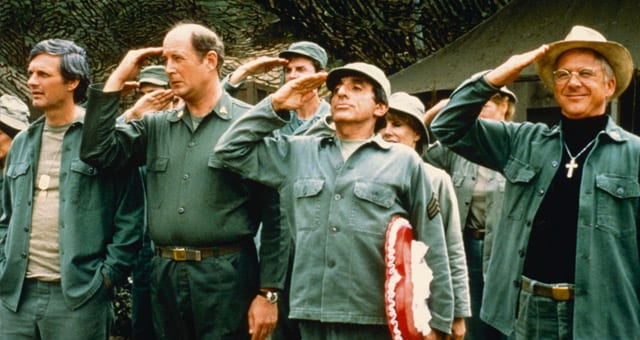 Es geht die nette Geschichte bzw. Anekdote herum, dass man in den stündlichen Aufzeichnungen der New Yorker Wasserbehörden zum Wasserverbrauch noch heute ablesen kann, wann die Serie zu Ende gegangen war. Denn nach dem Ende mussten sich wohl etliche New Yorker erleichtern und sorgten damit für einen sprunghaft gestiegenen Wasserverbrauch.

Was ihr nach diesem Beitrag macht, sei Euch überlassen, vorher könnt Ihr Euch ja noch die letzten 3.30 Minuten von "M*A*S*H" reinziehen.

MASH Goodbye-Last Day At The 4077th

Bilder: CBS

-->