Vor etwa einem Monat hatten wir euch ja das Faktastisch-Video zu The Walking Dead präsentiert, an dem seriesly AWESOME mitgewirkt hat. Über 130 tausend Leute haben das Video bislang gesehen – aber somit eben auch nur 11 interessante Fakten voller unnützem Wissen. Da wir einiges mehr recherchiert hatten, habe ich mir gedacht: raus damit! Bevor es im Daten-Nirvana verschwindet, schenken wir euch also hier die Fakten 12 bis 24. Für echte Fans sicherlich größtenteils bekannt, aber einige interessante Fakten und Zusammenhänge dabei.
Spoiler-technisch ist das übrigens recht freies Gebiet, da die meisten Fakten auf die Produktion bezogen sind (und solange ihr Season 1 gesehen habt und keine Angst vor einem Ortsnamen habt, ist alles fein).
Los geht's!
The Walking Dead Fact 12
HBO und NBC hatten ursprünglich Interesse an der Ausstrahlung von The Walking Dead. Jedoch wollte man den hohen Gewaltgrad und den "Comic-Gore" raus haben. Pech gehabt, die Serie landete bei AMC – ohne Kompromisse.
The Walking Dead Fact 13
Alanna Masterson, die "Tara" spielt, ist die Schwester von Christopher Masterson, der "Francis" in der Sitcom "Malcolm Mittendrin" gespielt hat.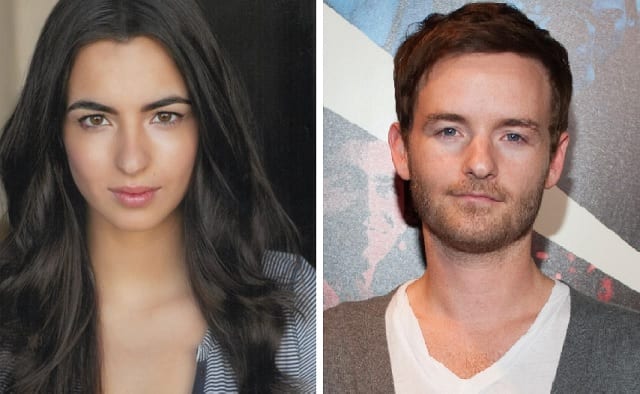 The Walking Dead Fact 14
In der vierten Staffel gibt es einen Ort namens "Terminus". Diesen Namen hatte in den 1830er Jahren das Ende der Western und Atlantic-Eisenbahnlinie in den USA. Später wurde es unbenannt und heißt seitdem "Atlanta".
The Walking Dead Fact 15
In Episode 2 von Staffel 2 findet Daryl eine Tüte mit Pillen und – Blue Meth. Eine kleine Verbeugung vor AMC-Bruder "Breaking Bad". Ebenso ist Glens roter Mustang aus Staffel 1 bereits von Walter White in Alberquerque gefahren worden.
The Walking Dead Fact 16
Als die Figur Michonne die Serie betrat stand noch gar nicht fest, dass Danai Gurira sie verkörpern wird. Daher sehen wir lediglich die schattigen Umrisse eines Doubles.
The Walking Dead Fact 17
Dr. Edwin Jenner, Daryl, Merle, Sasha, Theodore "T-Dog" Douglas und weitere Charaktere sind nicht in der Comic-Vorlage. Glenn hat zudem erst für die TV-Adaption den Nachnamen "Rhee" erhalten.
The Walking Dead Fact 18
Norman Reedus hat in Lady Gagas Musikvideo zu "Judas" mitgespielt.
The Walking Dead Fact 19
Hauptfigur Rick Grimes stammt aus der fikiven Stadt "King County, Georgia", eine kleine Hommage an den Autor Stephen King.
The Walking Dead Fact 20
In Staffel 1 hat Special Effekt-Leiter Greg Nicotero gleich zwei Walker gespielt. Er hat nicht nur in den Arm von Andreas Schwester Amy gebissen, sondern auch Daryl Dixon das Reh weggeschnappt. Und auch der eklige "Brunnen-Walker" kam aus der Crew – Make-up Artist Keith Hillard hat ihn eindrucksvoll verkörpert.
The Walking Dead Fact 21
Robert Kirkman hat während eines Interviews erläutert, dass Norman Reedus eigentlich für die Rolle des Merle vorgesprochen hat. Dafür hat er eine Abfuhr erhalten, war jedoch so überzeugend, dass die Rolle des Daryl extra für ihn geschrieben wurde. Und heute ist er eine der absoluten Publikumslieblinge – richtige Entscheidung!
The Walking Dead Fact 22
Querverweise: In einigen Folgen hat TWD-Schöpfer Robert Kirkman Comics aus anderen seiner Reihen eingebaut, die bspw. Michonne an Carl reicht in Staffel 4. Und Carl trägt ein T-Shirt mit dem Logo von "Science Dog", einer weiteren Kreation von Kirkman.
The Walking Dead Fact 23
Kommt euch die Zigarrettenmarke bekannt vor, die Dale geraucht hat? Die fiktive Marke "Morley" wurde unter anderem bereits in Breaking Bad, Akte-X, Burn Notice oder Californication geraucht. Es ist DAS Standard-Requisit, wenn es um Zigaretten in Film und Fernsehen geht.
The Walking Dead Fact 24
Das Stuntdouble von Carl ist eine Frau. Ashley ist bereits 31, gleicht dem Jungschauspieler aber in Größe in Statur. Zumindest bis der nächste Wachstumsschub kommt.

Quellen: hier, hier, hier, hier, hier, hier, hier, hier und hier.

-->