Die Musik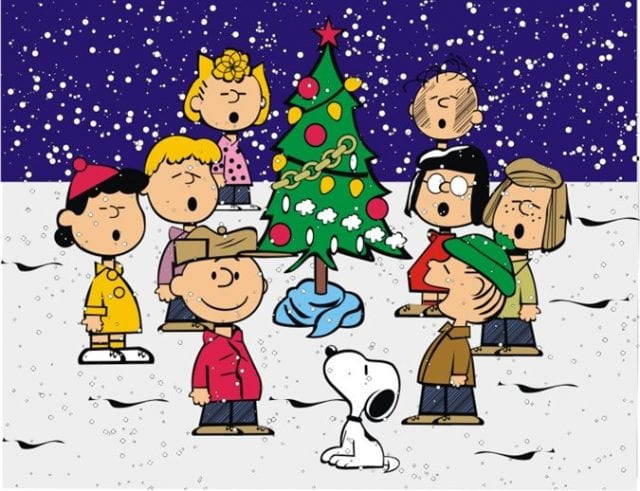 "A Charlie Brown Christmas" ist ein Studioalbum aus dem Jahre 1965 des amerikanischen Komponisten Vince Guaraldi. Es war Guaraldis erste Aufnahme für die Peanuts und der Beginn einer fast zehnjährigen Zusammenarbeit mit dem TV-Produzenten Lee Mendelson, der Guaraldi zu den Peanuts geholt hatte. Das Album erschien im Dezember 1965 und enthielt den Score des Peanuts-Weihnachtsspecials "A Charlie Brown Christmas". Das Album enthält verschiedene Original-Songs von Vince Guaraldi wie zum Beispiel den Peanuts-Klassiker "Linus and Lucy", der als Peanuts-Theme in vielen weiteren Produktionen zu hören ist. Dazu gibt es einige Interpretationen klassischer Weihnachtssongs wie "The Christmas Song" oder "O Tannenbaum". Die meisten Song hat Guaraldi in Glendale, Kalifornien aufgenommen – ein nicht gerade mit klassisch weihnachtlichem Ambiente ausgestatteter Ort. Später wurde weiteres Material in San Francisco aufgenommen, unter anderem mit Unterstützung des Kinderchores der St. Paul's Episcopal Kirche bei San Rafael. Die Aufnahmen dauerten bis spät in die Nacht, und die Kinder wurden mit Eis bei Laune gehalten. An den Aufnahmen beteiligt waren Bassist Fred Marshall und Schlagzeuger Jerry Granelli – zusammen das Vince Guaraldi Trio.
Das Album kam eine Woche vor dem Special auf den Markt und wurde ein großer Erfolg. In den USA wurde es mit Triple Platinum ausgezeichnet, und es gehört zu den zehn meistverkauften Weihnachtsalben in den USA. Außerdem hat das Album einen Platz in der Grammy Hall of Fame sicher, auch wurde es zum Library of Congress's National Recording Registry asufgenommen – als kulturell, historisch und ästhetisch relevant.
Fazit
A Charlie Brown Christmas (The Meaning of Christmas)
Ich mag das Album: Es hat diesen typischen leichten Peanuts-Style, der in diesem Fall über zahlreiche traditionelle Weihnachtssongs gelegt wird. So passiert es sogar, dass man bei O Tannenbaum gemütlich mitswingt. Auch My Little Drum, Greensleeves und The Christmas Song sind klasse. Dazwischen das bekannte Linus and Lucy – wunderbar. Ich weiß jetzt schon, welche Weihnachtsplatte an Heiligabend bei mir laufen wird – egal, wie stressig es wird, ich werde mich einfach gemütlich in die Küche begeben, das Weihnachtsmenü kochen und zu Vince Guaraldi und den Peanuts swingen.
Das müsst Ihr wissen
Von dem Album sind verschiedene Versionen erschienen. Da wäre natürlich das Ur-Album aus den 60ern, dazu ein Re-Release aus den 80er Jahren, erweitert um bisher unveröffentlichtes Material. 2006 erfolgte ein weiteres Reissue mit alternativen Takes der veröffentlichten Songs – leider gab's bei der Pressung auch ein paar Mastering-Fehler, so dass später eine neue CD nachgereicht wurde. Aktuell ist ein 2012er Remastered Reissue auf dem Markt, dass ebenfalls einige Bonus-Tracks enthält. Es kommt im schönen Digipak daher und ist für schlanke 9 Euro bei amazon.de zu haben. Für die Vinyl-Fans: Nächste Woche wird außerdem wieder eine Vinyl-Edition auf den Markt kommen – hier wird nur Greensleeves als Bonustrack dabeisein. Ach ja: Außerdem gibt es das Album natürlich bei Spotify. Die besten Tracks habe ich zu unserer sAWE-Soundtrack-Playlist bei Spotify hinzugefügt.
Vince Guaraldi Trio – A Charlie Brown Christmas

Side one
"O Tannenbaum" (Ernst Anschütz) – 5:08
"What Child Is This" (William Chatterton Dix) – 2:25
"My Little Drum" (Vince Guaraldi) – 3:12
"Linus and Lucy" (Guaraldi) – 3:06
"Christmas Time Is Here" (Instrumental) (Guaraldi) – 6:05

Side two
"Christmas Time Is Here" (Vocal) (Guaraldi) – 2:47
"Skating" (Guaraldi) – 2:27
"Hark, The Herald Angels Sing" (Charles Wesley) – 1:55
"Christmas Is Coming" (Guaraldi) – 3:25
"Für Elise" (Ludwig van Beethoven) – 1:06
"The Christmas Song" (Mel Tormé, Robert Wells) – 3:17

CD bonus tracks
"Greensleeves" (Traditional) – 5:25 (1988, 2006, 2012 CDs)
"Christmas Is Coming" (Alternate Take 1) (Guaraldi) – 4:37 (2006 CD)
"The Christmas Song" (Alternate Take 3) (Tormé, Wells) – 3:53 (2006 CD)
"Greensleeves" (Alternate Take 6) (Traditional) – 5:05 (2006 CD)
"Christmas Time Is Here" (Alternate Vocal Take) (Guaraldi) – 1:34 (2006 CD)
"Great Pumpkin Waltz" (Guaraldi) – 2:29 (2012 CD)
"Thanksgiving Theme" (Guaraldi) – 2:00 (2012 CD)

Dieser Beitrag hat mehrere Seiten:

-->