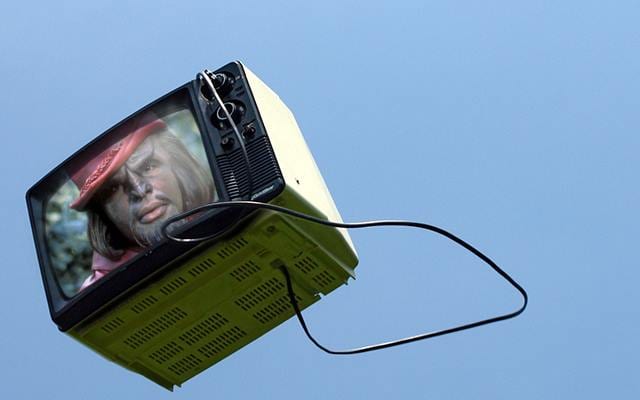 Montag ist "Durch die Woche mit"-Tag! Vielleicht sollten wir uns dazu eine catchige Abkürzung ausdenken, DDWM-X (das X steht für den Awesomer). Also fange ich nochmal an, herzlich willkommen zu DDWMJ, Ausgabe 51 im Jahr 2015.
Wie üblich, versuche ich euch durch die Woche zu führen und Fernsehtipps an die Hand zu geben. Alternativ, wenn ihr nur auf die US-Starts schielt, könnt ihr natürlich auch auf unseren Serienkalender zugreifen, den ihr hier findet.
Montag, 14. Dezember 2015
Wer auf Supernatural steht, sollte um 20 Uhr 15 auf Pro7MAXX einschalten, dort läuft die 9. Staffel als Free-TV- Premiere. Später um 22 Uhr 15 geht es auf dem ZDF mit der Gillian Anderson Serie The Fall weiter. Es läuft dort die dritte Episode der zweiten Staffel.
Einen echten Neustart gibt es auch am Montag, allerdings nur für die gut betuchten Pay-TV-Kunden. Auf TNT Serie beginnt Public Morals, eine Drama-Serie, die in den 60er Jahren spielt und die New Yorker Sittenpolizei darstellt. Public Morals ist eine TNT Eigenproduktion und startete in den USA Ende August.
Dienstag, 15. Dezember 2015
In Sachen neue Folgen oder Serien herrscht eine große Flaute am Dienstag. Eine neue Family Guy Folge um 21 Uhr 45 auf Pro7 oder aber die zweite Folge der zweiten Staffel The Knick auf Sky, 21 Uhr.
Besser ihr schaut vor dem Schlafengehen die Yada-Yada Seinfeld Folge um 23 Uhr 30 Uhr auf Comedy Central.
Seinfeld Clip - The Yada-Yada
Mittwoch, 16. Dezember 2015
Auf Sky könnt ihr die fünfte Staffel American Horror Story sehen, Episode vier (Review hier). Ansonsten muss ich wieder auf Klassiker zurückgreifen: Heute seht ihr die sehr gute Star Trek TNG Doppelfolge "Kampf um das Klingonische Reich"  (Redemption) um 18 Uhr 10 Uhr auf Tele5.
Star Trek: The Next Generation – Redemption Blu-ray Trailer
Donnerstag, 17. Dezember 2015
Bevor ich mir irgendwas aus den Fingern sauge, bleiben wir wie letzte Woche dabei, dass ihr lieber raus zum Geschenke kaufen geht ODER aber einen Video-Dienst bemüht, um euch zu unterhalten.
Freitag, 18. Dezember 2015
Freunde des Klassikers Law and Order dürfen sich auf VOX auf eine Free-TV-Premiere freuen, Episode 16 der nunmehr 11. Staffel  um 20 Uhr 15. Darauf folgt eine Doppelfolge Brooklyn Nine-Nine auf RTL Nitro um 21 Uhr 10.
Samstag 19. Dezember & Sonntag 20. Dezember 2015
Nein, auch an diesen Tagen gibt es nichts Außergewöhnliches aus der Serienwelt zu sehen. Bleibt lieber am Browser und versucht, unser großes Rätsel im sAWEntskalender zu lösen, denn bis dahin sind die meisten Buchstaben bekannt. Viel Erfolg!

-->