Die Musik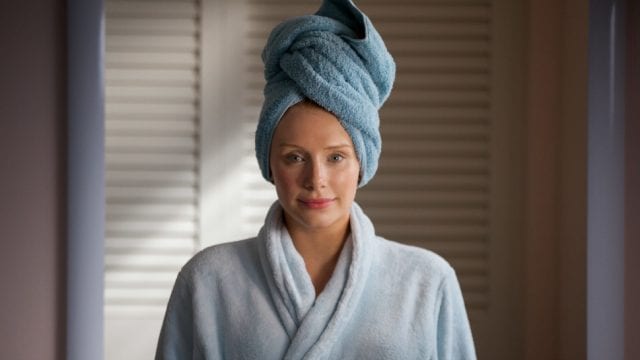 Als Max Richter zum Projekt hinzustieß, waren die Szenen zu "Nosedive" bereits abgedreht, wie er nochmal Fact gegenüber erklärt:
When the director Joe Wright and I met in London they hadn't completely finished shooting the episode. We just had a good talk about the project from every aspect – the script itself, which I'd read and liked, and also his view of the world of the film, the themes that he wanted to emphasise. We hadn't worked together before, which was weird because we very much admire one another's work, so it was a nice opportunity to do something.
Der Soundtrack besteht aus lediglich sieben Songs, drei längere Tracks und vier kurze Stücke. Der Opener "On Reflection" ist für mich gleich das Highlight des Scores. Es beginnt mit Max Richters typischem, ruhigen Klavierspiel, woraus sich nach rund zweieinhalb Minuten ein Duett mit einer Solovioline entwickelt. Im Laufe des Tracks löst das Cello die Violine ab, und es entwickelt sich der typische-charismatische Stil Max Richters, den Serienliebhaber von "The Leftovers" kennen dürften. Danach folgt das lediglich 50-sekündige "Dopamine 1", das trotz der Kürze nicht minder interessant ist. Es führt im Prinzip nach einem harten Cut direkt in "The Sorrows of young Lacie", das die Tonalität und die Motive von "On Reflection" aufnimmt – ein typisches Stilmittel von Max Richter, der gerne mit Variationen arbeitet. "The Journey, not the Destination" beginnt wieder mit kreisendem Pianospiel, über das sich ein feines Violinenspiel legt, ehe der Solostreicher die Führung übernimmt. Nach eineinhalb Minuten der Cut, und der Song wechselt in einen elektronischen Track, bei dem aber immer noch die Streicher die Führung haben. "Nocturne" schließt hier musikalisch an den zweiten Teil des vorherigen Tracks an.
Die Ideen zu den Scoremelodien sind ihm schnell gekommen:
Ideas for the score came quite quickly. It's a dystopia, but it's one that appears to be benign. It got me thinking a little bit about when we were kids and there were all sorts of predictions about the future, in particular Orwell's 1984 and Huxley's Brave New World. Orwell's vision is one where you have top-down political control and brutality to control the population, and then there's Huxley's argument, where you control the population by seducing them with pleasure. For a long time it looked like Orwell was on the right track, but actually over the last 10, 15 years I feel like, especially with the expansion of corporate power, Huxley was more on it – this idea that it's all about reward, and that's what's going to allow people social control. And that's exactly what Lacie goes through in the film – she's constantly chasing that little hit, the high rating, so that's the big theme of the film really.
Mit "The Consolations of Philosophy" veredelt er dann quasi nochmal die vorherigen Muster und Ideen zu einem großen Finale, wo er die vorherigen Ideen noch einmal im großen Stil entwickelt und zusammenführt.
Fazit
Man muss wissen, dass bei "Black Mirror" nicht nur die Erzählweise der einzelnen Folgen besonders ist, sondern auch die Zusammenstellung des Scores. Jede Folge wird separat für sich gesehen, und das gilt auch für den Score. Derweil max Richter Folge 1 vertont hat, haben Portisheads Geoff Barrow und Ben Salisbury an Folge 5 Hand angelegt – stellen wir demnächst nochmal vor. Auch wenn wir hier nur 24 Minuten präsentiert bekommen, lohnt sich das Reinhören. Max Richter schafft es einfach immer wieder, den Zuhörer mit seinem ruhigen, eindringlichen Spiel und seinen besonderen musikalischen Mustern einzufangen. Das galt schon besonders für "The Leftovers", gelingt hier aber nochmal in gesteigerter Form – klasse Score!
Das müsst Ihr wissen
Die sieben Tracks gibt es aktuell nur digital – und komplett bei Streaming-Anbietern wie Spotify. Aber: Im Dezember wird der Score auf dem neuen, eigenen Label von Max Richter erscheinen, und zwar auf Vinyl. Wer sich also für den Score interessiert, sollte ein paar Wochen die Streaming-Dienste nutzen und dann beim Vinyl zuschlagen. Einige Tracks habe ich wieder in unsere sAWE-Soundtrack-Playlist bei Spotify gepackt. Außerdem habe ich Euch eine Spotify-Playlist zu Max Richters Gesamtwerk zusammengestellt, die noch einmal die Verwandtschaften der Tracks untereinander dokumentiert.
Max Richter – Black Mirror "Nosedive"
1. On Reflection (7:14)
2. Dopamine 1 (0:50)
3. The Sorrows of Young Lace (1:50)
4. Dopamine 2 (2:16)
5. The Journey, Not the Destination (4:36)
6. Nocturne (2:13)
7. The Consolations of Philosophy (5:36)
7 Tracks, 2016 Deutsche Grammophon
Dieser Beitrag hat mehrere Seiten: