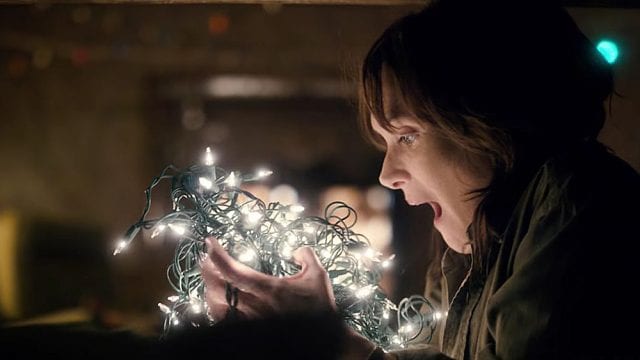 Wenn wir eine neue Serie beginnen, brauchen wir oft ein paar Folgen, um erstmal reinzukommen. Wir lernen die Figuren und Schauplätze kennen, Handlung und Spannung bauen sich langsam auf. Nur selten wird man direkt von der ersten Sekunde gepackt und binged die ganze Nacht durch – das gibt es natürlich auch, aber meistens gibt es eine kleine Anlaufphase, die etwas in uns weckt, das uns einfach nicht erlaubt, eine Pause einzulegen. Ja, man kann es mit einer Sucht vergleichen. Doch wann ist eigentlich der Moment erreicht, an dem wir denken, wir müssten weiterschauen? Wann sind wir so angefixt, dass das Abbrechen einer Serie einfach keine Option mehr darstellt?
Netflix hat nun eine neue Studie veröffentlicht, in der genau dieser Frage nachgegangen wird: Wann verfallen wir einer Serie wie Stranger Things, Narcos oder Gilmore Girls eigentlich? Der Streamingdienst hat dafür das Sehverhalten seiner Mitglieder aus 35 Ländern aller Kontinente analysiert. In welcher Episode wird der Zuschauer zum Fan, d.h. ab welcher Episode haben mindestens 70 Prozent der Schauspieler die gesamte Staffel der Serie zu Ende geschaut?
Super spannende Untersuchung! Und das Interessanteste daran: Netflix fand heraus, dass Menschen auf der ganzen Welt ein fast identisches Sehverhalten haben, wenn es um Serien und Unterhaltung geht. Das ist nachvollziehbar, wenn man sich den internationalen Hype bei bestimmten Serien anschaut – aber irgendwie trotzdem überraschend.
Hier also die Übersicht der analysierten Serien mit der jeweiligen Folge, ab der kein Entkommen mehr möglich ist. Stranger Things packt uns scheinbar ganz besonders schnell.
Deutschland

Global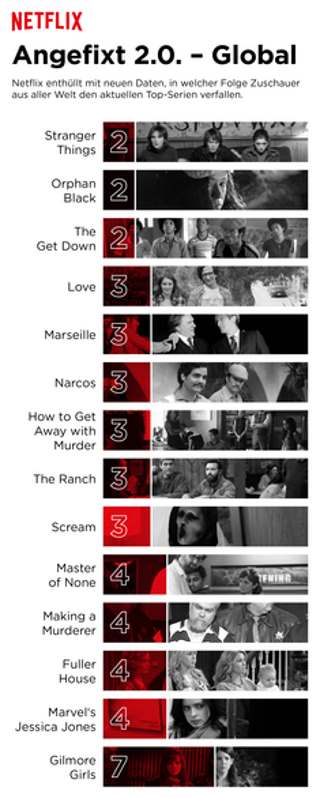 Natürlich muss man bei dieser Studie beachten, dass es wahrscheinlicher ist, das Ende einer sechsteiligen Staffel zu erreichen als das einer Staffel mit über 20 Episoden. Nichtsdestotrotz sind das mal wieder spannende Einblicke in unser Sehverhalten.
"Wir haben immer geglaubt, dass großartige Geschichten universell sind. Das Internet erlaubt es uns, diese Geschichten mit einem weltweiten Publikum zu teilen und was wir aus den Daten lesen können, ist, wie ähnlich unsere Mitglieder schauen und empfinden. Die Ergebnisse der Untersuchung geben uns Vertrauen, dass es auf der ganzen Welt einen großen Appetit auf originelle und einzigartige Stoffe gibt. Deswegen sind wir begeistert unseren Mitgliedern so vielfältige Geschichten anbieten zu können, ob es politische Dramen in Frankreich sind oder musikalische Dramen aus der Bronx."

– Cindy Holland, Vice President of Original Content bei Netflix
Wie es aussehen könnte, wenn man einer Serie verfällt, hat der niederländische Künstler Levi Jacobs versucht anhand der Serie Stranger Things visuell aufzubereiten und sagt dazu:
"You know you're hooked, when the wheels keep spinning in your head."
Wisst ihr noch, ab welcher Folge – oder ab welchem Moment – ihr eurer Lieblingsserie verfallen seid? Lasst es uns wissen!