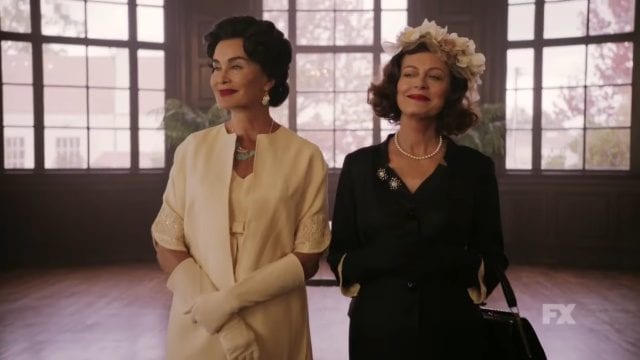 Nach ersten Teasern, Bildern und sehr coolen Opening Credits zu FEUD: Bette and Joan gibt es nun einen ersten Trailer zu Ryan Murphys neuer FX-Drama- und Anthologieserie. Catherine Zeta Jones führt uns darin mit gewöhnungsbedürftigen blonden Haaren in den Kleinkrieg zwischen Bette Davis (Susan Sarandon) und Joan Crawford (Jessica Lange) ein.
"For over half a century they hated each other … and we loved them for it."
Die beiden Schauspielerinnen und Filmlegenden haben sich das Leben am Set zum Film "What ever happened to Baby Jane" – und nicht nur dort – gegenseitig zur Hölle gemacht. Die Serie wechselt zwischen Schwarz-Weiß- und Farbaufnahmen, um die Grenzen zwischen fiktiver Fiktion und "realer" Fiktion zu verdeutlichen, denn die 1962er "Baby Jane" Version war ein Schwarz-Weiß-Film. Schönes Stilmittel, schöne Kostüme, tolle Schauspieler.
Am 5. März startet FEUD auf FX.
via: TVLine