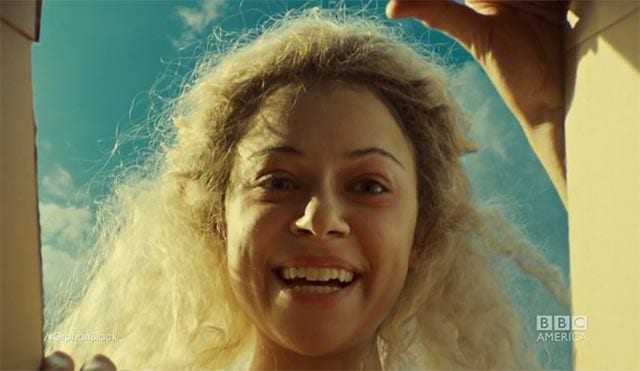 Friede, Freude, Eierkuchen mit einer ordentlichen Portion Soccermom-Zuckerguss. So beginnt die langerwartete dritte Staffel von Orphan Black. Da so ziemlich jeder den Überblick über die aktuelle Situation verloren hat, ist das durchaus ein beinahe glaubwürdiges Setting.
"Helenas gonna have a little monkey, too!" (Little monkey Kira)
Doch so wirklich wahr ist eigentlich nur der Fakt, dass Helena schwanger ist. Denn frei nach dem Soundtrack gilt die Devise "wouldn't it be nice…?". Ist es aber nicht. Genauso wenig, wie zu zeigen, wie ein Stift aus einem Auge operiert wird. Wuähhh….! Fast so schlimm wie die glatten Haare von Delphine. WIESO NUR?!!?!??
"Rachel has powerful friends and you… put a pencil in her eye." (Delphine)
Aber zurück zu Stiften: Was geht damit bitte?! Mr. S findet auch Gefallen an der neuesten Schreibtisch-Waffen-Technologie. Seltsam, das alles. Da wirkt es beinahe normal und auflockernd, dass Felix sich positiv an die schöne Beerdigung Sarahs in Staffel 1 erinnert. Das hat mir gefallen. Mehr jedenfalls als die Inszenierung des guten alten Verwechslungs-Spiels.
Sarah spielt Rachel, möchte das nicht und kann es eigentlich auch nicht. Zu wenig Vorkenntnisse (Dinge, die nicht einmal Delphine wusste, die ja eigentlich bis vor wenigen Minuten noch ein verdammt kleines Licht war) und wie bekommt man eigentlich so viele Haare unbemerkt unter eine Perücke?! Gar nicht. Das fragt sich nämlich auch Ferdinand, der im Fahrstuhl bereits bemerkt, dass was faul ist, dann aber doch mitspielt? Macht wenig Sinn. Dafür war die Situation mit Alison durchaus unterhaltsam.
"Remember our saveword?" – "No." (Ferdinand & Sarah)
Delphine beweist, Druck auf Befragte ausüben zu können. Rachel hat ein Auge dafür. Ach ja, und da wären noch die vielen Männer, die man aktuell noch überhaupt nicht auseinander halten kann…

Insgesamt ist es direkt wieder verdammt verworren. Ich mag die Komplexität der Geschichte und die nach und nach offen gelegten Ebenen sind an sich gut gedacht aber gerade in Staffel zwei hat es einen teils sehr undurchsichtigen Weg genommen. Dass direkt wieder in die Vollen gegangen wird, wirkt etwas anstrengend. Genau wie eingelegte Kampfszenen, nur um drei Minuten später in aller Ruhe beim Tee über die Situation zu sprechen oder ein Beinahe-Mord, der vielleicht einiges verändert hätte, aber natürlich kurz vor knapp unterbunden wird. Wirkt noch nicht wirklich rund und vielleicht als zu viel gewollt, zu wenig gekonnt. Aber abwarten, die Jungs haben das Spielfeld ja gerade erst betreten…

-->