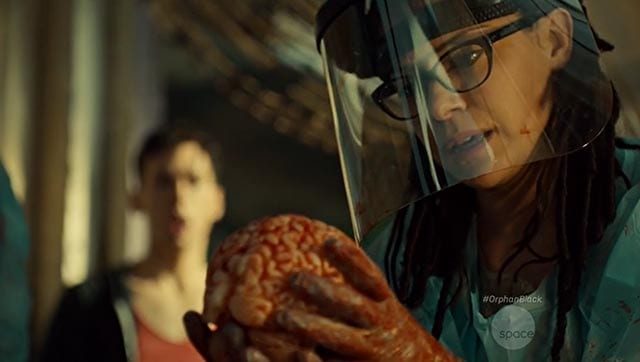 So langsam beginnt die Staffel richtig in Schwung zu kommen. Okay, Schwung war eigentlich schon da, aber alles wirkt etwas durchdachter, kompakter und unterhaltsamer. Donnie sieht das auch so…
"We should have been drug dealers years ago!" (Donnie)
Da kann man beinahe über solch künstlich inszenierte Pseudo-Spannungs-Momente wie zum Auftakt hinwegsehen. Beinahe. Wieso ist Art so aggro und hektisch drauf?! Er drischt auf die Tür ein, als würde er von Zombie-Klonen verfolgt, nur um dann drinnen total ruhig und entspannt zu sein, nachdem Sarah und Felix "durchgedreht" sind. Blöd.
"Welcome to Clone Club!" (Cosima)
Besser läuft da Alisons Stimmen-Dealerei, die sich anfängt, auszuzahlen. Vielleicht sollte sie ein bisschen Medizin an die Castor-Klone verkaufen, die von einem "Defact" und einem ausgeprägten Mutterkomplex heimgesucht werden. Und die Familie wächst und wächst und wächst… Es sind Jungens!
"You are the ugliest 'Marc' yet." (Helena)
Erinnert euch Gracie eigentlich auch an Sansa Stark…?
Wie gesagt insgesamt deutlich gefälliger. Kein großer Wurf aber ich habe ehrlich gesagt bei der ersten Folge der Staffel noch etwas zu hoch bewertet und wollte die zweite besser und diese noch besser "bekronen". Ergo: 4. Mehr wird aber schwer, da muss schon eine der bisherigen Highlight-Folgen für folgen. Aber so kann es gerne bleiben, vor allem, was mit Rachel noch passiert, dürfte interessant werden.