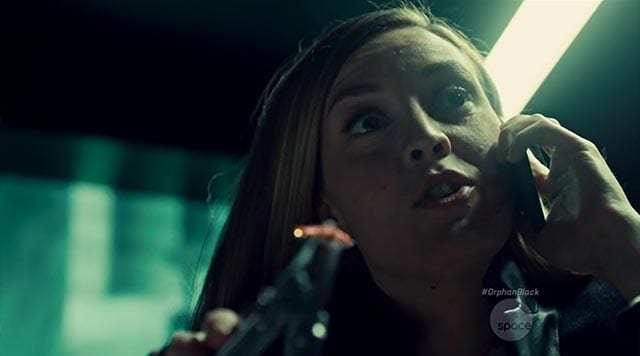 Endlich das Finale einer Staffel, die einige starke neue Impulse setzen konnte, sich aber auch in einigen Unglaubwürdigkeiten und unnötig verkomplizierten Settings verloren hat. Aber da wollen wir mal ganz Rachel-like ein Auge zudrücken und starten einfach mal. Wobei – Rachel beäugt ja direkt einmal ihr neues Permanent Make-up. Schick!
"No one of her people is visible. Except of one. Can you guess, who?" – "The soccer mom…" (Mother & Rudy)
Erfreulich ist die Prise Eigenhumor, die in der Folge mitschwingt. Dazu die gewohnt gekonnten One-Liner, die vor allem Helena mittlerweile am laufenden Band produziert (und damit eigentlich ein bisschen arg vom ursprünglichen Charakterbild abdriftet, aber hey – Dialekt-Humor ist eben einfach gemacht…).
"Howdy, Jesse Towing." (Helena)
Scheinbar so einfach, wie zwischen Amerika und England zu reisen. Und Schwupps – Sarah und Felix sind wieder in den Staaten. Ich will auch so schnell den Kontinent wechseln können! Man blickt zwischendurch schon gar nicht mehr so recht durch, wer wo ist, wurde vermutlich alles in einer Straße gedreht…
"Call yourself what you want, you're only a bad copy of me." (The Original)
Die obigen Einstellung hatte ein verdammt Breaking Bad-esques Säure-Bad parat. Das war schon mehr als nur ein visuelles Zitat.
Was war noch erwähnenswert? Neolution taucht plötzlich wieder auf! Vielleicht erinnert ihr euch an den Nachtclub aus Staffel 1, in den Felix gelaufen ist? Das scheint das ganz große Ding zu werden. Verschwörung in der Verschwörung, quasi. Inklusive so etwas wie einer Roboterwurmzunge?! Da vergeht selbst Delphine die Lust auf Zungenküsse…
Jedenfalls gibt es mal wieder Professor Duncan, nur diesmal eben die Dame des wissenschaftlichen Hauses. Warten wir mal ab, wie (wenig) wohlgesonnen die sich alle sein werden. Ich mag jedenfalls die Art und Weise des Charakteres Ferdinand, vielleicht bringt der als Verbündeter noch etwas Esprit in die Runde. Dagegen bin ich dann doch arg vom Projekt Castor enttäuscht. Ebenso von der offenen Situation um "Mother". Das hätte ich mir irgendwie ernster und langlebiger vorgestellt.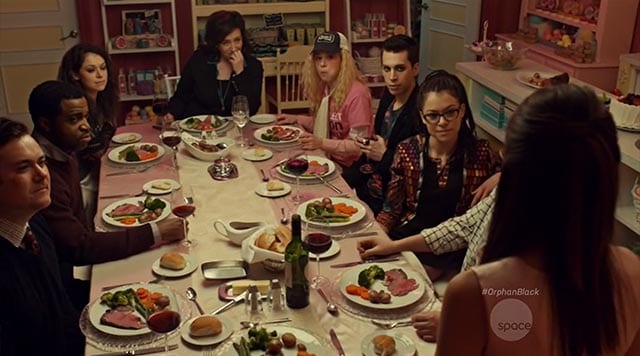 Am Ende gibt es dann noch eine Szene, die vermutlich etliche Stunden am Computer und Drehset gekostet hat. So klein und so unauffällig, ist man doch mittlerweile tatsächlich in die Welten der Charaktere eingesunken – und muss sich eben immer wieder dran erinnern, dass das ja eigentlich zu 50% Tatiana Maslany ist. Vier Klone beim gemeinsamen Mahl inklusive Kamerafahrt – verdammt überzeugend gemacht!
Technisch zumindest. Insgesamt fehlt dann doch die Überzeugung im Finale. Ein bisschen Happy End-Stimmung mit einer Prise größerer Verschwörung. Der Rahmen dürfte neu gespannt werden kommende Staffel, man merkt, dass das ein Luftholen vor dem Großen Etwas ist. Das reicht mir aber ehrlich gesagt nicht. Da polterte so viel Story in wenigen Minuten umher, die noch schnell hinein gepresst wurde, das wirkte nicht stimmig, eher eine Checkliste abhakend. Alleine der seltsam inszenierte Kampf zwischen Rudy und Helena? Na-ja…
Alles in allem eine okaye Folge aber es gab meiner Meinung nach deutlich bessere in dieser Staffel.
Orphan Black Season 3
Da wären wir auch schon beim Gesamtrückblick. Ich habe leider meine Graphen-Vorlage nicht unterwegs dabei, daher muss das Bildchen hier langen.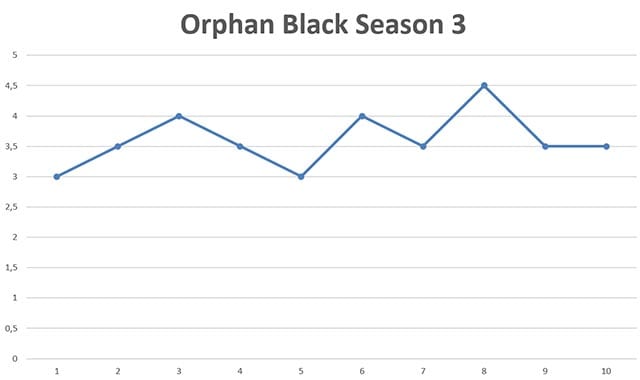 Allgemein waren wirkliche Highlights recht rar gesät. Oftmals hatten eigentlich alle Folgen so ihre Schwächen. Gerade der Auftakt hatte mir gar nicht gefallen, danach kamen aber durchaus Folgen aber vor allem Momente, in denen man die Stärken der Reihe gesehen hat. Charaktere, komplexe und (meist) glaubhafte Story und stets eine gesunde Balanca aus Unterhaltung und Dramatik. Oft hat es aber eben nicht in der Form gepasst, so dass definitiv noch Luft nach Oben da ist. Nur hoffe ich inständig, dass es keine Endlos-Verschachtelung wird. Gerade droht es mehr und mehr ins Absurde zu Zoomen, aber ich behalte mich da vorerst bedeckt, vielleicht kriegen die das ja glaubhaft und konsequent gedreht.

-->