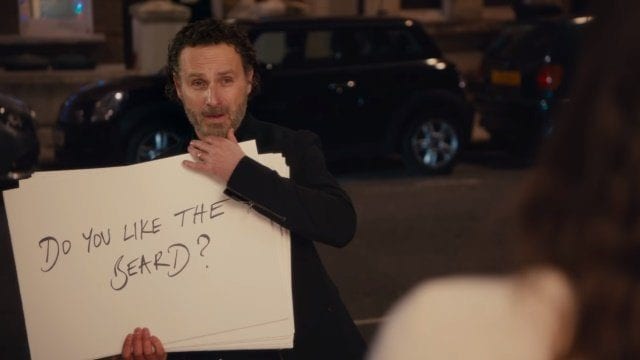 Im letzten Jahr hat es sich der The Walking Dead-Cast nicht nehmen lassen, ein ganz eigenes, an die Serie angelehntes Red Nose Day Special zu gestalten. Dieses Jahr ist Andrew Lincoln alias Rick Grimes wieder mit am Start – allerdings in einem anderen Kontext.
Ich weiß nicht, wie es euch geht, aber jedes Jahr um die Weihnachtszeit herum muss ich mir immer einmal Love Actually (Tatsächlich Liebe) anschauen. Das ist ein mittlerweile seit einigen Jahren bestehendes Ritual. Um so mehr habe ich mich gefreut, dass zum diesjährigen NBC Red Nose Day Special fast alle Darsteller des Films zusammengetrommelt wurden, um zu Charity-Zwecken ein Mini-Sequel zum Film zu drehen.
"It's been delightful to revisit these characters and see the cast again, with everyone looking a bit older — apart from Hugh Grant, of course." – Richard Curtis (Writer & Director)
Ich liebe solche Zusammenführungen ja. Mit dabei ist wie schon erwähnt Andrew Lincoln aus The Walking Dead, aber auch Keira Knightley, Liam Neeson, Thomas Brodie-Sangster (Game of Thrones) und Rowan Atkinson haben ihre Auftritte. Und auch Bill Nighy, Hugh Grant und Colin Firth sowie einige weitere Darsteller wollten die damalige Zeit wieder aufleben lassen. Umso trauriger, dass Alan Rickman nicht mehr dabei sein kann. Der britische Schauspieler, der vor allem für seine Rolle als Snape in Harry Potter bekannt ist, verstarb 2016.
Der Trailer zu Red Nose Day Actually ist schon sehr unterhaltsam und knüpft 1:1 an den Film an. Das 15-minütige Sequel wird heute Abend in den USA ausgestrahlt. Vor zwei Monaten feierte das Special bereits in der UK Premiere und sorgte dort vor allem wegen Hugh Grants alias Prime Minister Davids Rede, die im Rahmen der damaligen Anschläge am Westminster Palace besondere Bedeutung trug, für Beifall. Nach den Anschlägen auf das Ariana Grande Konzert in dieser Woche in Manchester gibt es bedauerlicherweise schon wieder aktuellen Bezug.
Mehr Liebe!
via: Entertainment Weekly