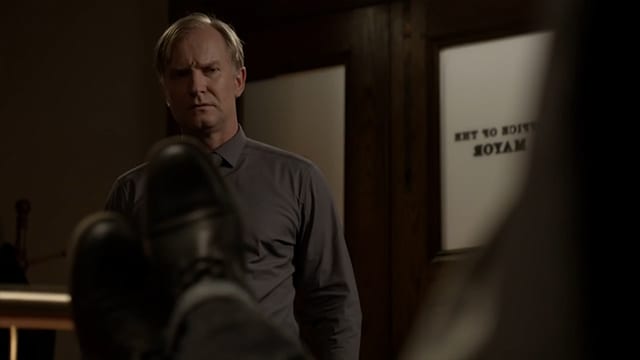 Das tat gut! Fängt ja schon mit dem Titel an und auch dieses Mal fällt der inhaltliche Bezug auf Calvin Bunker – seines Zeichens Rassist, Teilzeit-Philosoph und Schwiegervatermörder mit dem anschließenden ersten Pulleralarm in der Historie von Banshee. Nettes Résumé, das Kerlchen. Zumindest empfinde ich das Seitendrama mit seinem Bruder Kurt nicht mehr als störend, ebenso wie sein Beef mit Proctor, was mit hoher Wahrscheinlichkeit blutig enden wird.
"You can go quietly or you can go bloody, but either way you are gone." (Calvin Bunker)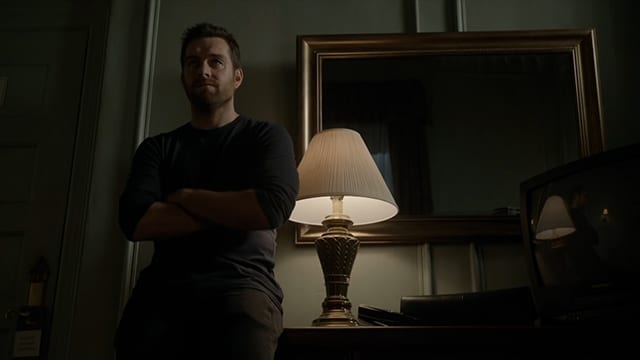 "Do I need to worry about you?" – "No. Might be nice if you did." (Hood & Dawson)
Endlich kommen sich Hood und Dawson nahe. Also, ich meine so richtig nahe. So nah, dass Hood ihre sekundären Geschlechtsmerkmale schon mit seiner Hand abdecken muss, damit sie von der Kamera nicht eingefangen wird. Eliza Dushku will nicht blankziehen, wir haben schon verstanden …
"[…] I don't stay still 'cause every time I do, someone close to me fucking dies!" (Hood)
Aber mal im Ernst: Lässt man Hoods lauwarmen kleinen Nervenzusammenbruch außen vor, ist die Spannung in seiner Beziehung mit der FBI-Agentin geradezu greifbar. Das Zusammenspiel der beiden finde ich sehr ordentlich.
"You got a warrant?" – "I don't need one. I'm not a cop." (Dr. Quick & Hood)
Bildlich kann die aktuelle Episode wie erhofft wieder an das gewohnte Niveau anknüpfen. Die eigentliche Szene vor der Selbstverbrennung war heftig. Womit ich nicht gerechnet habe, sind aber die Intensität und Qualität der Dialoge, allen voran das zwischen Proctor und Anastasia – was für eine irre gute Performance! Brock und Kurt Bunker, Bunker und Bunker: ebenfalls klasse. Jeder Darsteller – bis in die kleinste Rolle wie der Barkeeper in dem S&M-Club – liefert so dermaßen gut ab, dass man das Gefühl hat, dass alles andere eine Fehlbesetzung gewesen wäre. So wünscht man sich einen Cast!
Vorschau: S04E07
Banshee Season 4: Episode #7 Preview | Cinemax

Bilder: Cinemax

-->