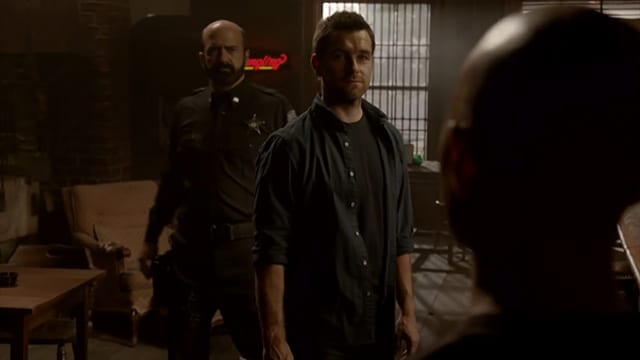 Schön zu sehen, dass die vorangegangene Folge keine Eintagsfliege war. Es wird nur das Nötigste geredet und wieder mehr angepackt. Motherfucking Job ist wieder ganz der motherfucking Alte und das ist auch schön so. Fühlt sich tatsächlich an wie ein Klassentreffen. Dass der Mörder von Rebecca zur Strecke gebracht worden ist, scheint dabei fast nebensächlich. Da hat Proctors anschließendes Dankeschön an Hood schon mehr Wumms dahinter.
"You and I were in a gunfight together with the Ukrainian gangsters at the metalworks." – "Correction, I was in a gunfight. You were lying on the floor crying about your motherfucking leg." (Brock & Job)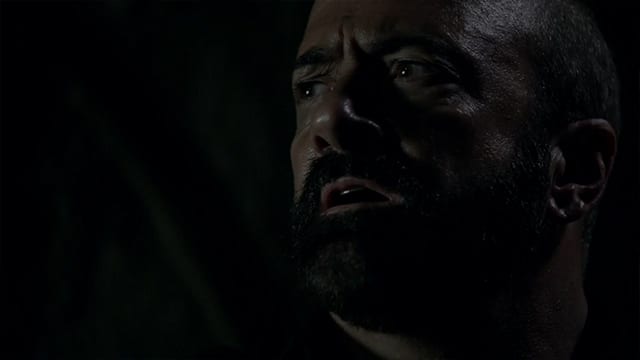 Brock muss abermals sich selbst eingestehen, dass er von einem Kriminellen abhängig ist. Seine Einsicht, dass Hood seine einzige Chance bedeutet, Banshee zu retten, wird sowohl vom Skript als auch von Matt Servitto wunderbar dargestellt. Obwohl er längst nicht mehr der ist, der er einst war, hat sich Brock als Sheriff Lotus in meinen Augen nicht wirklich verändert. Ebenso wenig überraschend ist auch Hoods Geständnis, dass ihm seine Zeit unter der Marke doch irgendwie ganz spaßig war.
"I was getting up every day, putting on the uniform. Eventually the lie took over." (Hood)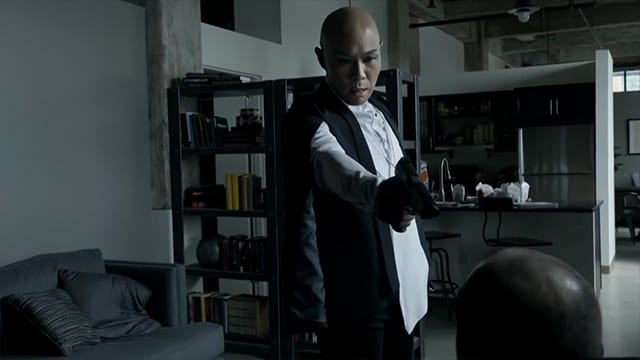 Endlich hat auch das wandernde Theater seine verdiente Gelegenheit zur Rache bekommen. Die Offenbarungsszene mit seinem ehemaligen Entführer übertrifft jede mögliche Szenerie von physischer Gewalt. Hier sind Worte ausnahmsweise mal angebrachter als Fäuste und Kugeln – die Drehbuchschreiber scheinen ihre Hausaufgaben doch gemacht zu haben.
"You're not going to kill me?" – "No. I'm going to kill me." (Fitzpatrick & Job)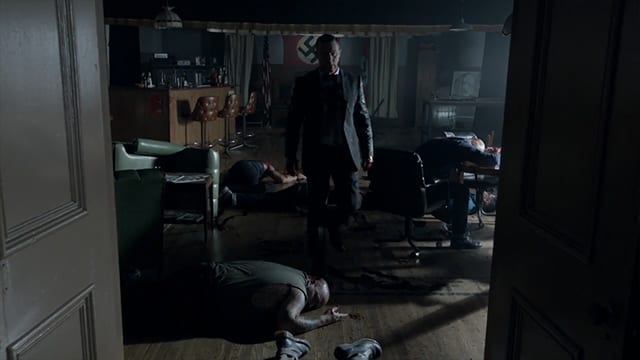 Nach wie vor kommt die Figur des Clay Burton so rüber wie ein Gedicht, das selbstständig sich rezitiert. Ich feiere innerlich jedes Mal, wenn er seine Brille abnimmt. Mit dem Krieg zwischen Proctor und der Arischen Bruderschaft scheint auch ein weiterer würdiger Bestreiter im finalen Showdown gefunden zu sein. Mein Tipp für sein Schicksal: Heftig, blutig und in seiner vollsten Treue zu Proctor.
"[…] you can tell Proctor to go fuck himself […]" – "Oh. I see." (Typ, der Burton dazu bringt, seine Brille abzunehmen & Burton)
Vorschau: S04E08
Banshee Season 4: Episode #8 Preview (Cinemax)

Bilder: Cinemax

-->