Die beiden Finalfolgen der ersten Staffelhälfte hinterlassen bei mir gemischte Gefühle. Ja, die dritte Staffel ist in vielerlei Hinsicht besser als die vorige. Und doch bin ich nicht ganz glücklich.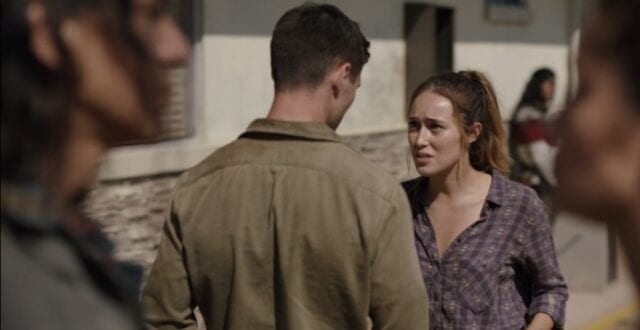 Vielleicht fangen wir erst einmal mit dem Positiven an. Da ist mir zum Einen die musikalische Untermalung aufgefallen. Die mit Bedacht eingesetzten Songs waren meist passend gewählt. Auch der Score konnte überzeugen. Zum Anderen sei die Optik der dritten Staffel erwähnt. Das texanische Ödland hat seinen eigenen Charme und ich konnte mich, dank der guten Arbeit der Regisseure, gar nicht daran satt sehen. In nahezu jeder Folge gab es einen Shot, in dem die Darsteller einen kleinen Teil des Bildes eingenommen haben und mir so ein Gefühl von "unendlichen Weiten" vermittelt wurde. Was aber wieder gestört hat, sind die aus Staffel 2 bekannten unnötigen Längen. Man könnte jede Folge locker um 20 bis 30 Prozent kürzen, ohne dass die Qualität darunter leiden würde. Nun gut, diese Problematik kennen wir auch schon aus der Mutterserie. Zurück zu den Folgen.
S03E07: The Unveiling
Der zentrale Konflikt zwischen Ur-Einwohnern und weißer Arbeiterklasse brodelt bereits seit einigen Folgen und soll nun in einer Doppelfolge ihren vorzeitigen Höhepunkt finden. In "The Unveiling" bemüht sich Jake um eine friedliche Lösung des Konflikts, was leider durch Madisons Eingreifen und Jerimiahs Rückkehr zum Alkohol im Keim erstickt wird. Es gibt nun auch ein Wiedersehen mit Ofelia, die am Ende der Folge als Trojanisches Pferd fungiert und es so schafft die Ranch-Miliz und Nick außer Gefecht zu setzen.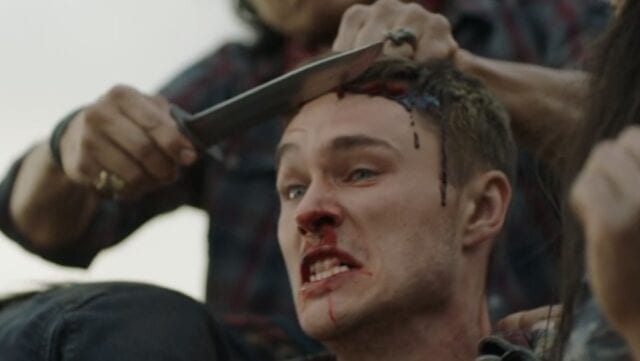 S03E08: Children of Wrath
Das stark dezimierte Team unternimmt nun einen letzten Versuch um wieder in eine gute Ausgangslage zu kommen. Und hat damit Erfolg. Zwischendurch wird immer klarer, dass Jerimiah maßgeblich an der Eskalation der Fehde beteiligt war. Eine Entwicklung, die schon bei Einführung des Charakters vorhersehbar war und meiner Meinung nach etwas weiter hätte gehen können. Am Ende können sich die Bewohner der Brokejaw-Ranch und die "Pony-Warriors", wie sich die Gruppe um Walker selbst nennt, friedlich aber nicht unblutig einigen.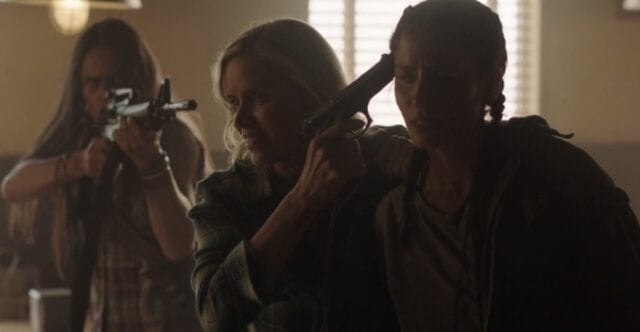 Unnötigerweise gab es in "Children of Wrath" noch einen weiteren Handlungsbogen um Victor Strand. Dieser findet die Abigail wieder und freundet sich per Funk mit einem russischem Kosmonauten an, der leider nie mehr zur Erde zurückkehren kann. Ob sowas technisch überhaupt möglich ist, sei mal dahingestellt. Die Produzenten hätten sich aber auf die Hauptstory konzentrieren sollen, da sich der Plot auch sehr in die Länge zieht und es letztendlich beim Status Quo für Strand geblieben ist. Schade, war der Rest der Episode doch sehr unterhaltsam.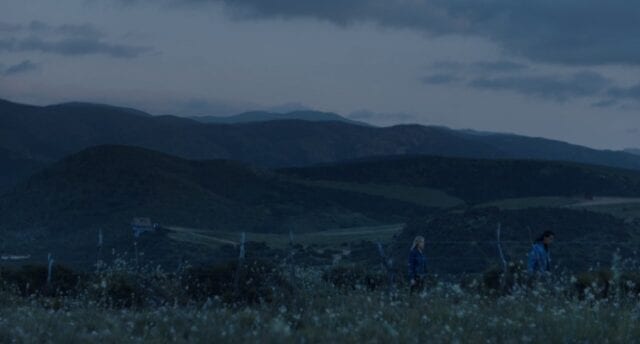 Alles in allem ein zufriedenstellendes Halbstaffelfinale. Ohne den Strand-Plot wäre die letzte Folge wesentlich runder gewesen. Nach der "friedlichen" Lösung stellt sich mir nun die Frage, wie es in der zweiten Staffelhälfte weitergehen wird. Wird Nick sich auf die Suche nach Lucy machen? Wird Daniel endlich Ofelia finden? Am 11.September wissen wir dann endlich mehr.
Bilder: AMC