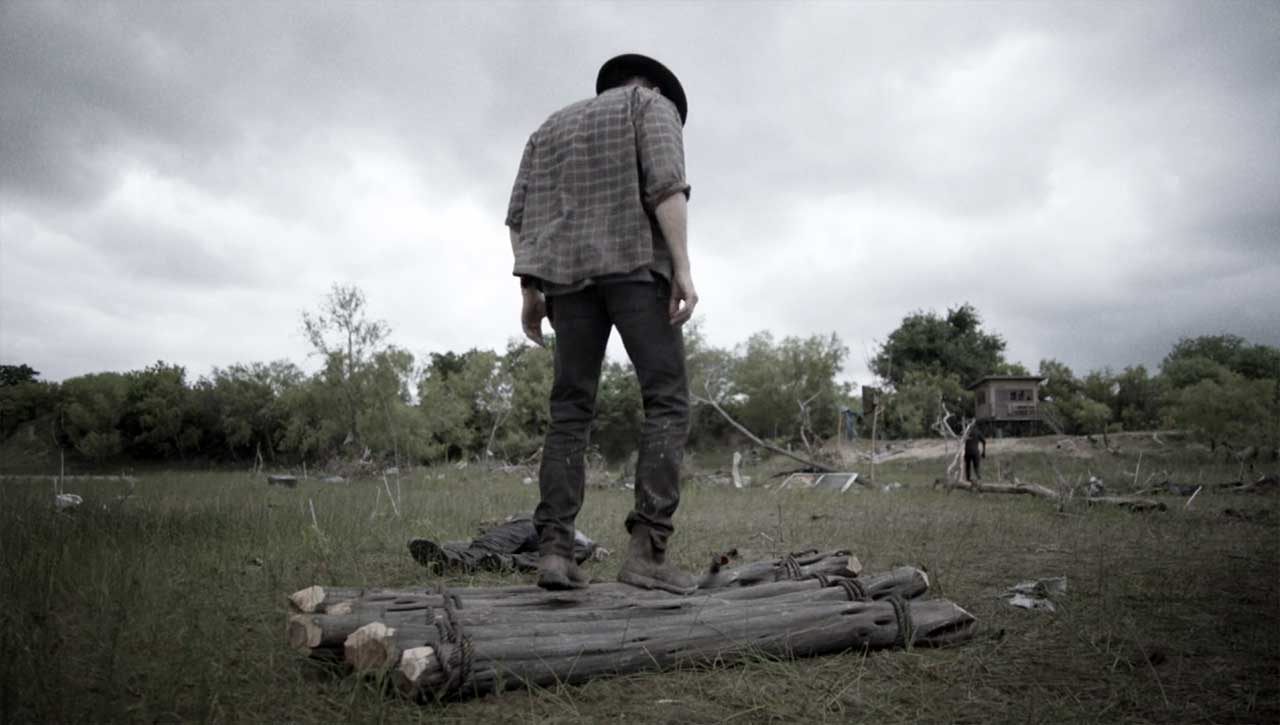 Wie zu erwarten war, widmet sich die neue Folge "Fear The Walking Dead" den letzten Ausgebliebenen der Post-Sturm-Erzählung. Dabei wird uns im kleinen Intro-Fetzen bereits gezeigt, dass es diesmal tatsächlich um direkte Auswirkungen des starken Regenfalles geht. John und Strand sind auf einer Ranger-Insel gestrandet. Was aufgrund von Walker-Schutz, Proteinriegel-Vorrat und "Moby Dick" zunächst nicht soo schlimm anmutet, ist eine tickende Zeitbombe.
"The only difference between us and the passed is a few days' rations." (Strand)
John will nicht nur June und die anderen finden, sondern vor allem auch auf lange Sicht überleben – indem er die Insel verlässt. Eindrucksvoll demonstriert er seine Überlebens-Skills und baut nicht nur ein, sondern gleich zwei Floße. Das erste wird durch das Erscheinen eines Alligators in die Bedeutungslosigkeit manövriert. Dabei erinnern die lediglich Sekunden sichtbaren Augen des Reptils sehr an das CGI-Reh aus "The Walking Dead". Waren die sturmverflogenen CGI-Zombies im Wiederauftakt der Staffel (S04E09 – "People Like Us") bereits schlimm, gab es auch hier billigste Animation zu sehen – wenn überhaupt was zu sehen war. Oftmals gab es nur einen Schatten oder ins Wasser plumpsende Walker. Das ist Wasserhorror-Mechanik aus Zeiten des Schwarz-Weiß-Filmes (wobei, mit dem aktuellen Farbfilter ist FTWD da ja nicht mehr weit von entfernt…).
Bei Floß Nummer zwei stört mich neben dem rudimentär sichtbaren und anscheinend unmöglich mit einer Schusswaffe auszuschaltenden Raubtier vor allem, die Materialbeschaffung. Dass John sich das Schwimmstück aus Autocamperteilen zusammen-McGyver't ist an sich super, aber dass das Auto auf der überschaubaren Insel erst so spät erspäht wird, ist beinahe so dämlich, wie in Präsenz und Reichweite eines Walkers zuerst nach der am Boden liegenden Whisky-Flasche zu greifen. Jetzt wird Strand also nicht nur als arroganter Selbstverliebter mit Schadenfreude dargestellt, sondern auch noch als Dummkopf.
"You always drink? Even before?" – "I was an amateur. I've gone pro." (John & Strand)
Dabei ist der Grund mal wieder klar. Die Figur des Victor Strand soll als des Lebens müde gezeichnet werden. Beim erzwungenen Auseinandersetzen zwischen ihm und John treffen Pessimist und Optimist aufeinander. "Habe nichts und niemanden mehr" trifft auf "Immer weiter!". Was an sich eine nette Botschaft wäre, wird mir leider erneut zu schnell und plakativ serviert.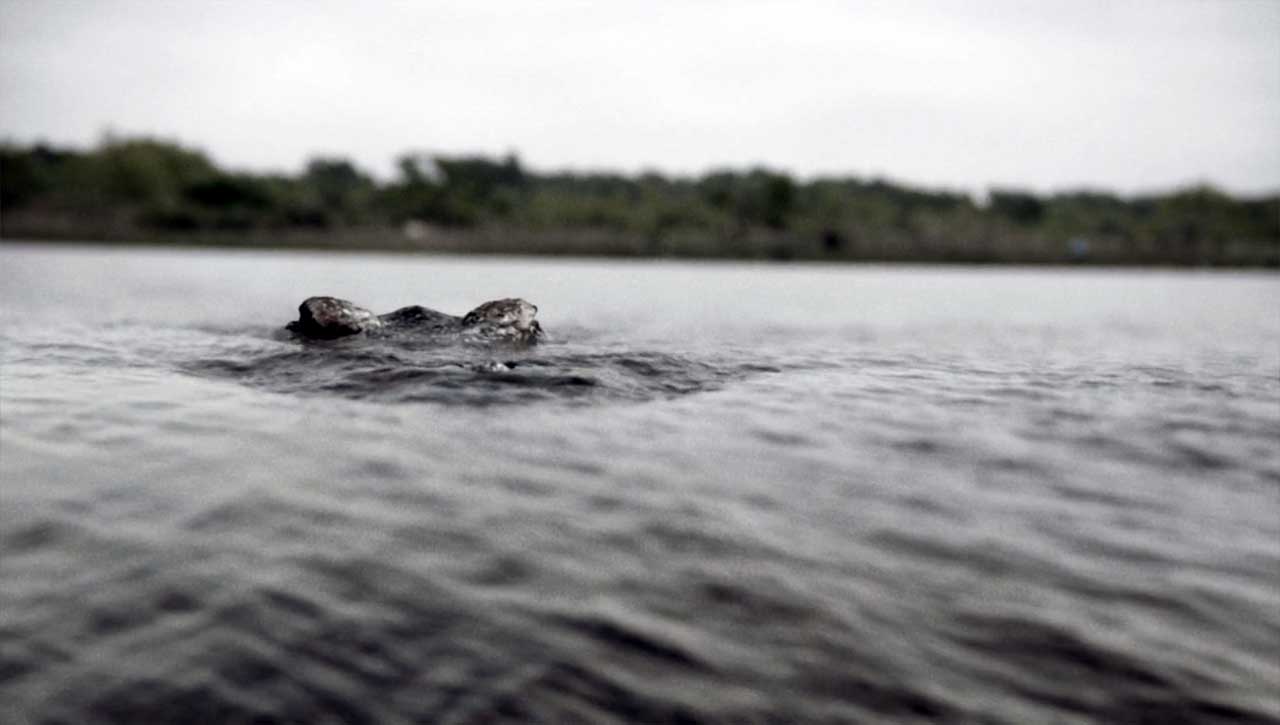 Eine der vielen "ich habe einiges gutzumachen"-Versprechen wurde bei Luciana eingelöst. Auf der Suche nach Charlie trifft sie Clayton, der nur noch von einem Auto zusammengehalten wird und – natürlich – ein Bier möchte. Wie passend, ist der einzige Bierbrauer der Welt nur wenige Meilen entfernt, was ein Glück! Wird die Serie mittlerweile eigentlich von Budweiser oder so gesponsert? Aber die Zufälle hören nicht auf, denn natürlich handelt es sich bei der gefundenen Person um den um seinen Truck erleichterten Polar Bear, der natürlich durch eine seiner eigenen aber von Morgan und Co. ausgelieferten Hilfs-Kartons zum erfrischenden Absacker gelangt und natürlich handelt es sich um die fußläufig entdeckte Kiste um eine der neueren, die mit Funkgerät-Info versehen ist. Wieso die alle klammheimlich ihre Kanäle nutzen, ohne zu wissen, wer alles mithören kann und anstatt mal alle durchzugehen, verstehe ich eh nicht ganz.
Aber gut, zurück zum Haupt-Stamm der Figuren. Die suchen Quinn, finden aber Pursey, was irgendwie schon recht nah dran ist, wie sie bis dahin noch nicht wissen. Die Mystery Woman glaubt daran, dass die Serie Morgan wieder zu alter Stärke finden kann und Wendell hat von Q ein paar James Bond'sche Gadgets in den Rollstuhl verbaut bekommen.
"How about a rock? You want a rock?" (Wendell)
Kaum mehr überraschend geschehen ein paar weitere Wunder. Alicia und Charlie finden natürlich auch eine Kiste und wollen genauso wie Luciana aufgelesen werden. Was zunächst wie ein einfacher Dreh mit dem Spatenstock klingt, wird durch die Mystery Woman jäh gestört. Aber es haben sich ja noch rechtzeitig alle geduckt, was soll da schon passiert sein?!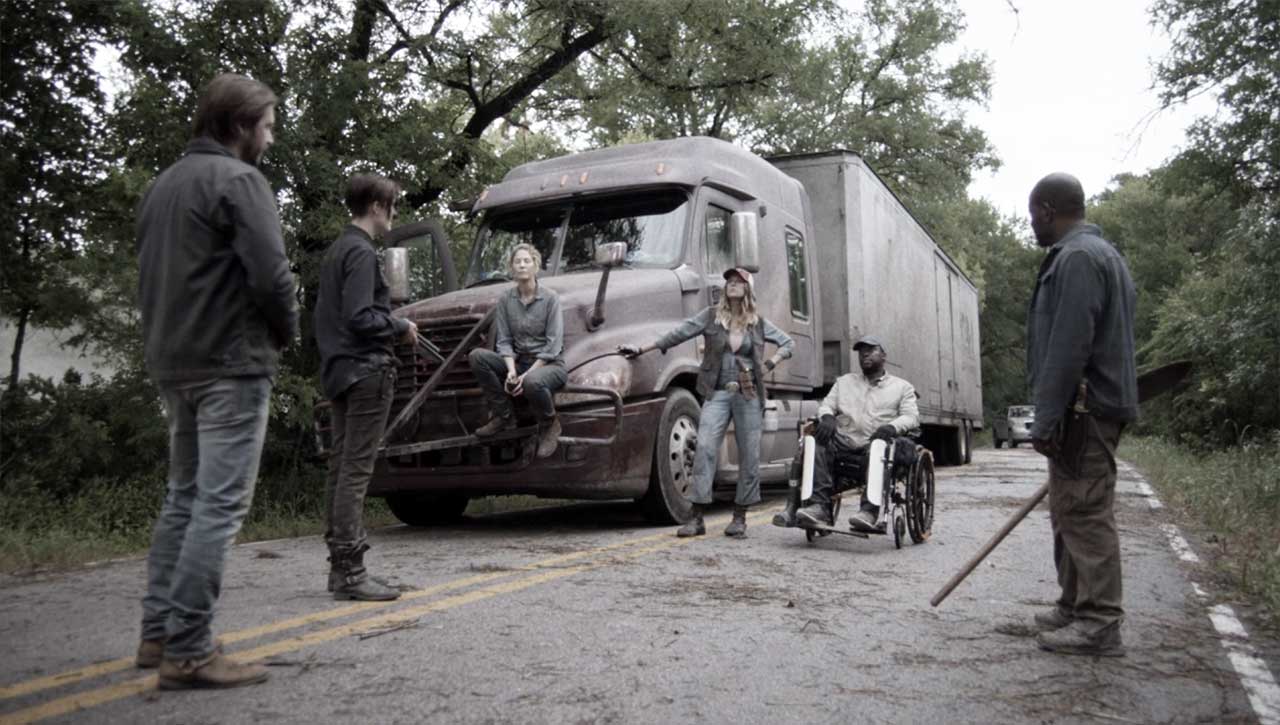 Tjoa. Das war minimal besser als vergangene Woche, es bleiben aber viele der Fehler und ein paar neue sind hinzugekommen. Der Sturm ist mit dieser Folge endgültig auserzählt und so richtig viel genutzt hat er nicht. Klar, die Separierung der Personen(gruppen) hat zu drängenden Situationen und durch die Not erklärbare Auseinandersetzungen geführt, aber da wurde viel Potenzial im Winde verweht und oftmals auf künstliche Art und Weise inszeniert. Dass dann binnen utopisch kurzer Zeit im Grunde fast alle wieder zueinander finden, ist da natürlich nur die Kirsche auf dem Sahnehäubchen des vorhersehbaren Storytelling-Eisbechers.

Bilder: amc

-->