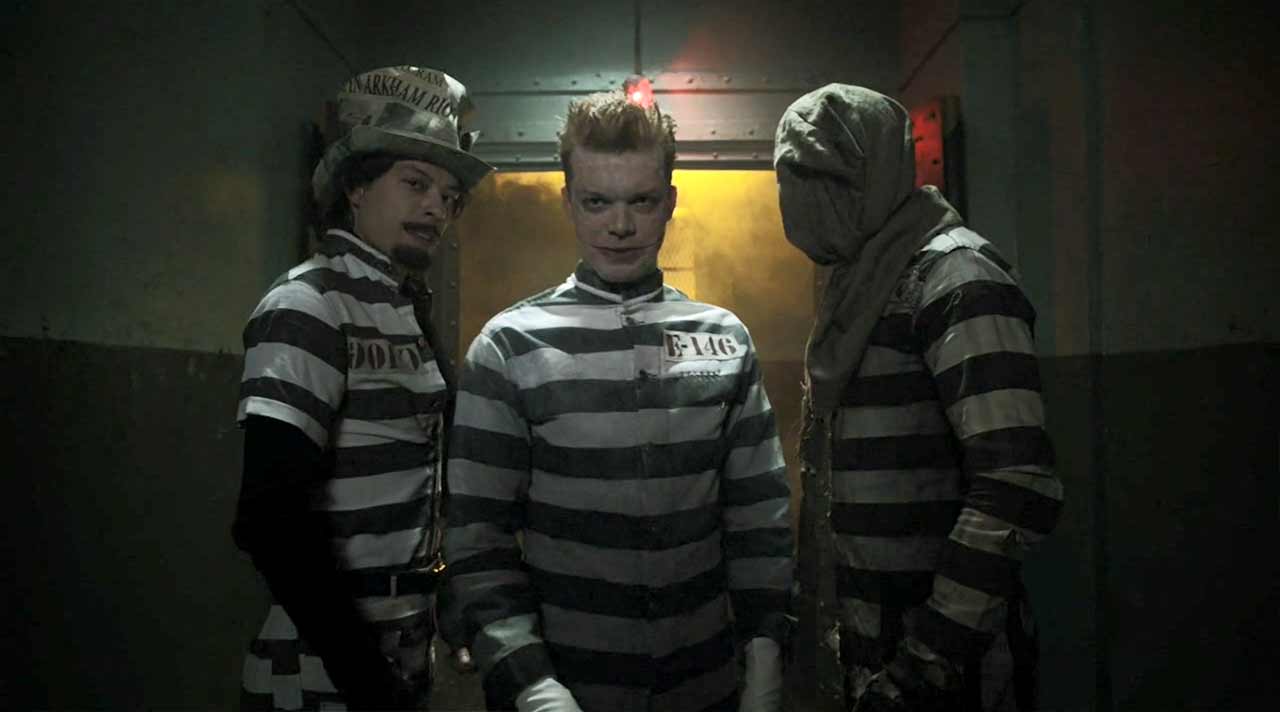 Alleine das vollgepackte "previously on 'Gotham'" bei dieser Folge hat bereits viel Vorfreude entfachen können. Und die Erwartungen sollten gänzlich erfüllt werden – also Kopfhörer auf und los!
Erneut gibt es ein Zeitschriften-Cover als visuellen Opener, dieses Mal "Gotham Pro Wrestling". Welcher arme Aufpasser wohl kommende Woche dran glauben muss? Vielleicht mit einer Ausgabe "Gotham Gardens" in der Hand? Den Dreh mit den Kopfhörern gegen Tetch fand ich gut, noch besser natürlich seine Antwort darauf.
"I'M NOT TALKING TO YOU!! I'm talking to her…" (Tetch)
Es beginnt ein Who-is-Who der Arkhamschen Superbösewirren. Scare Crow samt frischer Klo-Mische, dann Jerome. Ein fürchterlich tolles Wahnsinns-Trio. Tetch und Jerome zu spielen, muss sehr viel Spaß machen. Schön fand ich auch den kleinen Satz, der verdammt viel Wahrheitspotenzial beinhaltete:
"There'll be plenty of time to stab each other in the backs later." (Tetch)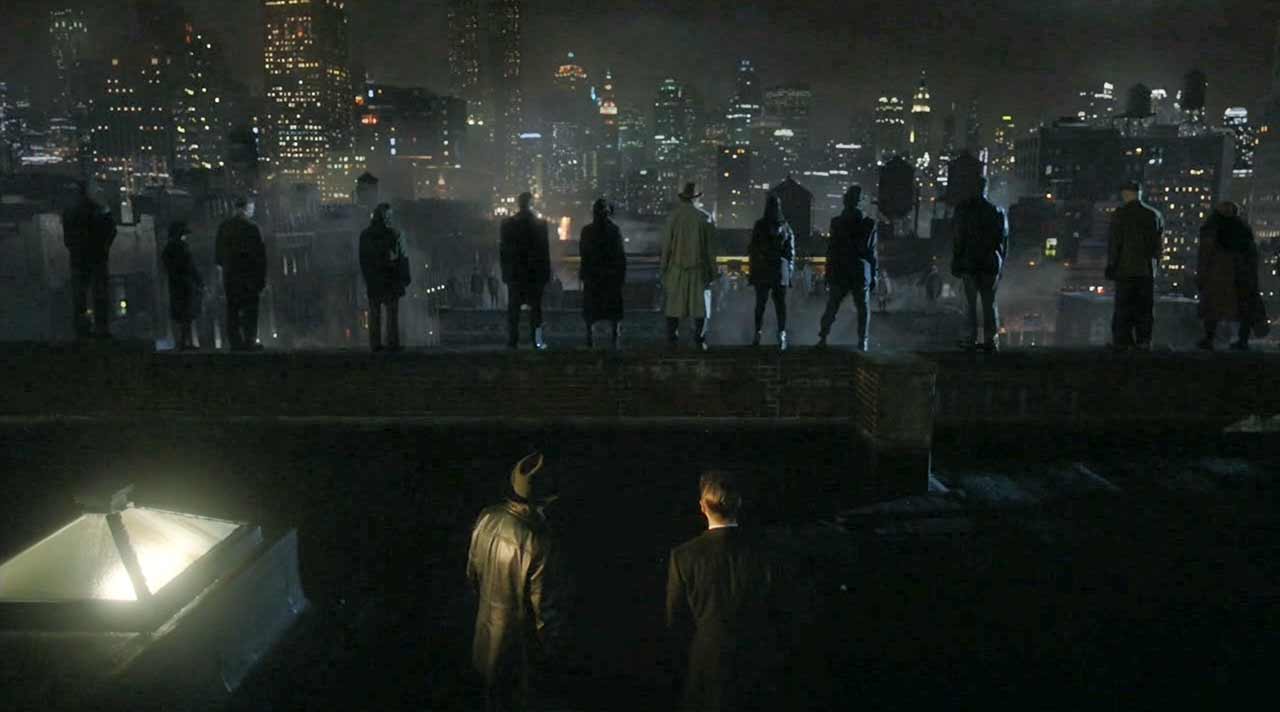 Als erste erstaunlich schnell umgesetzte Amtshandlung hält Tetch alle Leute mit einer stadtweiten Massenhypnose beschäftigt. Das Bild mit den Massen an Sprungsüchtigen war schon eindrucksvoll in seiner Wirkung. Ein Hypnose-Dilemma, bei dem ein edler Opferungsmove Harveys und eine Glückskeks-Nachricht Jims fünf vor 12 noch die Rettung herbei führt.
"Squirrels hide nuts for the winter. I got THIS for whenever." (Harvey)
Bruce hat Jim mittlerweile auf der Kurzwahltaste "1" und ruft Richtung Ende genau zum Stichwort an:
"There are no heroes here." – "No heroes here." (Harvey & Jim)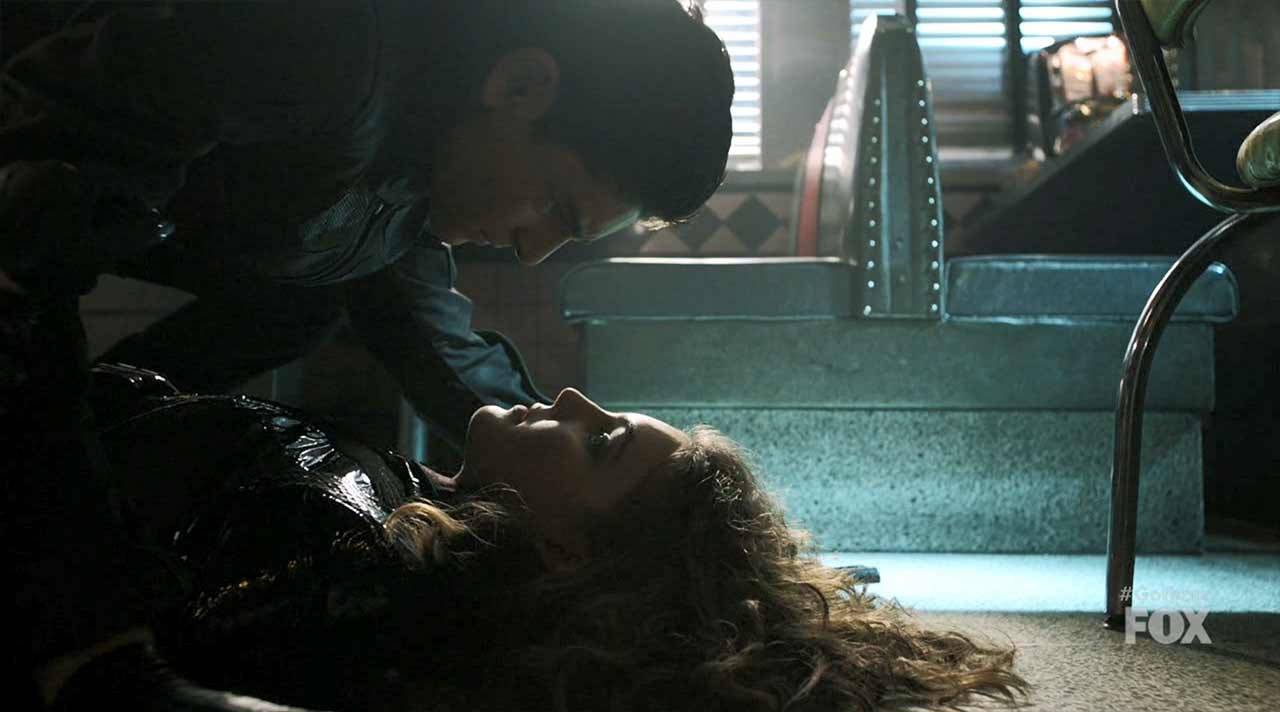 A pro pos "Bruise" Wayne – der bezieht eine ordentliche Tracht Prügel bei Jeromes Onkel. Der war nämlich – im Gegensatz zum sonst ach so genialen Genie…?! – so schlau, Verstärkung mitzubringen. Eine der wenigen sehr dummen Aktionen diese Folge. So wirkte die ansonsten doch recht charmante Suppenszene doch zu offensichtlich inszeniert. Vor allem auch, um die Beziehung der beiden Superkinder mit mehr als deutlichen Annäherungs-Andeutungen zu nähren.
"See you around! I mean… except the opposite." (Jerome)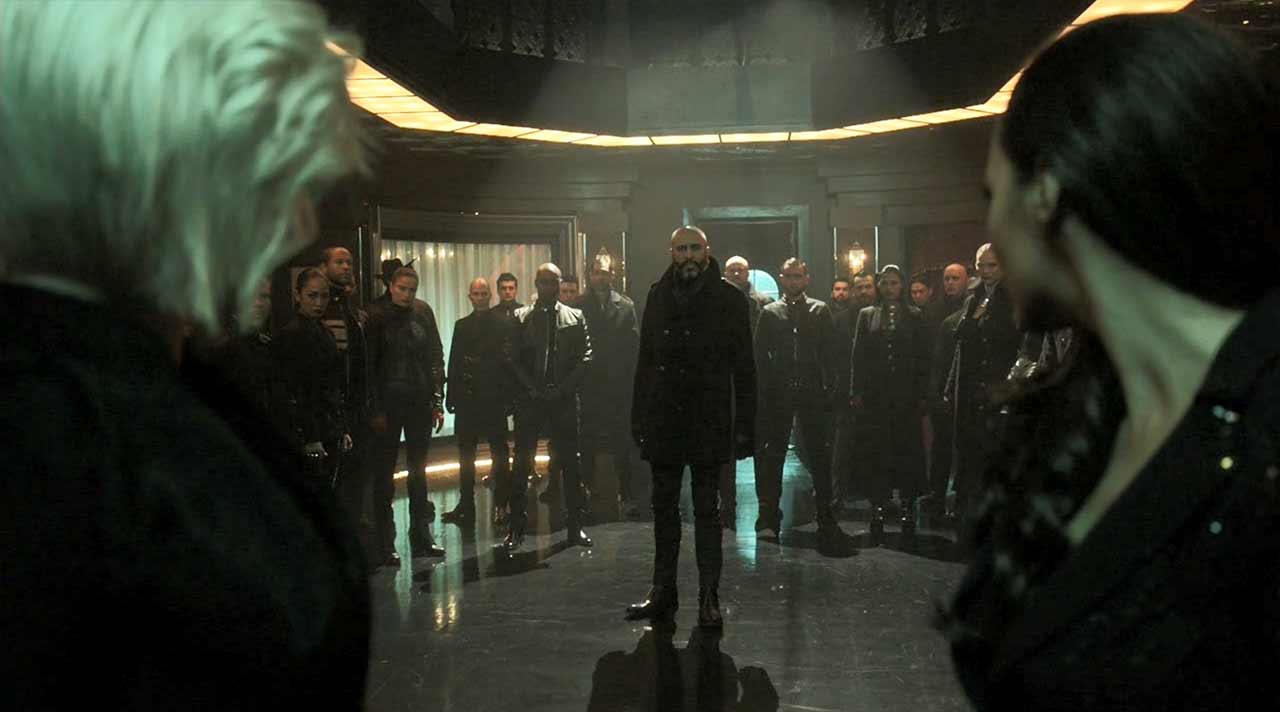 Ach, und dann wäre da natürlich noch Barbara als "Demon's Head", Anführerin der "League of Shadows" und Attentätern und Elektro-Installateurin mit Iron Man-Hand. Der Titel kann ja fast Daenerys Targaryen aus "Game of Thrones" Konkurrenz machen. Jedenfalls führt sie jetzt die Liga der außergewöhnlichen Feministinnen an. Der Gegensatz zu unserem neuen Heimatministerium, wenn man so will.
"Anyone else wants a shot at the title?" (Barbara)
Ich kann mich nur wiederholen: Das Groß an interessanten Figuren, das Gotham mittlerweile zu bieten hat, wird vermehrt stark ausgespielt und macht mir weiterhin sehr viel Freude. Alleine die beiden irrsinig guten Bösewichte Tetch und Jerome machen einfach ungemein Laune. Zu den vergangenen bereits sehr soliden Wochen konnte nochmal eine Schüppe drauf gelegt werden. Auch die neuerliche Regie-Arbeit Ben McKenzies ist durchaus gelungen. Also Daumen hoch vom Daumenlutscher und "All aboard the face-frying train"! Oder so. Und immer daran denken: Helft euch gegenseitig! *Ba-gawk!*

Bilder: FOX

-->