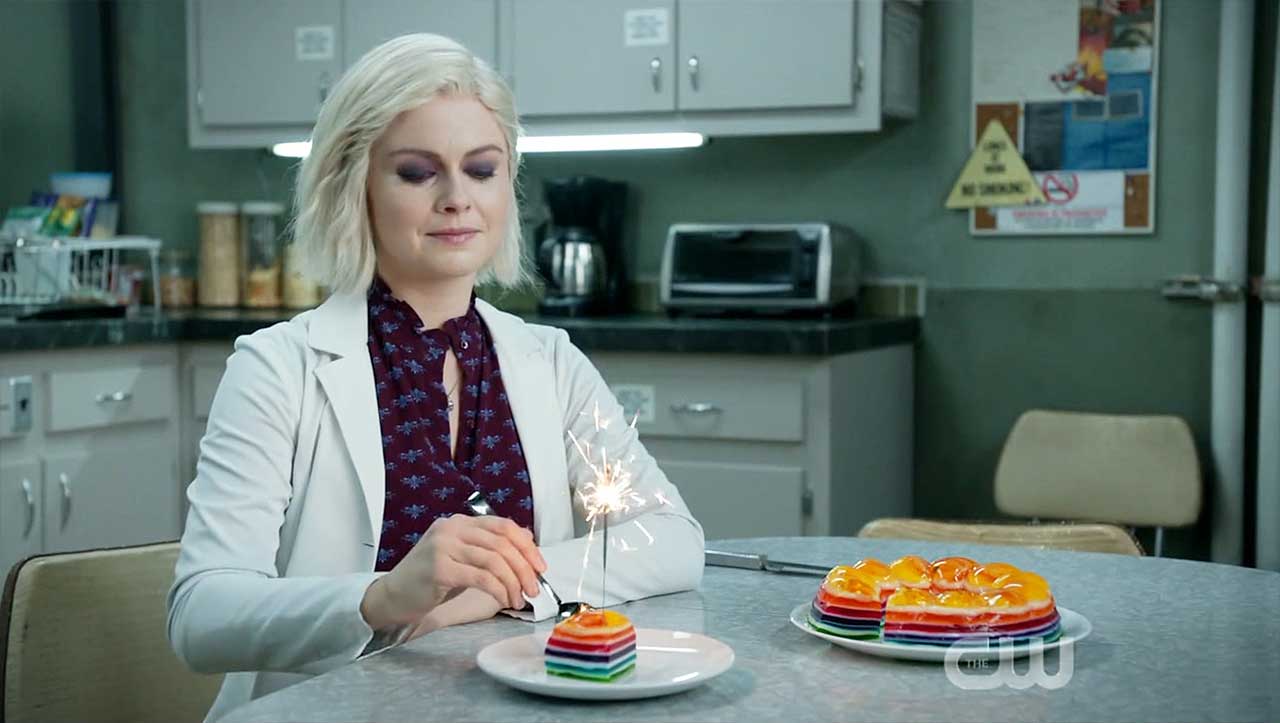 Nach den doch recht harten Ereignissen am Ende der letzten Folge wird diese Woche bei "iZombie" direkt daran angeknüpft. Den Ausweg aus dem Cliffhanger finden Liv und Ravi durch die Zombieklappe dann doch einfacher als gedacht. Deutlich glamouröser geht es da auf der Wochenspeisekarte zu, auf der es dieses Mal Drag Queen mit Vorliebe für hochwertigen Glitter und das Verpassen von Einsätzen gibt. Zur Feier dessen wird ein vielschichtiger Wackelpudding-Regenbogen mit Wunderkerze kredenzt.
"Live fast, die young, leave a beautiful corpse?" (Clive)
Der sonstige Wochenfall war entgegen des hohen Make-up-Verbrauches doch recht farblos. Ein lustig anmutender Charaktername, eine Cher-Perrücke und vor allem viel Kultur-Kritik in alle Richtungen (Altes bitte wahren, aber Neues auch akzeptieren, okayy-yay?!) – das war es auch schon.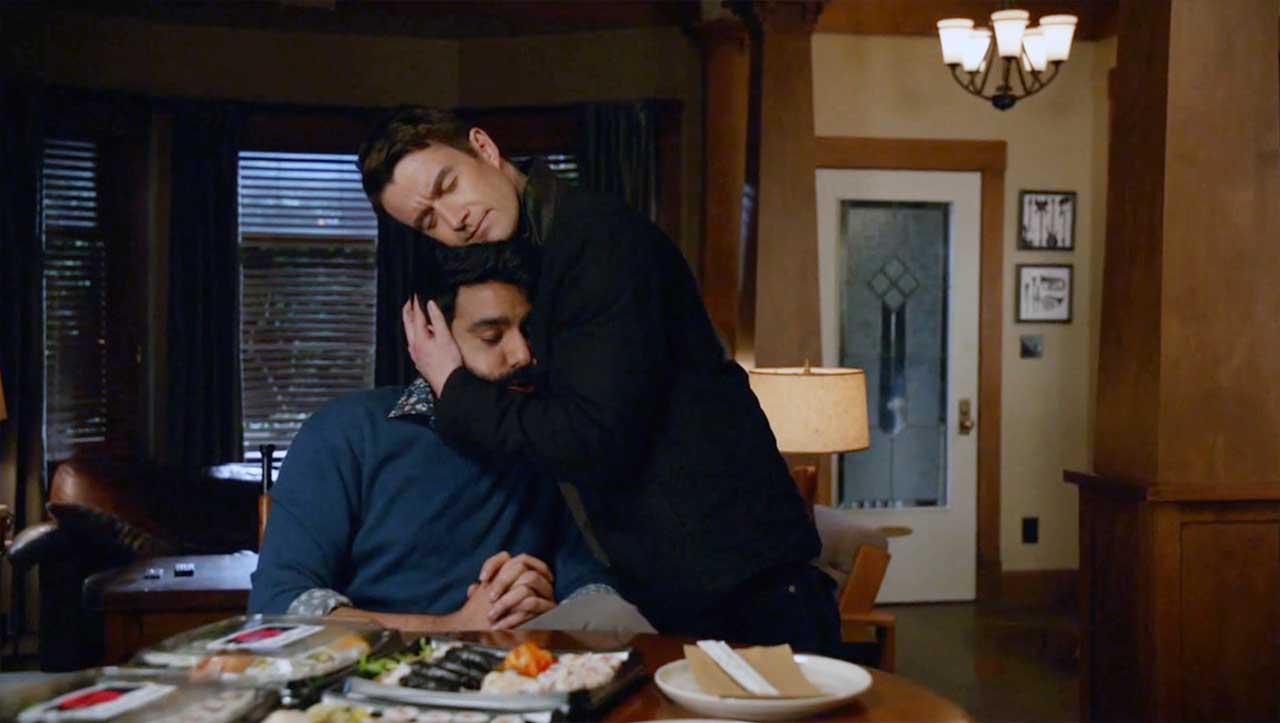 Mein absolutes Highlight der Folge war jedoch die lang fällige Bromance-Mission. Nach einer erfolgreichen Sushi-Bestechung für Major gehen selbiger und Ravi auf die Suche nach den vermissten Kindern, statt zum Bowling (macht auch mehr Sinn für die Story).
"I found someone who might lead us to someone who just might know where they might be – if we're lucky." (Ravi)
Ich kann mich Major nur anschließen und fand den "Change of Pace" auch sehr nice. Die beiden haben einfach eine gute Chemie, die Dialoge waren schlagfertig geschrieben und allgemein die Mission so kurzweilig, wie sie relevant war. Sobald solch ernste Settings lustiger und mit Amateuren bestückt sind, geht natürlich immer etwas die Logik flöten. Dass Ravi als eigentlicher Lookout mehr oder weniger glücklich den Truck mit den Kindern findet – okay. Aber diese Flucht Majors vor den Schüssen? Naja. Dafür war die Idee mit dem Tracking-Device in einer Visitenkarte schon ganz cool.
"I was gigolo bate – AND I got shot!" (Major)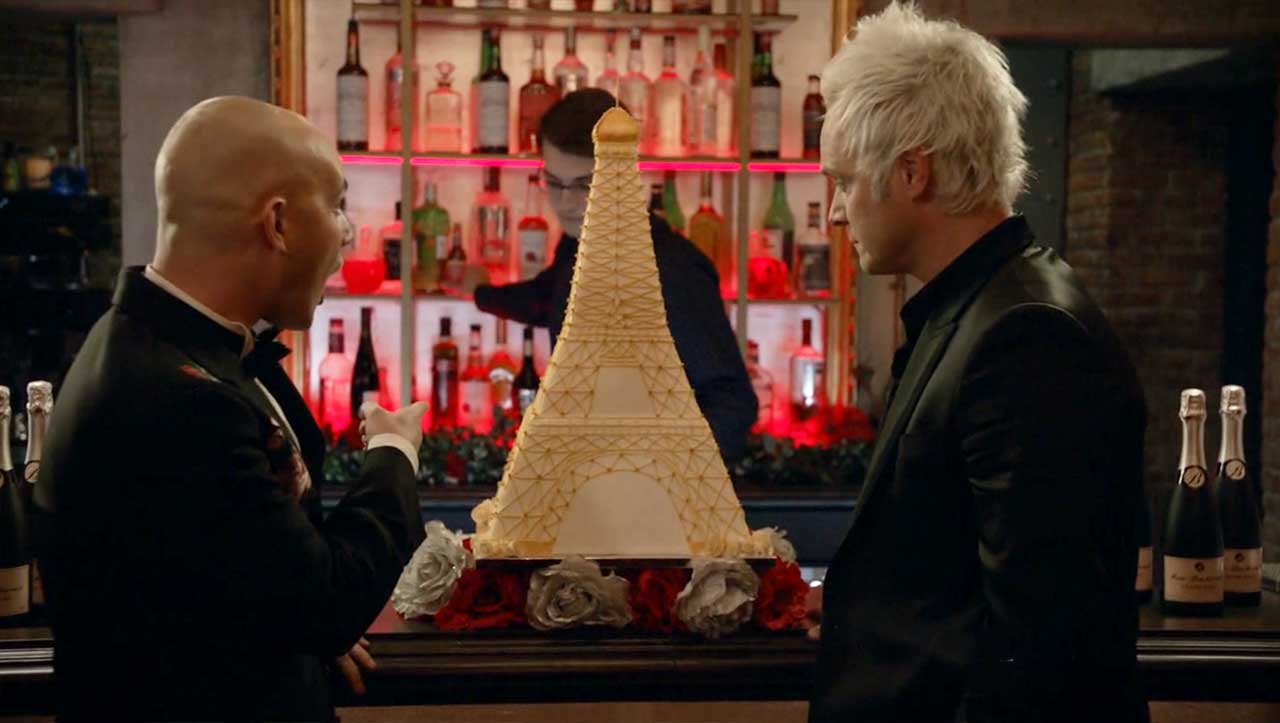 Weniger cool lief die geplante Hochzeit für Don E(berhardt) ab, weil Blaine von dessen Unterwanderung Wind bekommen hat. Das führte wiederum zum noch verfrühterem Tod der Braut als eh schon vermutet, was schade ist, da ich den Karpfen(?) gerne noch etwas tanzen gesehen hätte.
Mehr Grund zum Feiern haben zunächst die Bösen (die, wie mir gerade auffällt, erstaunlich wenig Dead Enders-Anteil diese Woche hatten…?!). Vier von Charlies Engeln wurden nach Las Vegas geschmuggelt, um im auf TripAdvisor als feinstes Etablissement der Region gerankten "Foxy's Henhouse" ein bisschen umzudekorieren. Dass da eine Tech-Convention als Möglichkeit der Zombie-Verbreitung ausgewählt wird, ist noch der sinnvollste Aspekt des Finales dieser Episode.
Was mich sehr gestört hat, war das Handeln des gemeinen Franzosen. Der hat extra den Mord an der Geisel angeordert, damit es keine losen Enden mehr gibt, die plappern können, aber vergessen, dass die Geisel ja eigentlich nur ein Druckmittel war, um Gram in Schach zu halten. Und ja, der hat seinen Teil der Arbeit gemacht, aber natürlich bekommt er das mit und plaudert entsprechend fröhlich den Plan aus. Wenik weihtsischtisch, Monsieur.
Was mich außerdem stört, ist, dass Liv ihr Smartphone vertikal hielt, aber ihr Video auf dem Display von Daddy Z horizontal angezeigt wurde – und umgekehrt. Muss eine ziemlich coole Videotelefonie-Software sein. Okay, das ist nicht wirklich schlimm, aber ich möchte mich aus Selbstschutz davon abhalten, komplett "Full on zombie mode" zu gehen, wenn es um die Tatsache geht, dass es zwei gefühlsduselige Weltverbesserungs-Sätze Livs benötigt hat, um ihren bis dato recht stahlhart gebliebenen Dad emotional zu berühren und die von langer Hand geplante Mission in Gefahr zu bringen. Ach ja, und, wie dämlich er tot in seinen Stuhl umgefallen ist, damit Liv auch ja noch was sehen kann. Oh man…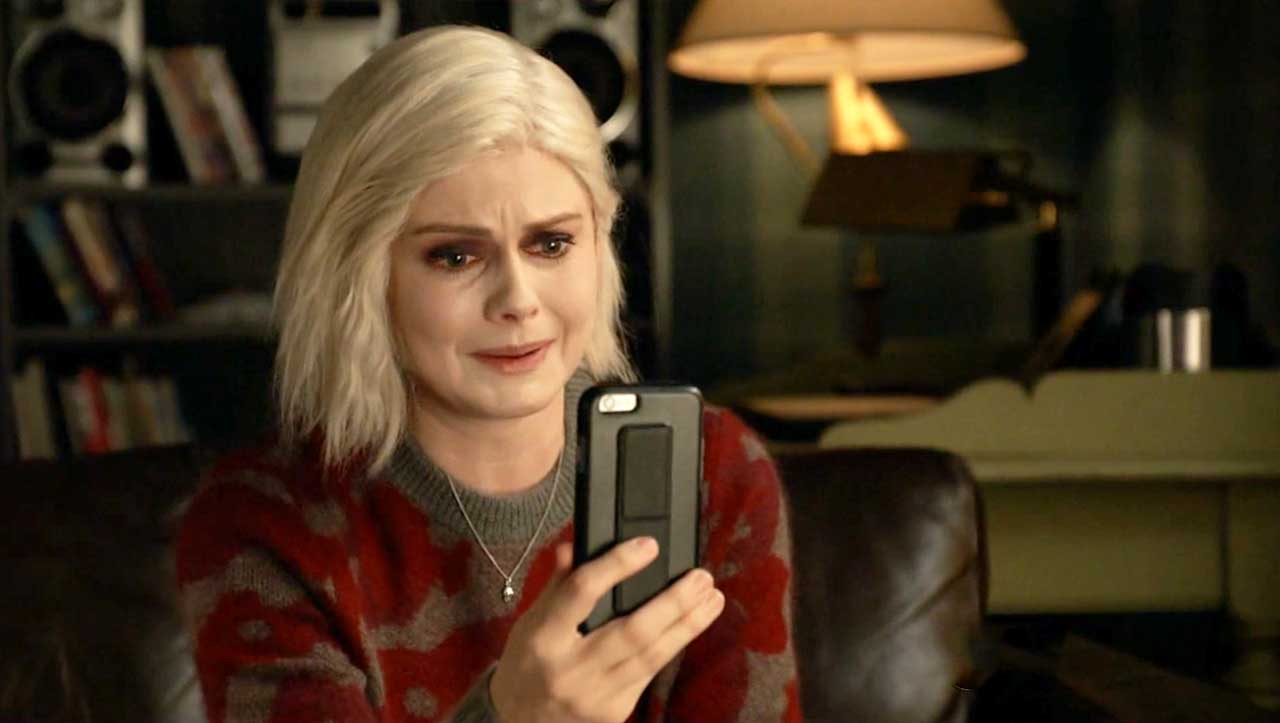 Eine seltsame Folge war das. An sich wurde in Sachen Haupthandlung einiges vorangebracht, das Tempo und die Erzählweise am Ende wirkte aber wenig authentisch. Ebenso hatte der mittelmäßige Wochenfall anscheinend so gar keinen Bezug dazu. Einen weiteren Punktabzug gibt es von mir dafür, dass trotz des Episodentitels "Killer Queen" kein einziger Takt Queen-Musik zu hören war. Vielleicht hätte man sie lieber "Drag down" oder so nennen sollen? Kurzweilig war es dann aber dennoch irgendwie, was vor allem an der Spannung, der Dringlichkeit der Handlungen sowie der tollen Ravi-Major-Szenen lag.

Jetzt bleiben also nur noch zwei Episoden von "iZombie", krass. Wie werden die Dead Enders noch auftreten? Reicht ein einfacher Anruf bei diesem Techniker-Treffen, um doch lieber den zweiten Eintrag auf der TripAdvisor-Liste anzusteuern? Und wird Major nächste Woche noch immer eine Schussverletzung haben, die ihn eigentlich an der Bewegung hindern sollte? Wir werden sehen.

Bilder: The CW

-->