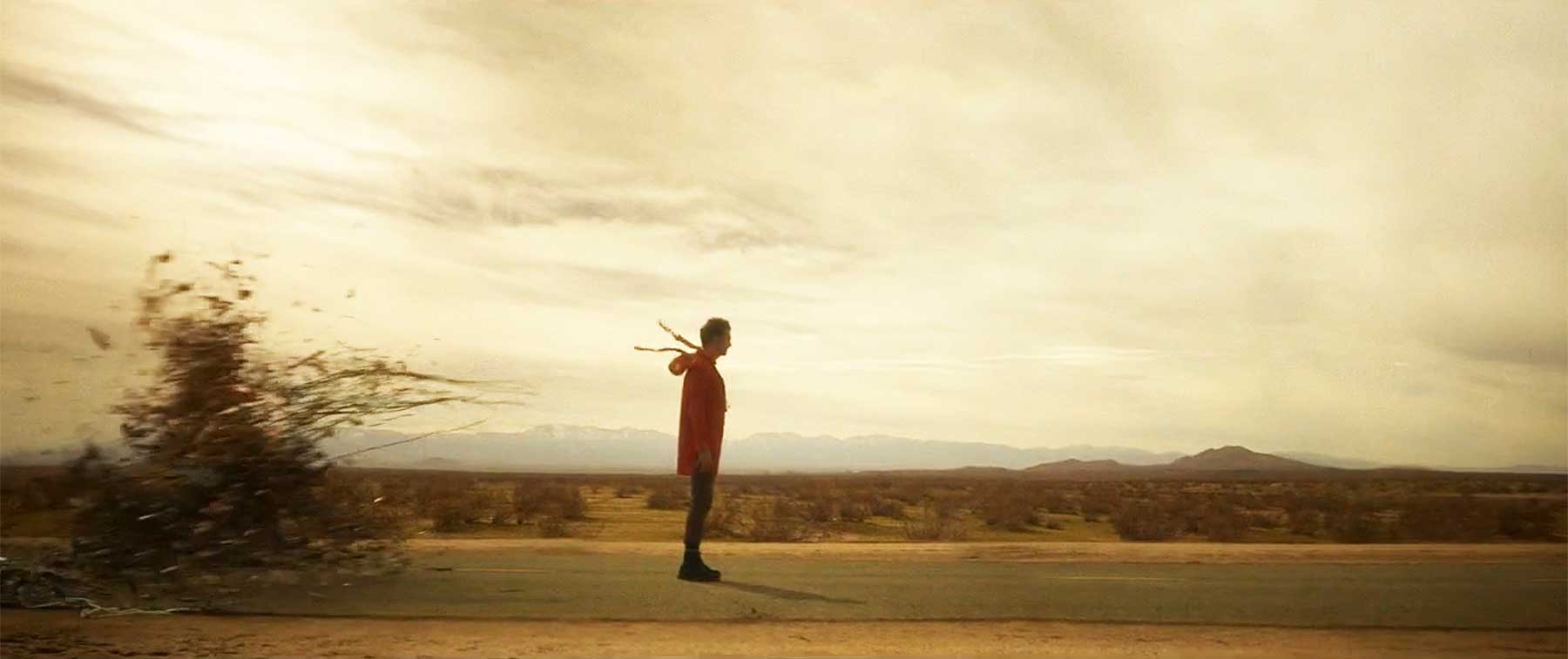 Dass "Legion" eine der kunstvollsten Serien unserer Zeit ist, wird bereits vor der eigentlichen Folge mal wieder gezeigt. Alleine das "Previously Tangentially on…" ist bereits dermaßen originell gemacht, mit stimmigen Schnitten und kleinen zum Zeitreise-Setting passenden Vorspul-Effekten. Den richtigen Episoden-Auftakt weiß zudem ein recht eindrucksvoller Auftritt Davids einzuläuten, der sich spielerisch Zutritt zum LKW und vor allem die Information Switches Aufenthaltsortes verschafft. An den Rest erinnere ich mich nicht mehr genau…
"I'm David, your friend. We went to college together?" (David)
Bei dem ganzen Zeitreise-Zeugs sind Charaktertode natürlich nicht mehr ganz so tragisch, was ein bisschen schade ist, da gerade diese Folge so einige Momente etwas verpuffen. Als ich das Messer in Lennys Hand sah, dachte ich mir schon, dass sie sich ihr Leben enden könnte. Die Frage, ob wir sie wohl noch mal wiedersehen werden, stellt sich genau so wenig, wie bei den anderen namhaften Figuren dieser Folge.
"You can't have me." (Lenny)
Interessante finde ich die Metapher oder tatsächliche Existenz der Aufziehfigur-Flügelschraube im Nacken von Switch. Und die Tatsache, dass einem erst recht spät einfällt, dass man mit dem Luftschiff ja auch in den Orbit und somit aus Davids Reichweite heraus kann. Nur doof, dass das anscheinend auch nicht reicht (von daher ein recht überflüssiges Mimi-Plotholechen), denn Daddy weiß seine "Kinder" aus dem h&m-Hippie-Katalog mitsamt allem, was sich spitzes in der Küchenschublade fand, dort hin zu "beamen".
"Gods make rules, they don't follow them. And now it's time for them to pay." – "Gotcha!" (Farouk & David)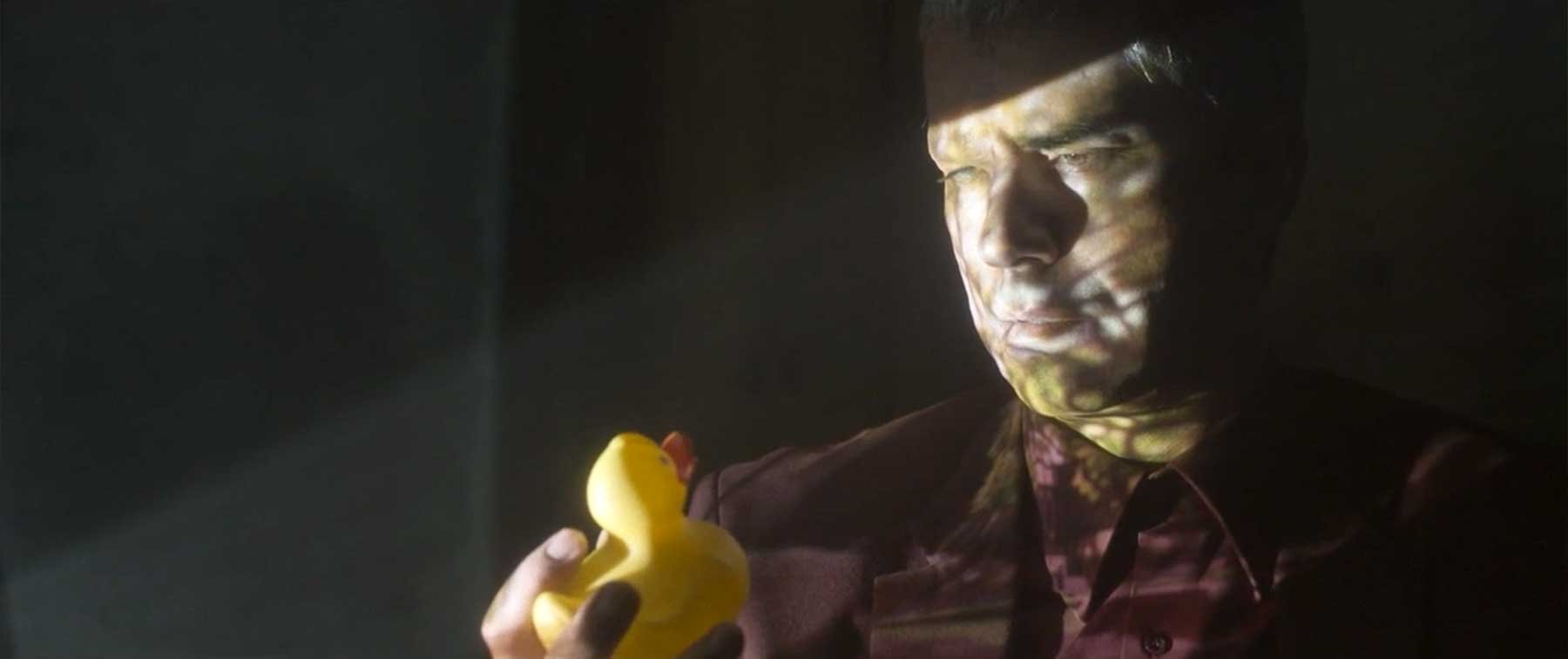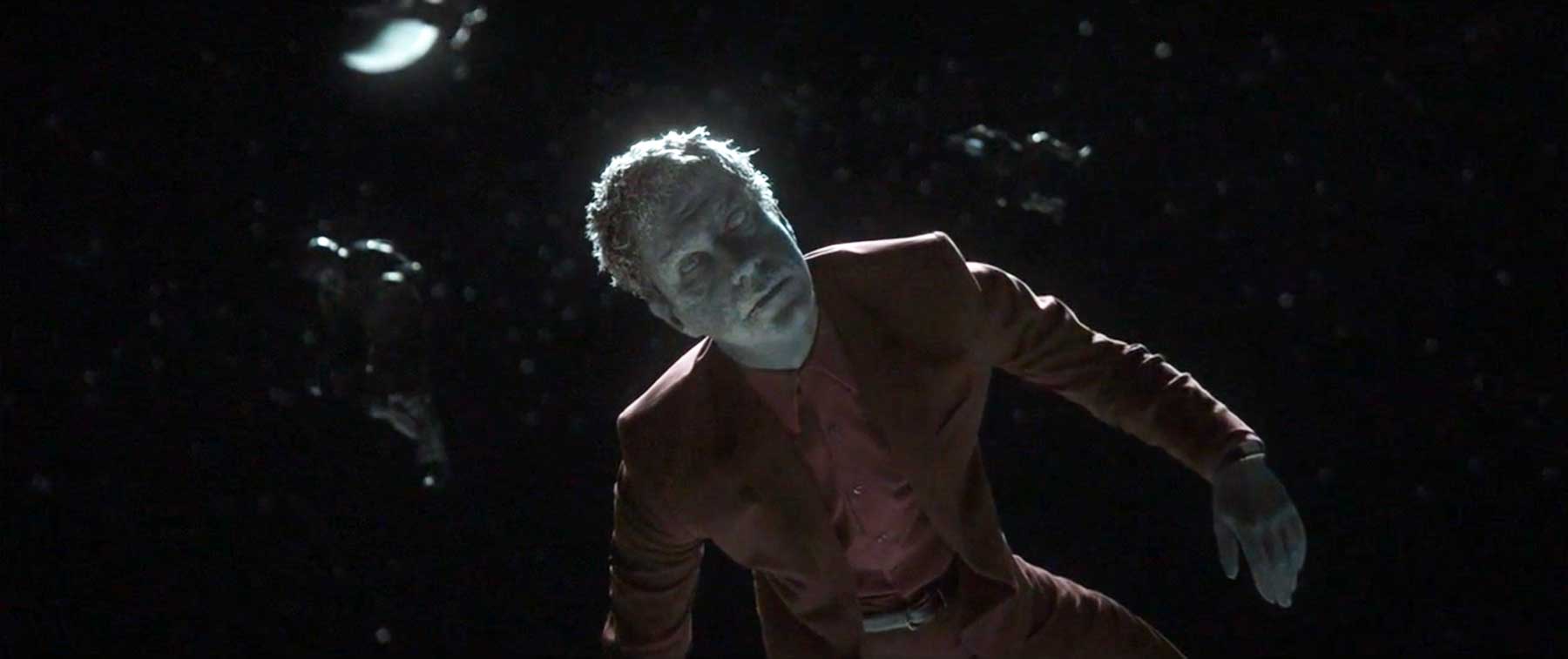 Dort geht dann auch das muntere Hauptfiguren-Töten weiter, was es von Figur zu Figur etwas weniger wirken lässt. Wobei das visuelle Motiv eines im Weltall eisig umherschwebenden Clark schon etwas für sich hatte (und die Figur vermutlich am ehesten auch tatsächlich hätte entfernt werden können).
"I should have killed you the first time we met." – "Yeah." (Clark & David)
Syd schafft es zwischendrin zumindest noch für etwas Aufruhr zu sorgen, als sie den Körper mit David tauscht. Dabei hat mir auch das leicht veränderte Spiel von Dan Stevens und Rachel Keller direkt danach sehr gefallen. Doch David ist mittlerweile deutlich stärker und quasi in der Überzahl.
"Who are you?!" – "I am Legion." – "I am Legion." (Sydavid & David 2 & David 3)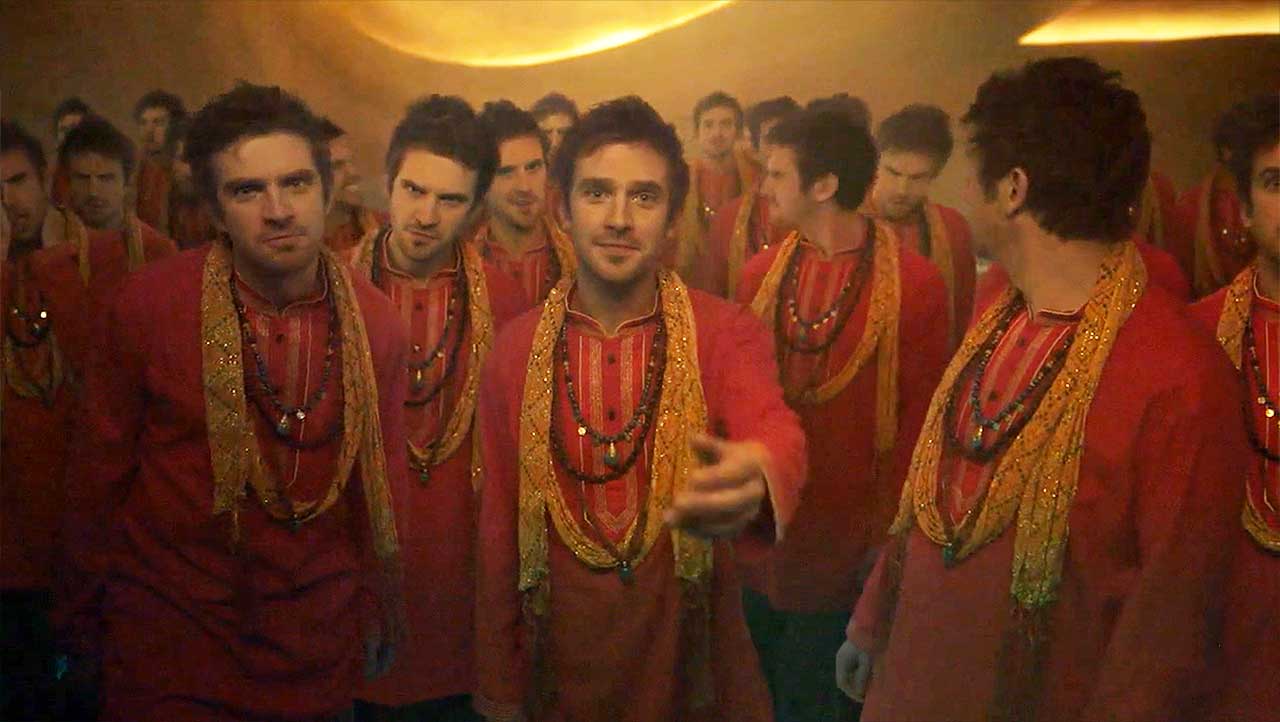 Spätestens als Syd auch dahin war, war mehr als klar, dass alles "nochmal" geschehen wird. Nicht zuletzt weil David das auch offen kommuniziert hat:
"Are they all dead?" – "Almost. Or… none." (Switch & David)
Die kleine Musical-Einlage am Ende war jetzt nicht so meins, aber der Autotune-Part der Vermillions hat sehr gut gepasst. Ansonsten dürften wir uns wohl auf die kommende Folge freuen. Nicht nur, weil David dieses Mal einen "ganz anderen Plan" hat, sondern auch, weil die Zeitfresser mal wieder im Zeitreise-Flur zu lauern scheinen. Ob der in die Zwischenzeit-Ebene versetzte Farouk was damit zu tun hat?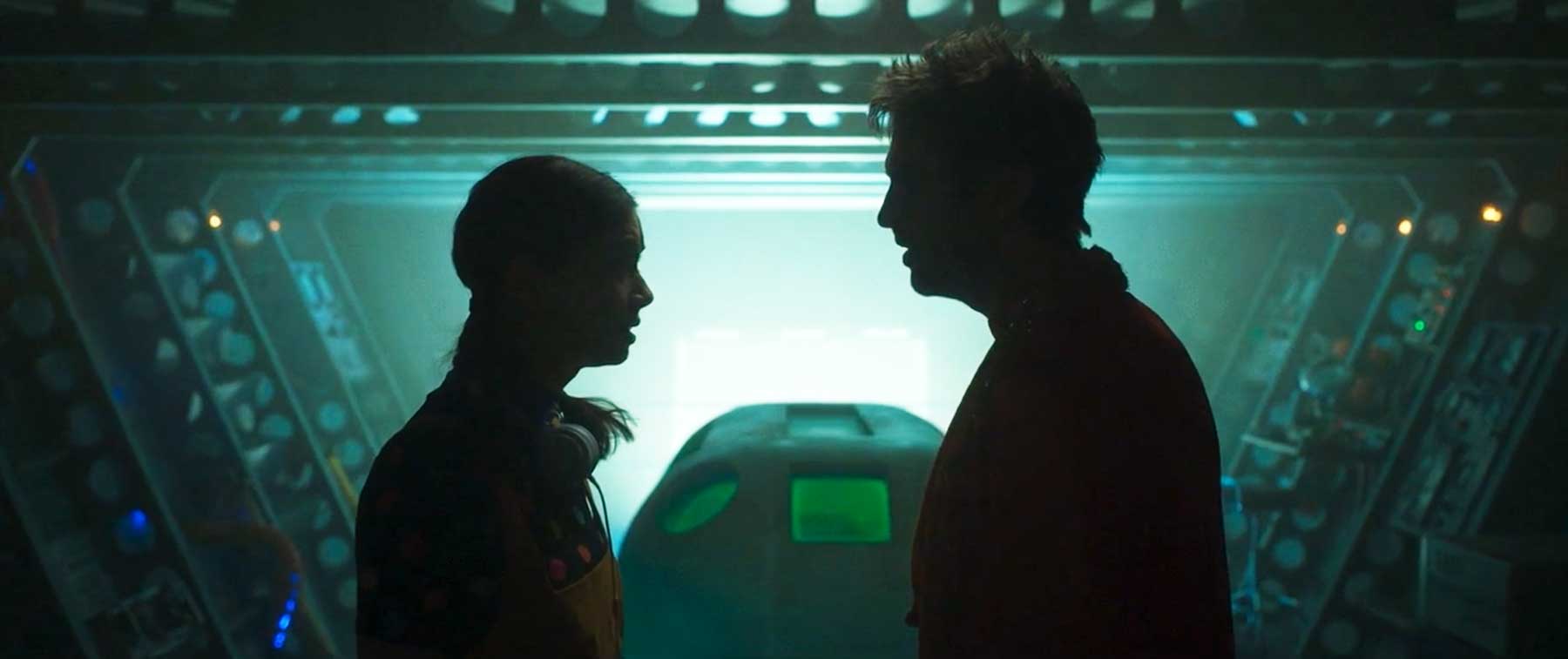 Das war wie leider zu erwarten war dann doch deutlich schwächer als die fulminante letzte Episode und doch habe ich mich nicht getraut, auf 3,5 Kronen zu gehen, weil es doch noch verdammt gutes und vor allem schön anzusehendes Fernsehen war.

Spannend dürfte jetzt werden, wie die Macher die spätestens seit dieser Folge offenkundig stattfindende "Wiederholung" inszenieren werden. Und dabei bleibt stets der Reiz der im Raum stehenden Frage, ob David denn nun eigentlich der Gute oder der Böse am Ende sein wird? Wird er "aus Versehen" die Welt im Zuge seiner irgendwie ja auch positiv motivierten Taten zerstören? Wird seine positive Ader durchschlagen und am Ende alles einfach supidupi-gut? Oder wird es etwas ganz anderes werden? Fernab dieser inhaltlichen Fragen freue ich mich dabei vor allem auf die mögliche visuelle Umsetzung, die von bereits angedeuteten "wir spulen ein bisschen zurück"-Mechaniken bis zu abstrakteren Varianten reichen dürfte. Die Basis für Feuerwerk und Überraschung ist jedenfalls gelegt und bei "Legion" darf man sich eigentlich sicher sein, dass uns zumindest Originelles erwarten dürfte.

Bilder: FX

-->