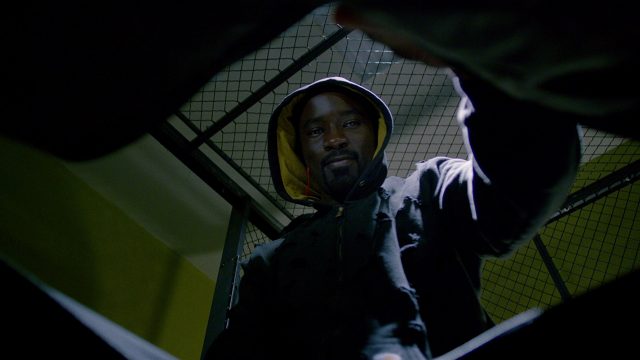 Wer durch Marvel's The Defenders auf den Geschmack gekommen ist, der sollte sich auf jeden Fall auch Luke Cage nicht entgehen lassen. Nach Daredevil und Jessica Jones ist Luke Cage die dritte Solo-Serie eines Superhelden aus dem Marvel-Kosmos auf Netflix. Die 13 Episoden bieten stahlharte Superhelden-Action und ziemlichen coolen Streetvibe.
Luke Cage ist ein ehemaliger Strafgefangener, der durch ein fehlgeschlagenes Experiment zum Kraftprotz mit kugelsicherer Haut wurde. Er hält sich mit Gelegenheitsjobs in einem Barbershop und einem Nachtclub in Harlem über Wasser. Inhaber des Clubs ist der zwielichtige Cornell Stokes alias Cottonmouth. Seine kriminellen Machenschaften sind es, die Luke Cage zwingen aus dem Schatten zu treten.
Den ersten Auftritt legte Luke Cage bereits in Staffel 1 von Jessica Jones hin. Hierin gab er den Liebhaber und Freund der Privatdetektivin. Dabei ließ Luke Cage nur erahnen was alles in ihm steckt.
Die eigene Solo-Serie, in der Mike Colter wieder die Rolle des titelgebenden Helden mimt, bietet durch die Ausstattung und den Einsatz von urbaner Musik seinen ganz eigenen Stil, der an eine moderne Variante der Blaxploitation Filme der 1970er erinnert. Wie Luke Cage, boten jene Filme, wie beispielsweise Shaft starke afro-amerikanische Helden, Kriminalität und Drogen in den Wohnvierteln der Schwarzen.
Mike Colter spielt Luke Cage unheimlich gut, er verleiht der Figur Stärke und Gefühl zugleich. Es geht für ihn nicht nur um die Bekämpfung der Schurken, sondern auch um eine Art Vergangenheitsbewältigung. Er ist ein Außenseiter, der nach einer Form der Erlösung sucht. Dabei möchte er kein Held sein, sondern wurde eher Zufällig zu einem Typen mit unverwundbarer Haut.
"Ich bin noch nicht sicher, was ich bin. Ich lebe bloß mein Leben, Tag für Tag."
Allmählich werden Aspekte von Lukes Vergangenheit aufgedeckt. So wird erst in Folge 4 die Genese des Helden eingehend beleuchtet. Es braucht etwas Zeit, bis die Serie wirklich in Fahrt kommt und die Action losgeht.
Neben Mike Colter brilliert auch Oscarpreisträger Mahershala Ali als Nachtclubbesitzer, der seine kriminellen Geldeinnahmen seiner Cousine zugutekommen lässt. Für ihn zählen Werte wie Loyalität und Respekt, was ihn zu einem klassischen Gangsterboss macht.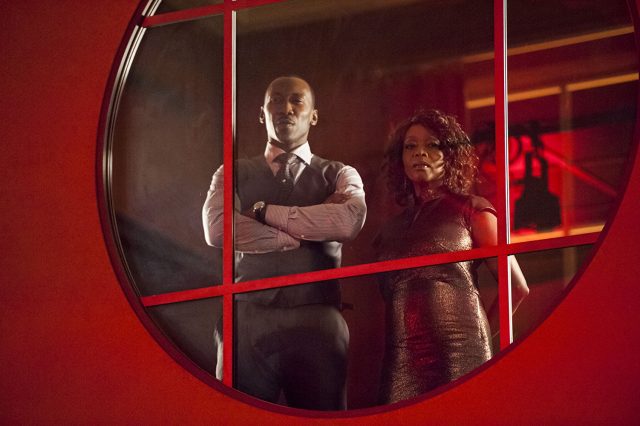 Zu seinen Handlangern gehört der massive Daimondback, der mit Waffen der Firma Hammer Industries, immer wieder für kompromisslose Gewalteruptionen sorgt. Ja genau, jenem Hammer Industries aus Iron Man 2. Es ist eben alles miteinander verbunden bei Marvel. Während Daimondback in der Comic-Vorlage ein Jugendfreund war, wurde er in der Serie zu Lukes Bruder umgeschrieben.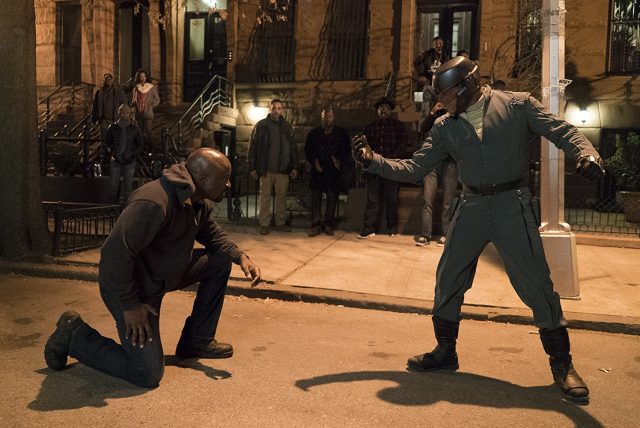 Daredevil und Jessica Jones' Einsatzort, ist das düstere Hell's Kitchen. Luke Cage hingegen agiert in Harlem. Der Stadtteil zeigt sich in seiner ganzen Vielfalt. Die Anzahl an bunten Kulturen zeigt sich gut in den Clubs, aber euch in den kleinen Shops.
"Dein Arsch ist vielleicht kugelsicher, aber Harlem nicht."
Mehr als in jeder anderen Marvel-Netflix-Serie, nimmt hier die Musik eine wirkungsvolle Rolle ein. Sie atmet den Rap und Soul der 1990er ein.
Angefangen bei den Titeln der einzelnen Episoden, die nach Songs des New Yorker Hip Hop-Duos Gang Starr benannt wurden. Oder Stokes' Club "Harlem's Paradise", der mit prominenten Gästen aufwartet. Darunter Soul-Sängerin Faith Evans, die Ehefrau des verstorbenen Rappers The Notorious B.I.G., dessen Bild wiederum in Cottonmouth' Büro hängt oder Neo-Soul-Star Raphael Saadiq, aber auch die legendäre Soulband The Delfonics. Sogar Wu-Tang Clan Mitglied Method Man hat einen Auftritt, worin er Luke einen Hoodie leiht.
Auch die Score wurde unter anderem vom Produzenten der Hip Hop-Gruppe A Tribe called Quest mitkomponiert.
Und während die Defenders ihren Kampf gegen die Hand antreten, befindet sich Mike Colter und der restliche Cast der Serie bereits bei den Dreharbeiten zur zweiten Staffel zu Luke Cage, die für Frühjahr 2018 geplant ist.
Fazit
Nach einem gemächlichen Start, gewinnt die Serie schrittweise an Fahrt und überzeugt sowohl durch schonungslose Action, als auch inhaltlich 13 Folgen über.

Luke Cage ist auf Netflix verfügbar

Bilder: Netflix

-->