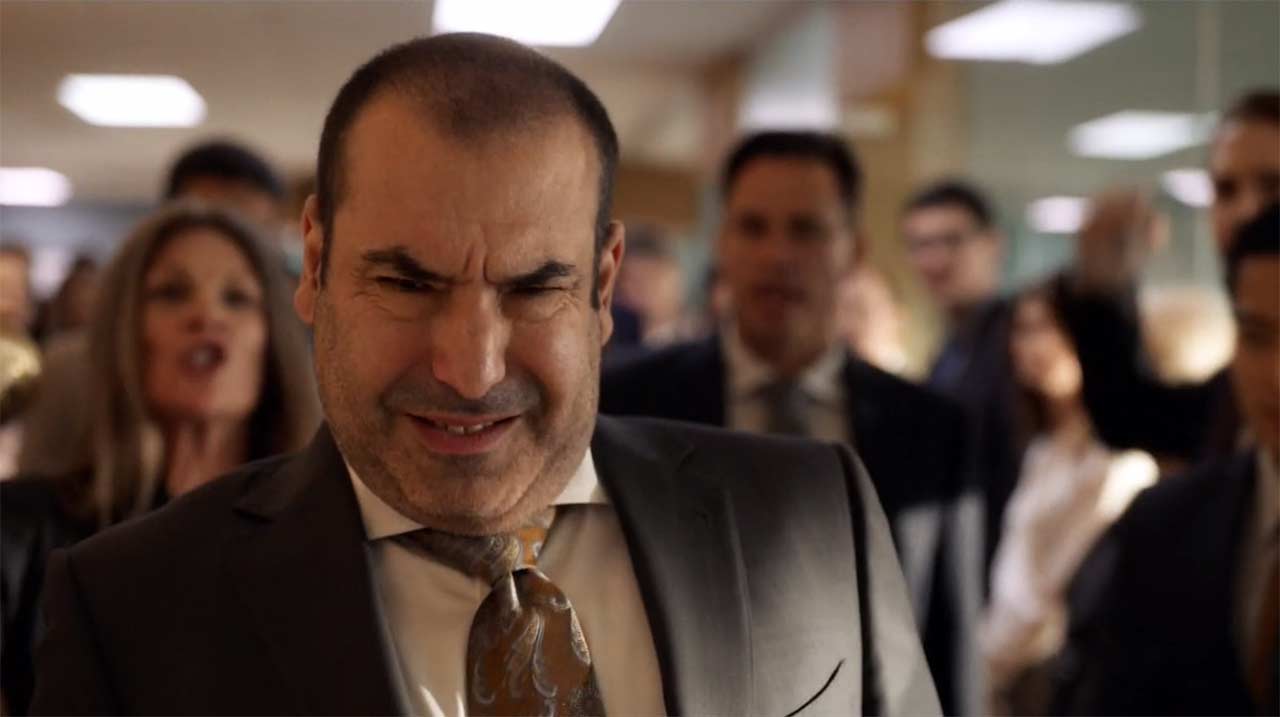 Direkt zu Beginn dieser Folge fragt sich Louis verwundert, woher denn plötzlich all diese Statisten kommen? Ist die Kanzlei doch sonst ein bis auf eine Hand voll Haupt- und ein paar Mittel-zum-Zweck-Nebenfiguren total verwaister Ort. Aber keine Bange, es gibt eine Erklärung dafür: Ein recht billiger Game of Thrones-Gag – sogar mit Glocke. Shame!
"You're from Pearson Spector…" – "Pearson Spector Litt!" (Schnullermann & Louis)
Ähnlich beschämend ist da die Tatsache, dass er bei all dem psychischen Durcheinander dann natürlich genau auf Sheelas Verlobten trifft – oh man… Da wirkt es schon deutlich normaler und klassischer, dass Louis seine Probleme auf andere – in diesem Fall vor allem den armen Brian – projiziert. Rechtzeitig vorm Mock Trial wird Louis handzahm gemacht. So sehr, dass ein ihm eigentlich wildfremder Angestellter sein Neugeborenes überlässt – aber klar doch!
"Mock Trial"? Ja, den haben wir dem "Hauptstrang" dieser Folge zu verdanken. Oder auch Andy. Wer ist Andy? Das weiß kaum wer in der Serie…
Andy ist ein alter Arbeitskollege von Harvey und kommt aus dem Nichts und mehr oder weniger ohne Not als Gegenspieler ins Spiel. Passend zur alten Drama-Formel der Serie kramt er noch ein paar Altlasten aus der Vergangenheit, um sie gegen unsere Protagonisten zu verwenden – schockierend. Dass es da überhaupt noch Sachen gibt…
"I don't give a shit if you are guilty or innocent – you're going to jail!" (Andy)
Dass der ach so versierte Anwalt, vor dem plötzlich alle intern warnen, sich auf Tape verhaspelt und sich mit "war ja gar nicht so gemeint…" herauszureden versucht, wirkt so hanebüchen, wie die Tatsache, dass die feinen Herren und Damen Anwaltschaften scheinbar tägliche Gerichtstermine erhalten. Außerdem war es doch viel zu offensichtlich, dass Harvey und Mikes Feierdrink zu früh kommt (Mitte der Episode? Ich bitte euch!). Und ist euch schon einmal aufgefallen, dass Leute in der Kanzlei ständig in Büros auf deren Inhaber warten, um ein Gespräch zu beginnen, sobald die zurückkommen? Wie ineffizient ist das denn bitte?! Ich stelle mir grad vor, wie Mike einfach den halben Tag gelangweilt in Harveys Büro abhängt und sich währenddessen drei Mal fälschlicherweise dramatisch umdreht, wenn gerade Gretchen, Donna oder Louis hinein stolpern.
"I think maybe I regret putting Harvey over myself." (Donna)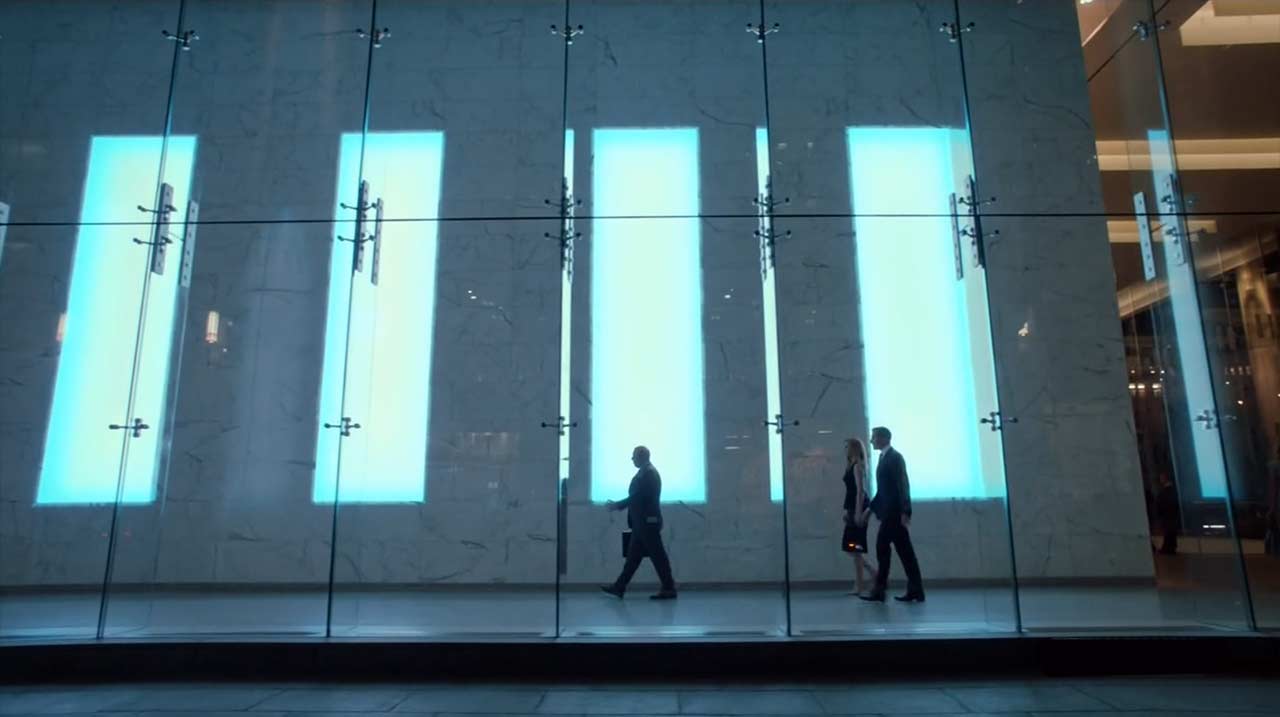 Eine nicht-Fisch-nicht-Fleisch-Episode. Die Zane-Familien-Pro Bono-Arbeit war äußerst nebensächlich und hat lediglich diesen Satz im Review verdient. Ansonsten wirkt die groß inszenierte Gefahr namens Alex genau so – inszeniert. Dass selbst Harvey sich nicht an den hervorgekramten Vergangenheitskollegen erinnern kann, ist schon beinahe ironisch schön selbsthumorig. So wird es aber nicht gemeint sein. Insgesamt zwar irgendwie kurzweilig und doch fragt man sich am Ende, was überhaupt Tolles passiert sein soll. So recht kann ich mir ehrlich gesagt auch nicht erklären, wieso ich bei drei Kronen gelandet bin. Vermutlich wegen einer Erkenntnis: Kann Gretchen bitte meine Sekretärin sein?!

Bilder: bravo

-->