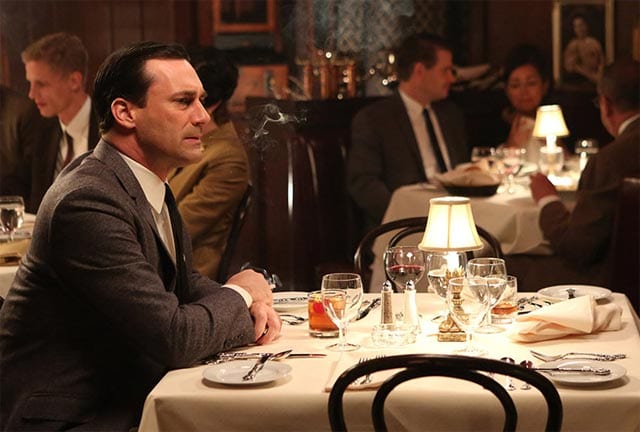 Nach langer Abstinenz ist Mad Men vor einer Woche wieder losgegangen. Mittlerweile schreiben wir die sechste Staffel und nähern uns in Serienzeit den Siebzigern. Das merkt man nicht zuletzt an den ein oder anderen Bart-, Kopfhaar- und Koteletten-Prachten.
Wie dem auch sei, mittlerweile reicht Jon Hamm nicht mehr, Hauptdarsteller zu sein, er führt auch noch Regie. Und das gar nicht schlecht. Inhaltlich startet es im Fahrstuhl und mit einem ungewohnten Blick in die Vergangnheit. Der kleine Rückblick-Dick wird gezeigt, noch lange, bevor er zu Don Draper wird. In den Gegenwarts-Sechzigern angelangt, zeigt der direkt, was aus dem kleinen Jungen geworden ist: ein Mann, der vorgibt, die Zigaretten vergessen zu haben, um einfach mal den kompletten Vormittag mit der Affäre im Bett zu verbringen. Scheiß auf Büro, das sind die Sechziger!
Die Folge "Collaborators" bietet uns jede Menge Zwischenmenschliches, sei es auf sexuellem Terrain oder im sozialen Arbeitsalltag. Endlich mal wieder eine Folge, in der so einiges passiert. Peggy wird sich ihrer Führungsrolle bewusst und erhält nebenbei einen unterhaltsamen Denkzettel verpasst, im Hause Draper ergeben sich große Neuigkeiten und vor allem bei Pete und Trudy (hach, Alison Brie!) geht es heiß her. Letztere zeigt plötzlich eine direkte und fordernde Seite, die wir vorher kaum zu Gesicht bekommen haben.
"Can I make you somethin to eat? I think I have some peanuts and some cheese crackers…"
Das dort sehr vorhersehbare Pärchen-Wechseldich-Spiel geht deutlich schiefer als das, was Don und die Nachbarin spielen. Petes erster Schritt in diese Macho-Richtung geht gleich ins Leere, anstatt wie bei Don zum zufällig geschenkten Candle-Light-Dinner. Das könnte dieser (von mir nicht wirklich gemochten) Figur endlich einen K(n)ick geben. Dazu bringt Don ihn auch noch mit einer zu überzeugenden Regionalplanung für den Königskunden Jaguar auf die Palme.
Da wären wir auch bei den beruflichen Krisen: der schmierige Herb versucht eine krumme Tour während Heintz Beans Heintz Ketchup mitbringt. Großes Raunen um einen großen Eventuell-irgendwannmal-vielleicht-Kunden, das seine Kreise zieht. Hier könnte eine der Hauptthemen der sechsten Staffel begraben liegen, die richtig Würze (vor allem zwischen Don und Peggy) mit sich bringen kann. KANN. Denn oft wurden solch schön brisante Agentursachen bislang ja eher kurz gehalten…
"I hope, Ketchup makes the same mistake and you will blow their mind."
Hier kommt allerdings auch eine schwere Gewissensfrage auf gleich mehrere Beteiligte zu. Alte Freunde verraten, einen treuen Kunden vergraulen oder auf das vermeintlich große Los setzen?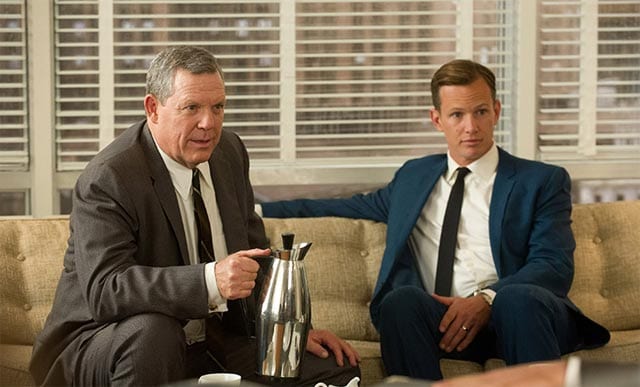 Alles in allem mal wieder eine gute Folge. Und das sage ich, obwohl mir leider viel zu oft Tempo und Inhalt fehlen. Hier ist aber einiges passiert und nebenbei wird im Radio und zu Tisch noch der nächste Krieg angekündigt, der die reale Vergangenheit in die Sendung holt. Viel Potenzial für die weitere Staffel ist jedenfalls schon einmal vorhanden.
Meine Meinung:
-->