Jonas hat zu Beginn der Woche bereits seine Vorfreude ausgedrückt und ich auch habe dem Start der neuen tbs-Comedy "Miracle Workers" mit Steve Buscemi als Gott und Daniel Radcliffe als Engel entgegengefiebert. In der Nacht zu Heute lief die erste Folge an und ich kann euch bereits so viel sagen: Unsere Gebete wurden erhört, aber vielleicht nicht ganz so wie erhofft.
Zunächst mal vorweg: Ihr dürftet Steve Buscemi als Gott lieben! Hundo drauf gewettet? Der Erfinder und Prozent der Erde wird als eine launige Mischung aus CEO und Lebowski dargestellt. Gelangweilt vom irdischen Alltag, den wir hoffnungslos verzapfen und den Gott im Wohnzimmer vor zig Fernsehbildschirmen verfolgt, gefolgt von der ein oder anderen Flasche Bier, die kurz darauf neben dem Mülleimer landet. Eine herrlich überdrehte Darstellung!
"I don't wanna sound cynical. But what's the point?" (God)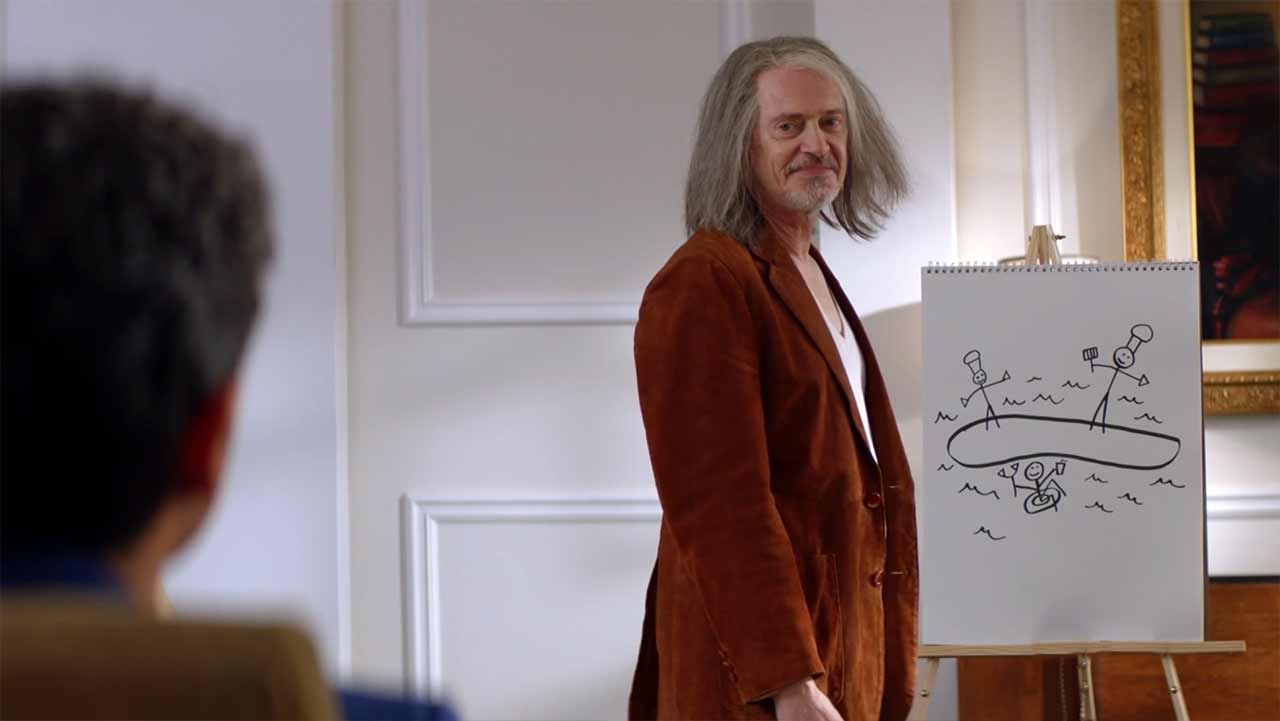 Der Vorspann schaut ein bisschen so aus, als hätten Kinder die Intro-Animation aus "Elementary" mit kitschig-buntem Plastik-Spielzeug nachgebaut, das passt für mich nicht so ganz, ist aber letztlich unwesentlich. "Heaven Inc." – also der Himmel als Unternehmen – wird wundervoll dargestellt und eingeführt. Seien es die Budgetkürzungen im Tierartenbereich, die angedachten Neuschöpfungen (wir könnten bald unsterblich werden, yeah!) oder die klassische Regenbogenmaschine. Dazu gibt es mit Angela Kinsey als Gail eine Kraft mit wahrhaftiger TV-Büro-Erfahrung (wobei ihr auch bei "The Office" getragener bürgerlicher Name hier noch passender gewesen wäre).
Die eigentliche Handlung? Es geht um Eliza, die aus der "Dreck-Abteilung" in das "Department of Answered Prayers" versetzt wird und auf den Einsiedler-Arbeiter Craig trifft. Stets fokussiert auf das nächste kleine Mini-Wunder, wie der Hilfe bei verloren gegangenen Schlüsseln oder Handschuhen. Unmögliche Dinge – wie zum Beispiel gutes WLAN in Deutschland – lässt er lieber unbearbeitet an den Chef nach oben gehen.
"There's to be something, we can do!?" – "Press F7." – "Does that stop the deadly typhoon?" – "No, it mutes." (Eliza & Craig)
Der launische Gott hat aber nicht mehr wirklich Lust auf unsere Eskapaden und irdischen Probleme und fasst kurzerhand den Entschluss, die Erde zu zerstören und einer neuen genialen Business-Idee nachzugehen. Die Geschichte für die restliche Staffel wird recht schnell klar als Eliza eine Wette zur Erden-Rettung vorschlägt. Mich wundert etwas, dass die eigentlich bereits angebrochenen zwei Wochen nochmals starten, als sie die Paarzusammenführung als konkretes Vorhaben anbringt – und die rasante Rasur Craigs wurde ja zum Glück thematisiert, ich dachte kurz, ich hätte nur eine Vorschau zur nächsten Folge gesehen…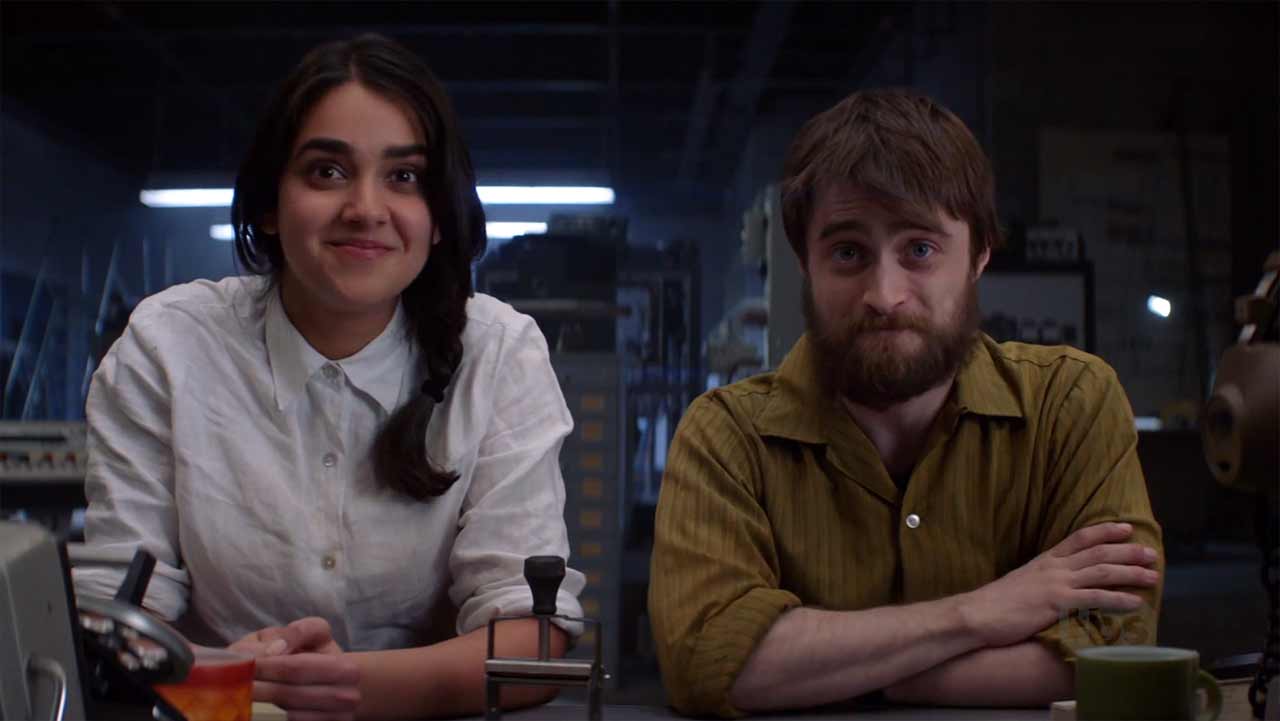 Und schon war es vorbei… Ein sehr kurzweiliger Start der Verseriung von Simon Richs Roman "What in God's Name", der gerne in doppelter Länge hätte starten können. Buscemi als Gott macht bereits richtig Laune und Radcliffe kann den etwas verschrobenen Freundeslosen mit Liebe für den Job verdammt gut verkörpern. Ich frage mich, ob es bei so einer Darstellung des Himmels zu Blasphemie-Debatten kommen wird, aber ich als bekennender Atheist feiere diesen ungezwungenen und modernen Umgang.
Klar sein dürfte zum einen (nicht zuletzt aufgrund der überraschend schnellen Rasur), dass Craig nicht nur ins soziale Leben geworfen werden, sondern sich auch eine Liaison mit Eliza anbahnen dürfte. Und die nächsten Episodentitel lauten "13 Days" und "12 Days", so dass wir das Romanzen-Vorhaben nun wohl en Detail erleben dürften. Bleibt die Frage, wie sie das Tempo in Richtung der sieben Episoden langen Staffel dosieren werden, nicht, dass wir einen Cut in der Mitte erhalten und die Serie dann gecancelt wird ("A To Z" kam ja auch nur zur Mitte des Alphabets…). Von der Stimmung und Inszenierung her erinnert mich "Miracle Workers" jedenfalls etwas an "Powerless", das ich auch originell und in Momenten witzig fand, aber viel zu früh abgebrochen wurde.
Aber erfreuen wir uns doch erst einmal an dieser frischen neuen Serienidee! Und jetzt: Jemand Lust, Burger essen zu gehen? Oder doch lieber einen Wurm…?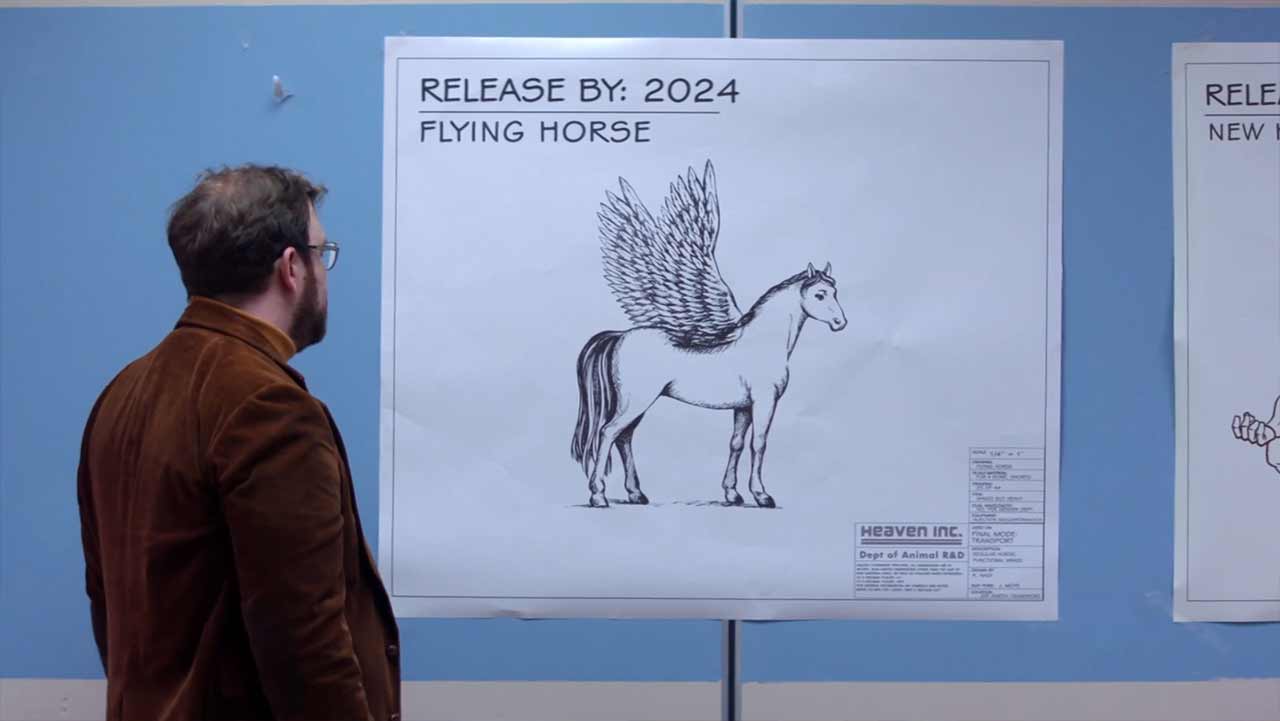 Bilder: tbs