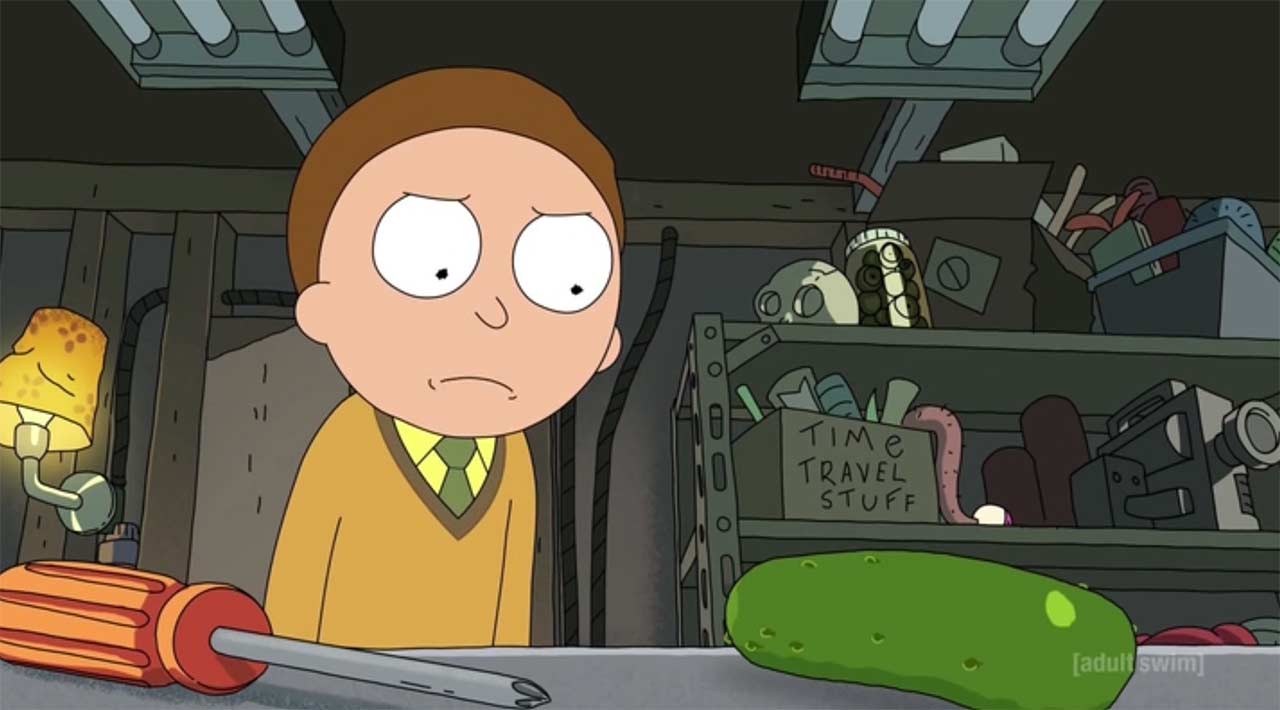 Diese Woche nehmen uns Rick und Morty auf eine Achterbahnfahrt der Gefühle. Wobei, eigentlich nur Rick. Der schafft es nämlich, vor dem Intro eine originelle Form der gelangweilten Enttäuschung zu liefern. Eine Gurke? Das schraubt die Erwartungen gekonnt nach Unten, um dann in epischer Manier zerpflückt zu werden.
"Come on, flip the pickle, Morty. You're not gonna regret it, the payout is huge!" (Rick)
Das muss man den Machern lassen: Pickle Rick ist wirklich neu. Und Unverständnis sowie Enttäuschung von Morty sind glaubwürdig dargeboten, zeigen sie doch auch die Skepsis des Zuschauers. Wieso, was ist der Hintergrund, sehen wir irgendwelche versteckten Ultrakomplex-Features nicht? Aber nein, die Auflösung ist so langweilig wie die Gurke selbst – und in der Form absolut perfekt. Einfach ein unnötig komplexer und herrlich bescheuerter Plan, um nicht zur Familientherapie zu müssen.
"How is this even family therapy if dad's not invited and grandpa won't come?" – "Yeah, and what's courageous about eating a hot dog?!" (Summer & Morty)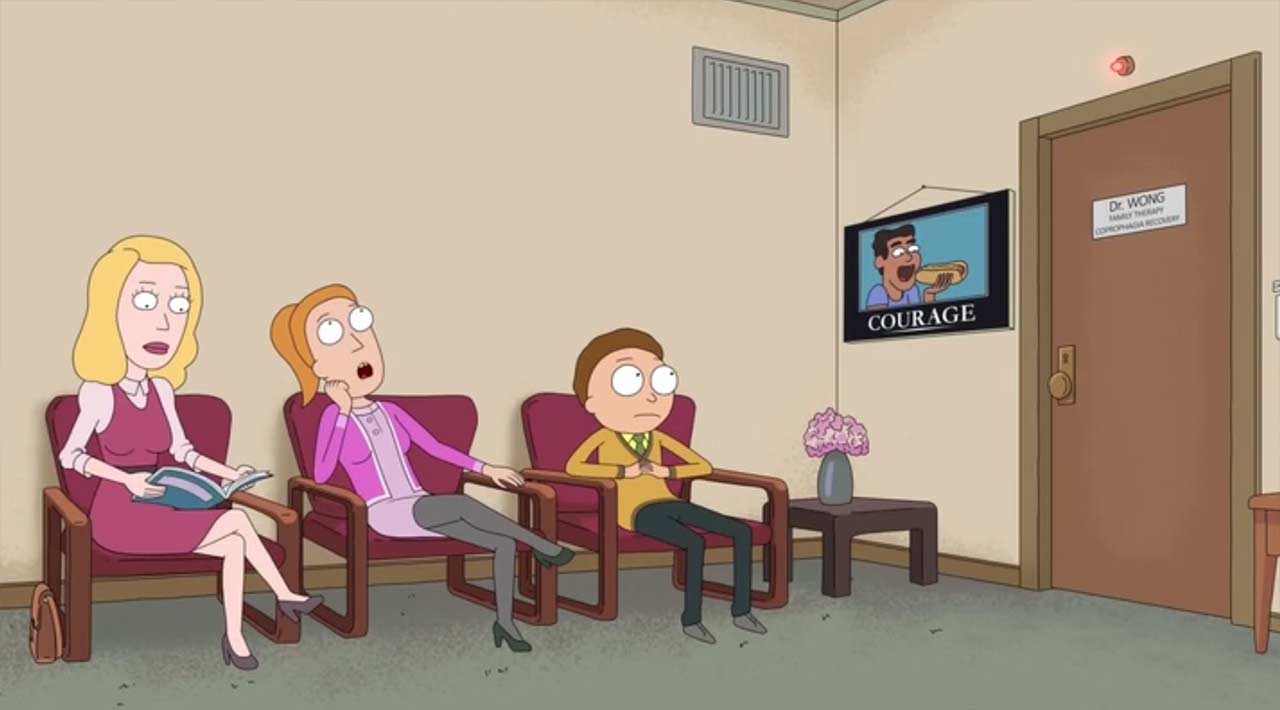 Passend perplex ist es, einen Käfer mittels Hirn-Stimulation zu steuern. Aber die ein bisschen an die Microverse-Folge erinnernde Evolution war schon verdammt cool anzuschauen. Dazu eine Prise Parkour (natürlich total ironisch…) und ein bisschen Recycling-Shaming – groß! Allgemein ist mir zudem der erfreulich hohe Grad an Kettenreaktionen aufgefallen.
Natürlich läuft am Ende alles gehörig aus dem Ruder und schnell wirk Ricks Engstirnigkeit und Prinzipientreue Motor der eigentlich unnötigen Gewalttaten. Die Hilflosigkeit der russischen Superkriminellen gegen die kleine "Solenya" ist schon verdammt unterhaltsam und das gewalt(tät)ige Chaos ein gekonnter Kontrast zur wortbasierten Therapierunde.
"Cause this pickle doesn't care about your children. I'm not gonna take their dreams – I'm gonna take their parents." (Pickle Rick)
"This can only end with one of us dead. And I have never died!" (Jaguar)
Der "infinite daughters"-Dialog im Helikopter zwischen Jaguar und Rick hat mir äußerst gut gefallen, allgemein waren die Dialoge mal wieder allererste Sahne. Wie dann immer wieder eigentlich ernste und beinahe philosophische Themen, wie die gegensätzliche (Ver)Achtung von Wissenschaft und Geisteswissenschaft mit eingelochten werden, ist einfach einzigartig für eine Animationsserie, vor allem bei dem Pacing. Am Ende scheinen die zwei Therapie-Minuten tatsächlich das Vater-Tochter-Verhältnis verbessert zu haben, wobei bei Rick wohl eher das Treffen mit Jaguar sein Übriges dazu beigetragen haben dürfte.
"Because I invent, transform, create and destroy for a living and when I don't like something about the world, I change it. […] I'm not a cow! I'm a pickle. When I feel like it…" (Rick)
Der rettet Rick und Morty dann im Abspann. Ein Wiedersehen war zwar abzusehen, aber irgendwie hätte ich mir das für später in der Staffel gewünscht, damit der Effekt stärker wirken kann. Aber die Mord-Variante per gigantischen Klavier-Hammerschlägen war sehr originell!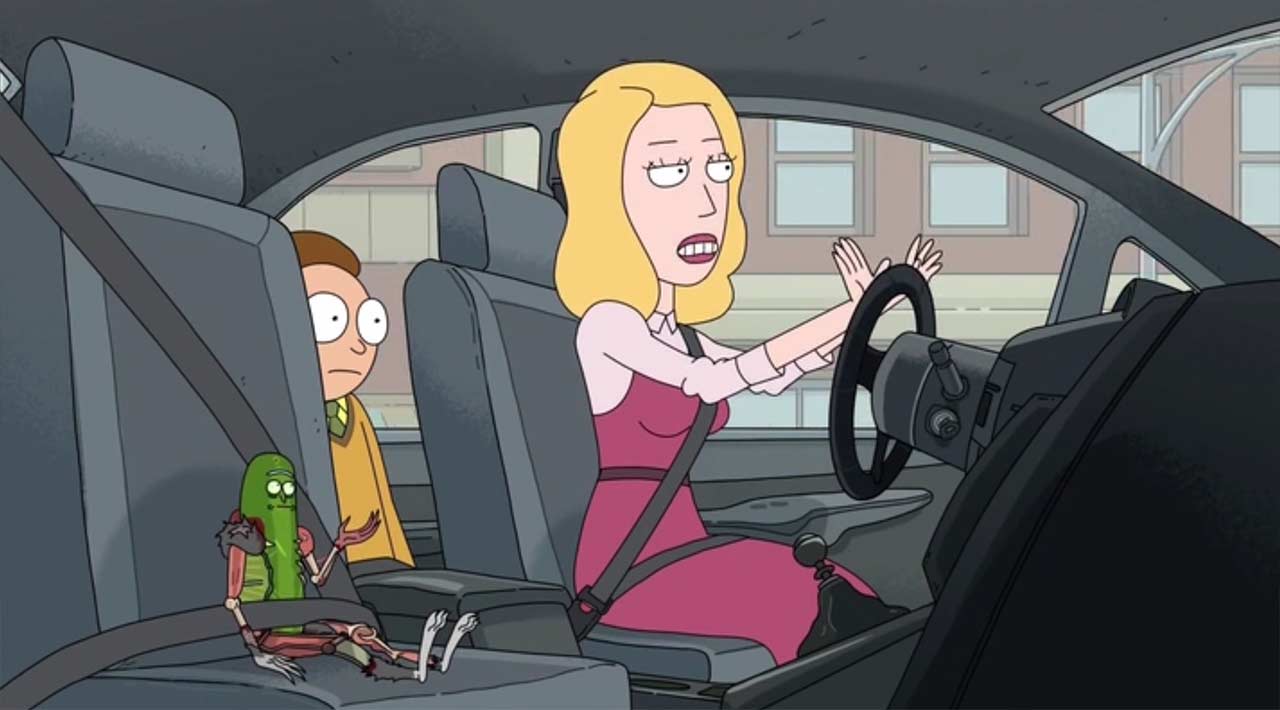 "Pickle Rick" hat mir deutlich besser als die vergangene Episode gefallen und war ähnlich gut wie der Staffelauftakt. Die ganze Gurken-Story war episch, die Therapie fiel ein bisschen ab, aber insgesamt war es sehr unterhaltsam und originell erzählt. Wie keine andere Serie schafft es Rick and Morty, derart viele Andeutungen, die im hohen Tempo kommen und nur wenige Sekunden zur kompletten Entfaltung und Auskostung einer Szene benötigen, unterzubringen. Dazu wirkt alles durchdacht, jede vermeintlich semi-lustige Kuriosität besitzt noch einen wirklichen Zweck, wie zum Beispiel das Hot Dog-Courage-Poster im Warteraum. So kann es bitte unbedingt weiter gehen!

Bilder: Adult Swim

-->