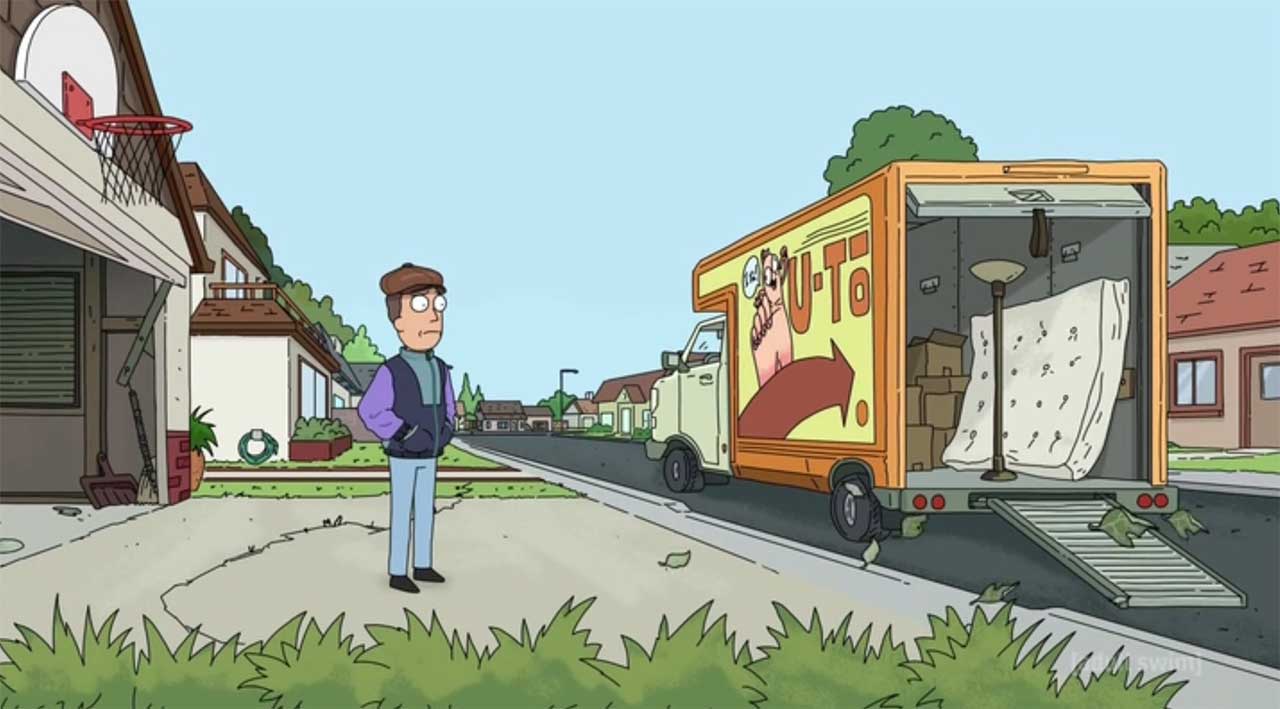 Puh – der amerikanische TV-Sonntag fährt mitten im Sommerloch auf Hochtouren und jetzt habe ich nebst "Game of Thrones" und "The Strain" mit "Rick and Morty" eine dritte Serie, die ich möglichst zeitnah sehen möchte. Wobei, wenn ich ehrlich bin: Auf RaM habe ich mich gar am meisten gefreut, also wurde es heute auch als erstes gesehen. Und wieso dann nicht einfach mal an Reviews zu den Einzelepisoden versuchen? Sind zwar nur 20 Minuten animierte Comedy, aber die Sendung ist derart fein ausgearbeitet und überraschend vielschichtig – versuchen wir es einfach mal!
"To live is to risk it all. Otherwise you're just an immerse junk of randomly assembled molecules drifting wherever the universe blows you. Oh, I'm sorry, Jerry, I didn't see you there…" (Rick)
Eine Sneak Peek zu "Rickmancing the Stone" gab es ja bereits vor Kurzem, so dass das Setting nicht überraschend kam. Bevor es jedoch in die post-apokalyptische Mad Max-Welt geht, erhalten wir den amtlichen Abschied von Jerry. Der kann einem fast leid tun, auch wenn ich den "Loser"-sauselnden Wind dann doch eine Prise too much fand.
"Sum-Sum, let's go! Grandpas concern for your safety is fleeding." (Rick)
Aber ab in die Welt der rasanten Plünderer und Kanibalen. Die Inszenierung der Figuren und Welt hat mir sehr gefallen. Abwechslungsreich stilistisch stimmig, lediglich das herausgefahrene Loch vor dem Fund des kleinen Isotope 322-Brockens empfand ich als unrealistisch. Schön fand ich, dass kurz vor einer (US-)Werbepause mal wieder die vierte Wand von Rick unterbrochen wurde.
"Save it for the Semantics Dome!" (Rick)
Neben der kleinen Love (oder vielmehr Ablenkungs-) Story um Summer war eigentlich ein Rachezug der Muskelerinnerung Hauptstrang dieses Universums. Morty mit an masturbierende Teenager professionelle Armdrücker erinnernder Kraftungleichheit. Ich finde es unglaublich, wie die Macher es schaffen, ein durch Scheidung hervorgerufenes Gefühls-Vakuum in die Beziehung mit einem Arm zu packen. Natürlich mit dem bittersauren Moment, in dem Morty das Werk des zu früh gegangenen Monsterarms vollenden muss…
"Mister, please get out of here or you're gonna die." (Morty)
Drei Wochen später ist aber alles vorbei mit der Harmonie und dem neuen, frischen, besonderen Gefühl. Alltag ist in die zivilisierte Gesellschaft eingekehrt, so dass vor allem Summer genug Ausflucht aus der eigentlichen Misere hatte und wieder heim kommt.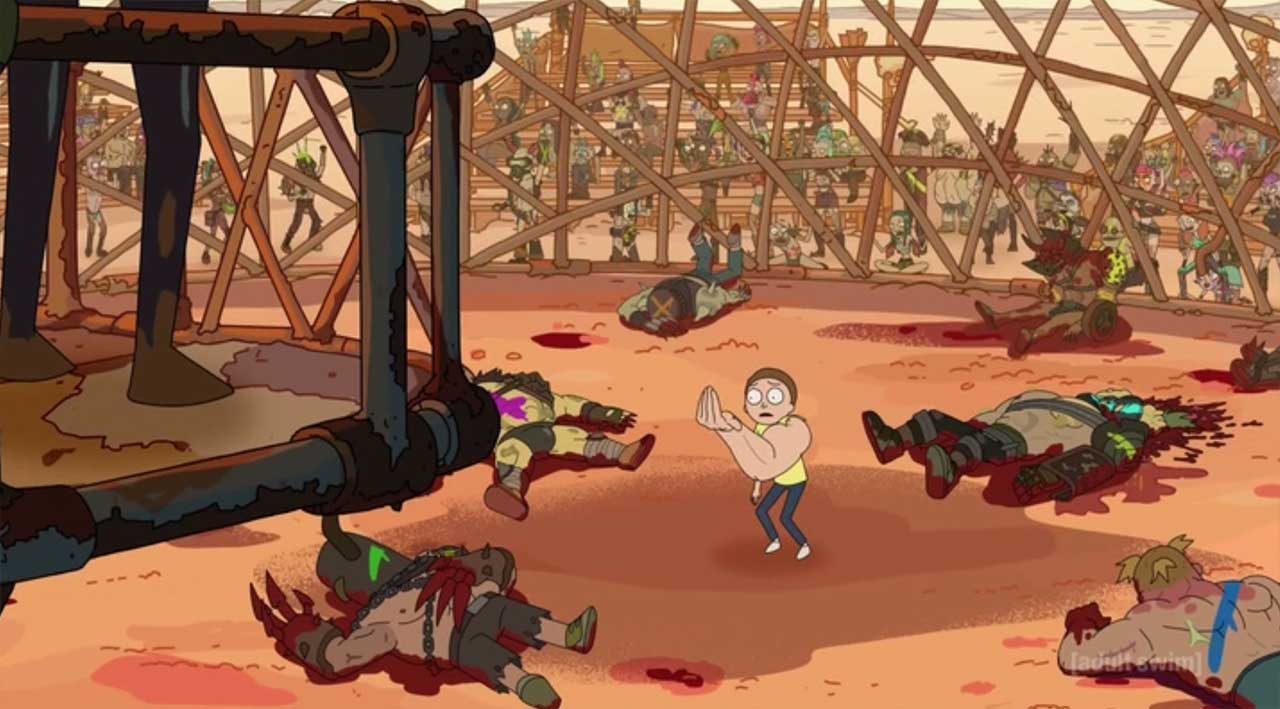 Denn eigentlich widmet sich die Folge vor allem einem: Scheidungskindern. Oder zumindest Kinder, die eine (temporäre?) Trennung ihrer Eltern durchmachen müssen. Dabei flüchtet vor allem Summer zunächst ins Abenteuer und wirkt in ihrer trotzigen Badass-Manier deutlich Rick-näher als Morty.
Sehr gefallen haben mir die Roboter-Varianten der drei, die es Beth einfach nur möglichst gut gehen lassen sollten. Das Aufkeimen einer leben-wollenden künstlichen Intelligenz im Rahmen der Eiscreme-Override-Passage war super! Dass Rick im Rahmen seiner "der zeitliche Aufwand muss sich für den Ertrag lohnen"-Logik solche Roboter auftischen kann, zeigt, dass er sie vermutlich für einen eben solchen Fall bereits in der "Garatsch" liegen hatte.
"You just became my backup toaster." (Rick)
"Hey-yo! Sorry for acting so weird for three weeks." (Rick)
Im Abspann setzt es dann ein zweites gejaultes "Loser", nachdem ein Wolf Jerry noch ein Stück Würde entnommen hat. Ich bin gespannt, wann er wieder zur Familie stoßen wird, bzw. ob wir in den nächsten Episoden zunächst komplett ohne ihn in die Abenteuer reisen werden. Zumindest Summer hat ja gezeigt, dass man sich nicht komplett abkapselt und Beth hadert ja auch noch mit ihrer Entscheidung.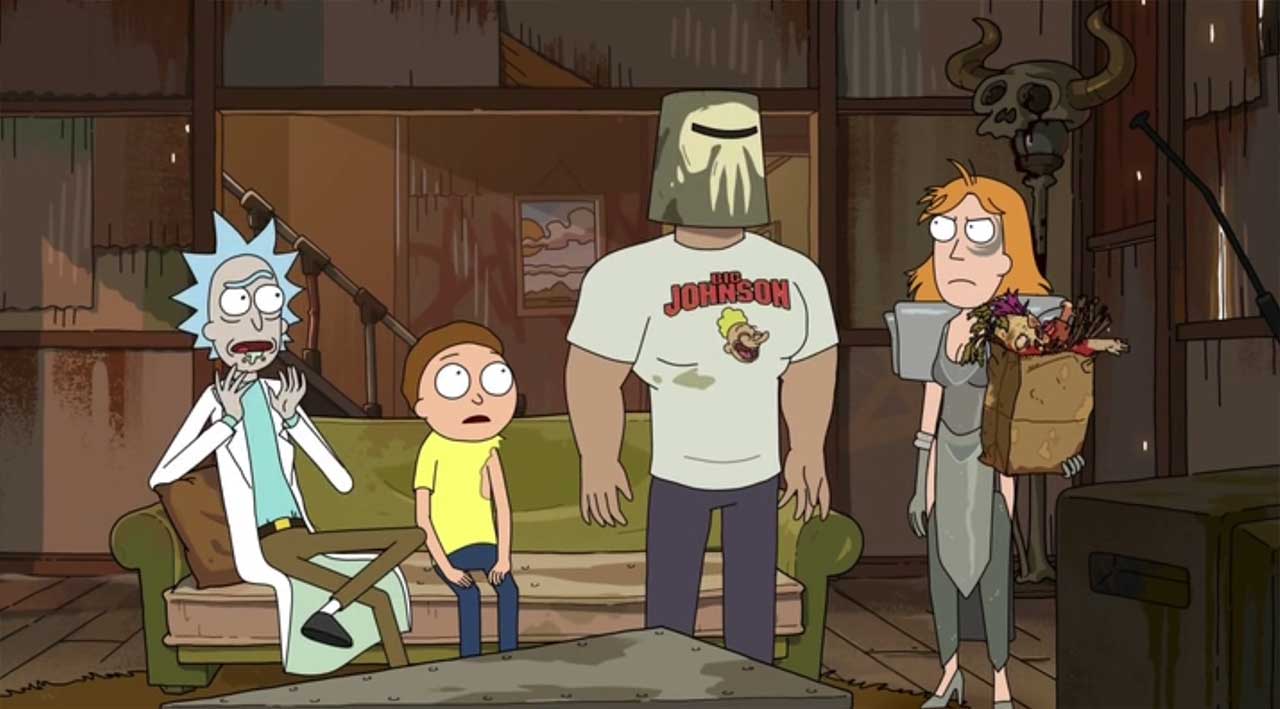 Das war natürlich gut und unterhaltsam und kurzweilig und alles, aber die erste Episode (hier im Stream) war dann doch deutlich epischer. Vielleicht liegt es auch am Sneak Peek, dass ich nicht derart geflashed war. Dennoch muss ich den Hut davor ziehen, wie die Macher das schwere Thema Elterntrennung derart gelungen aufbereitet haben. Und dass da noch 1,5 Kronen Platz nach Oben sind, liegt schlicht an den Über-Episoden, die die Serie bereits gezeigt hat. An Zitaten und bedeutsamen Aufnahmen mangelte es nicht und mit nun rund 650 Wörtern sollte dieses Review dann wohl als "akzeptabel" durchgehen. Also weitere dieser Art für jede Episode? Sind ja leider eh nur noch acht…

Nach der Episode gab es übrigens zum ersten Mal das Talk-Format "Ricking Morty" zu sehen, bei dem unter anderem Dan Harmon himself zu Gast war und über einige interessante Hintergründe zur Folge gesprochen wurde:

Ricking Morty S3E2 | Rick and Morty | Adult Swim

Die Folgen laufen in der deutschen Version übrigens stets zweieinhalb Tage später bei uns auf TNT-Comedy, also Mittwoch um 21:50 Uhr.

Bilder: Adult Swim

-->