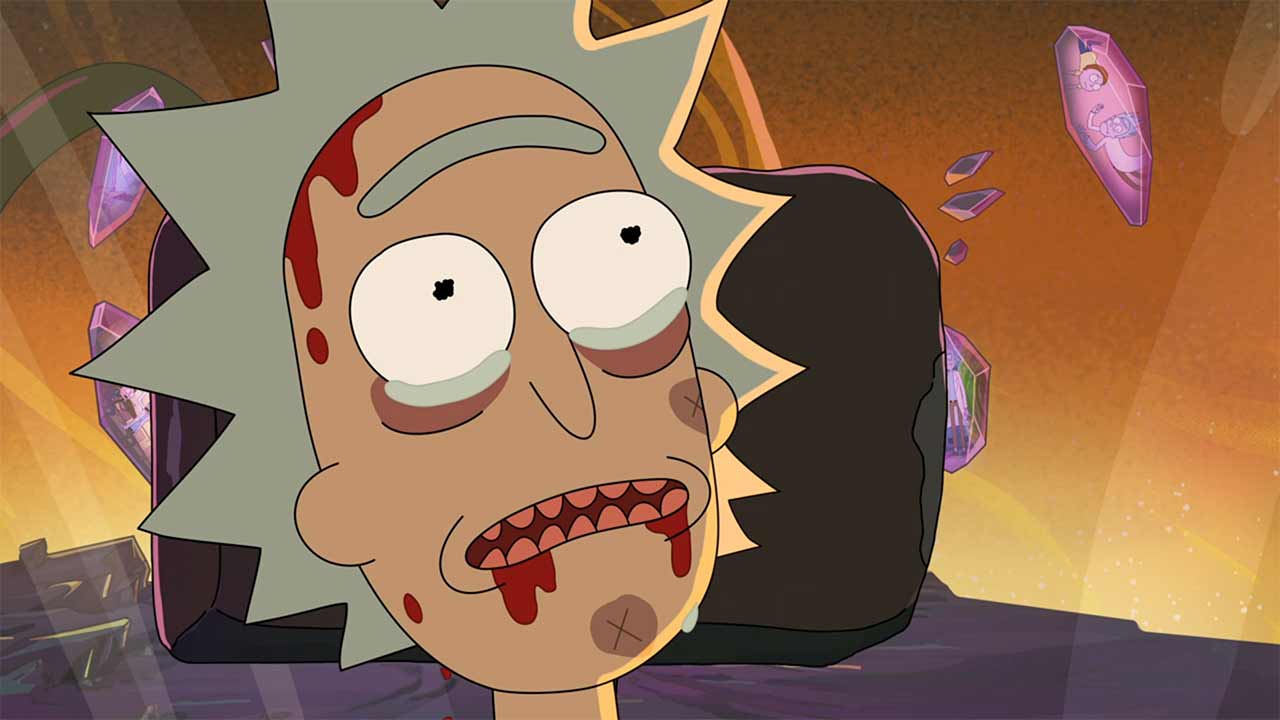 Sie sind wieder da! Die fünfte Staffel von "Rick and Morty" ist heute Nacht in den USA angelaufen, heute Abend wird es die deutsche TV-Premiere geben. Der Auftakt ist mit der Folge "Mort Dinner Rick Andre" durchaus gelungen, wie ich finde, auch wenn ein vermeintlicher C-Plot das eigentliche Highlight darstellt.
Den Beginn der Folge hatten wir ja bereits in der Storyboard-Version zu sehen bekommen, was ich gar nicht mehr genau erinnerte und ständig überlegt hatte, aus welcher Folge das denn nochmal stammt…
"I'm sorry, I got us into this." – "How about I get us out of this!?" (Rick & Morty)
Neben einigen sehr interessanten Parallelwelten-Einblicken (das muss man sich eigentlich nochmal Bild für Bild in Ruhe anschauen) bekommen wir auch direkt zu sehen, wie kleinteilig und detailliert mittlerweile die Animation in "Rick and Morty" geworden ist. Alleine das Raumschiff, das erst brennt und dann durch die Luft wirbelt – das ist schon ein gewaltiger Sprung vom eher starren Design der ersten Staffeln.
Einen gewaltigen Sprung schafft auch Morty, was seine große Jugendliebe anbelangt. Ein verzweifelter Anruf bei Jessica führt nicht nur zu lebensrettender Hoffnung, sondern auch einem richtigen Date! Mit "Nintendo 69" über Interdimensional Cable Exkurs und Wein! Also, fast…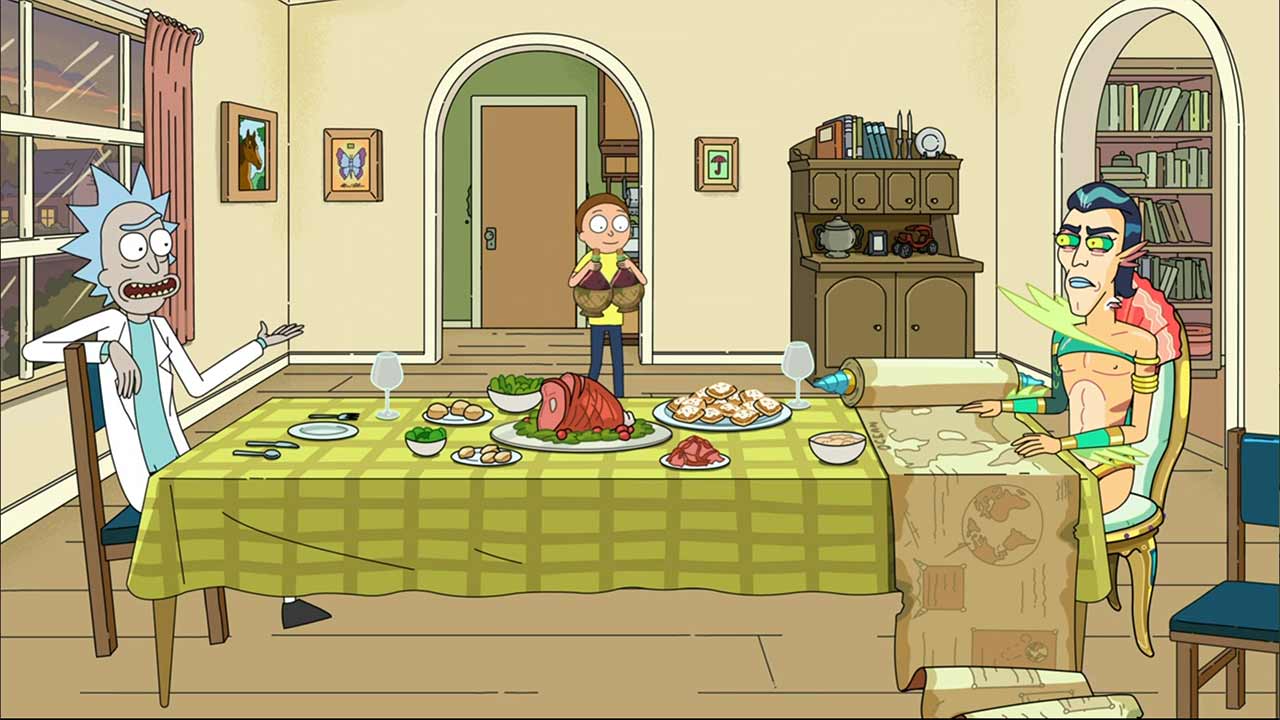 Denn eigentlich ist der Wein für Mr. Nimbus, Aquaman-Parodie und Rick-Erzfeind. Also, einer seiner zahlreichen Erzfeinde… Wie sich später herausstellen soll, waren die beiden mal beste Freunde, haben sich dann verstritten und hegen seither eine Streitbeziehung mit vielen Drohungen und eher freundschaftlichen Stichel-Kriegereien. Oder so. Es ist kompliziert.
"Police?! A strange, horny ocean man is on my lawn… Well, I don't see how that's relevant, but we're white." (Jerry)
Auffallend fand ich, wie direkt gesellschaftliche Themen unserer Zeit mit eingebaut worden sind. Sei es die Polizeigewalt (bzw. Unterstützung für Minderheiten) oder auch der Klimawandel. Das alles rückt aber in den Hintergrund als ersichtlich wird, dass Jerry und Beth anscheinend erfolgreich sind, was die Paartherapie bei Dr. Wong anbelangt. Definitiv too much information, was die Sex-Positivity anbelangt…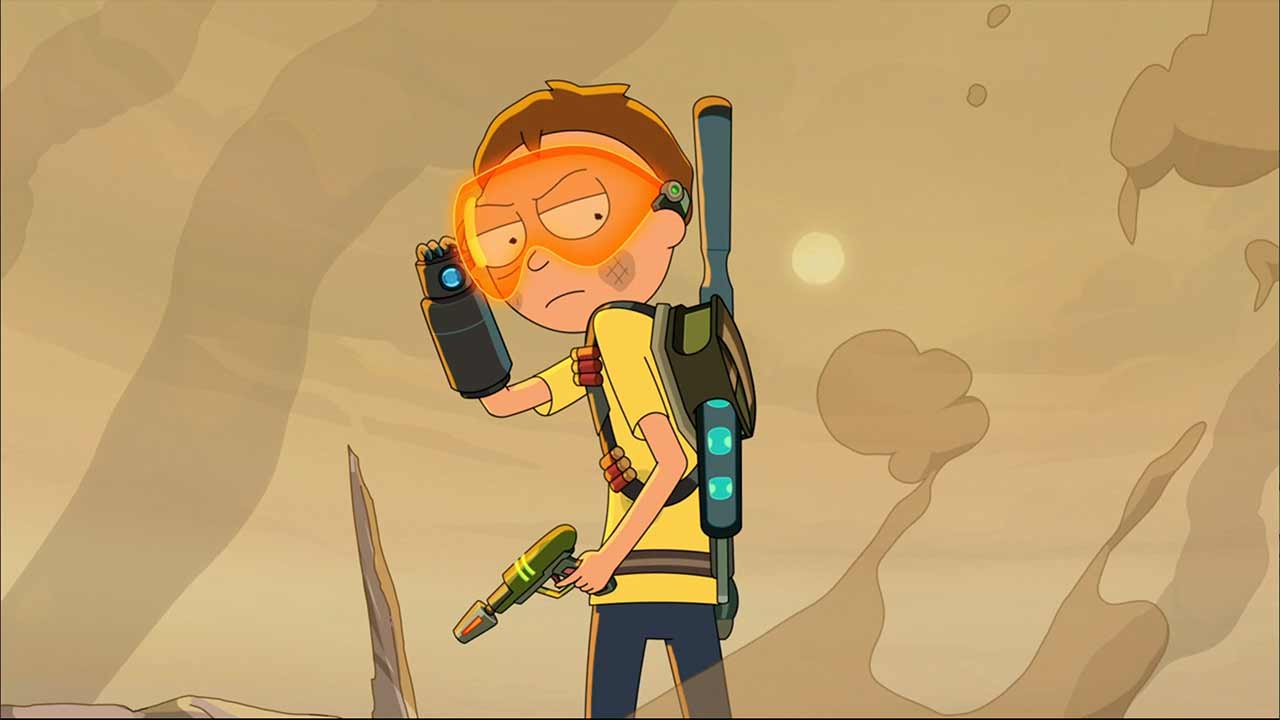 Anfangs hatte ich dann noch notiert, was für eine "nette Nebenhandlung mit dem Zeitschrank" geboten wird. Dabei bekommen wir ein Paradebeispiel für "Rick and Morty"-sche Erzählung geboten. Es geht um Portale, Zeit und das eigentliche Highlight, das von einer vermeintlichen Neben-nebenhandlung zum Star der Folge wird. Dass die vermeintlich harmlose Wein-Aufgabe sich zu einem Problem entwickeln dürfte, war für Fans der Serie abzusehen, welche Ausmaße es annehmen wird, aber weniger. Die Dynamik der Storyline war sehr gelungen und hat sich auch erstaunlich gut in den Rest der Handlung eingefügt.
"There was this guy in the thing…" – "There's always a guy in the thing!!" (Morty & Rick)
Hinten raus purzeln dann die Erkenntnisse. Morty im Badass-Modus hat bereits ordentliche Rick-Züge adaptiert und gibt auch offen zu, was von Opa gelernt zu haben. Das rettet ihn aber nicht davor, einen gewaltigen Freundschaftszonen-Korb von Jessica zu erhalten. Hier hatte ich gedacht, irgendein Gerät kommt zum Einsatz, um ihre Erinnerung zurück zu setzen, aber nein, sie zieht mit ihrer gelebten Ewigkeit von dannen. Ich bin gespannt, ob dieser Aspekt in Zukunft nochmal aufgegriffen werden wird.
"Don't fucking establish canonical backstory with me you…!" (Rick)
Wir lernen zudem nicht nur, dass Rick nicht aus jeder Situation alleine herauskommen kann, sondern auch eine gewisse Bestätigung: Diane! Das scheint wohl der Name seiner Frau, also Beths Mutter und Mortys Großmutter gewesen zu sein, die nicht mehr unter uns weilt. Ein bewusst angeschnittener Backstory-Fetzen, der sogar mitten im Satz weggeschnitten wurde, um die Wichtigkeit zu unterstreichen.
"I fucked it up, okay?!" – "It's okay, Morty, that's what you do. Let me Deus Ex Machina this shit and let's go home." (Morty & Rick)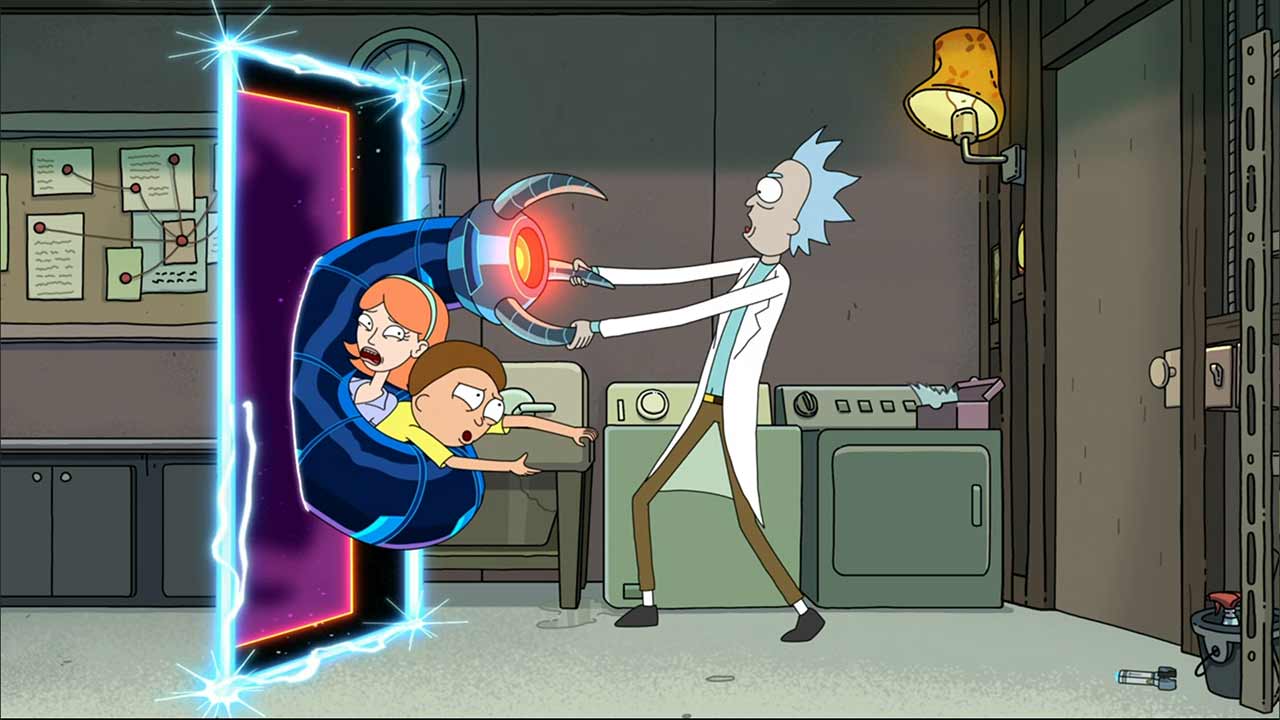 Insgesamt hat mir der Auftakt gefallen, ohne dass es sich als großes Staffelstart-Highlight angefühlt hat. Aber die Story war enorm kurzweilig, gewohnt schnell geschnitten, ohne dabei zu überrumpeln, voll notierenswerter Zitate, die aber auch selten wirklich zeitloses Klassiker-Material dargestellt haben. Insgesamt also eine gute Folge mit teils sehr guten Momenten, aber da geht mit Sicherheit noch etwas mehr. Ich bin dann erstmal auf vier Kronen gegangen, um etwas Luft nach Oben zu lassen, wobei eine 4,5 sicher auch drin gewesen wäre, aber "Rick and Morty" hat die Latte in der Vergangenheit halt verdammt hoch gehangen, da erwarte ich bei einem Staffelauftakt etwas mehr. Dennoch toll, die beiden wieder in meiner Watchlist zu wissen!
Inside the Episode
Hier noch das kleine offizielle Bonus-Video zur Folge mit ein paar O-Tönen der Macher:

Bilder: Adult Swim

-->