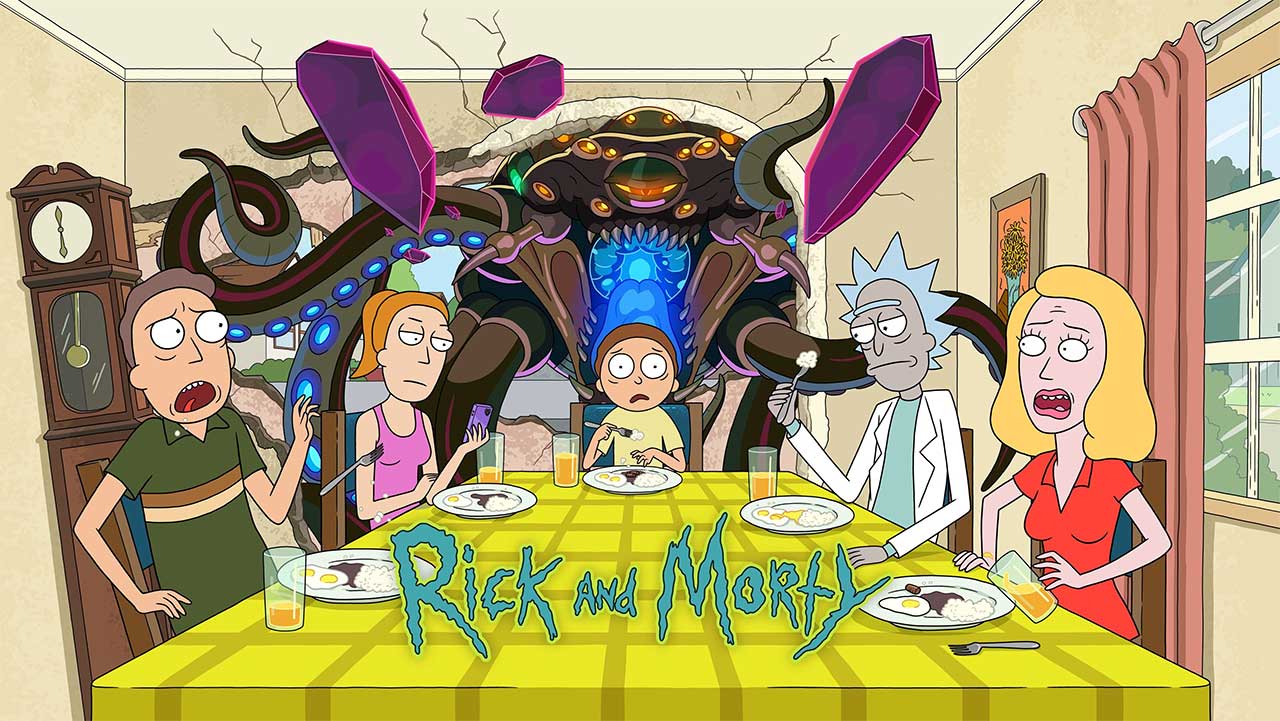 Wow, wer hätte das gedacht – gerade mal ziemlich genau ein Jahr nach dem Staffelfinale von Season Vier (Review) wird es mit "Rick and Morty" auch schon weiter gehen! Keine mehrere Jahre Warte- und Leidenszeit zwischen den Staffeln, yay! Oder besser: Wubba-lubba-dub-dub! Da scheint die Mengenbestellung neuer Staffeln vor ein paar Jahren tatsächlich funktioniert zu haben, dass Dan Harmon und Justin Roiland direkt einige vorbereiten und die Arbeitswege kurz halten konnten, sehr schön!
Und heute wurde nicht nur bekannt gegeben, dass wir lediglich noch zwei Monate auf neue Folgen warten müssen, nein, es wurde auch ein erster offizieller Trailer zur fünften Staffel "Rick and Morty" veröffentlicht! Und der ist voll mit wirren Szenen, die Lust auf mehr machen. Und guter Musik von den White Stripes (auch wenn ich die Abmischung hier und da nicht ganz gelungen finde, aber auch egal…). Viel Spaß!
"Now you can start asking us about season 6. Rick and Morty return for season 5 on Sunday, June 20 at 11pm ET/PT on Adult Swim."
"Rick and Morty" Staffel 5 im deutschen TV
In der Nacht von Sonntag, den 20., auf Montag, den 21. Juni 2021 wird der Auftakt zur fünften Staffel "Rick and Morty" in den USA auf Adult Swim laufen. Wie zuletzt bereits bei den Folgen zu Staffel 4 müssen wir hier in Deutschland wieder nur sehr kurz warten, um auch schauen zu können. Allerdings werden die Folgen dieses Mal leider (oder für meinen Schlafhaushalt auch "zum Glück"…) nicht direkt parallel zur US-Ausstrahlung gesendet. Dafür aber noch am gleichen Tag – und bereits auf Wunsch untertitelt!
Immer montags um 22:15 Uhr im [adult swim]-Block auf TNT Comedy könnt ihr die neuen Folgen in deutscher Erstausstrahlung zu sehen. Die deutsche Synchronfassung soll auch bereits kurze Zeit später erfolgen. Vielleicht haben zu wenige Leute wie ich zur OV-Fassung früh morgens eingeschaltet, so dass man direkt auf die Untertitel-Variante zur späten Primetime übergegangen ist. Aber Hauptsache, es geht schnell!
"Rick and Morty" Staffel 5 auf Netflix
Etwas länger dürfte es dagegen dauern, bis die Folgen wieder bei Netflix hierzulande zu sehen sein werden. Zuletzt hat es immer rund ein halbes Jahr nach Ablauf der Staffel(hälfte) gedauert. Entsprechend würde ich hier mal grob auf Februar 2022 tippen, sollte es sich erneut um zehn Episoden handeln und diese dieses Mal wieder alle in Reihe bis Ende August ausgestrahlt werden.
Wichtig ist, dass es überhaupt weiter geht! Ich freue mich nach einigen sehr starken Momenten der letzten Folge sowie ein paar Aussagen, dass die fünfte Staffel die beste seit der (großartigen) zweiten werden soll, enorm darauf, dass es weiter geht. Oder, um es mit Ricks Worten aus dem Trailer zu sagen:
"It's time we raise a little hell!"
Bild: TNT Comedy / Adult Swim

-->