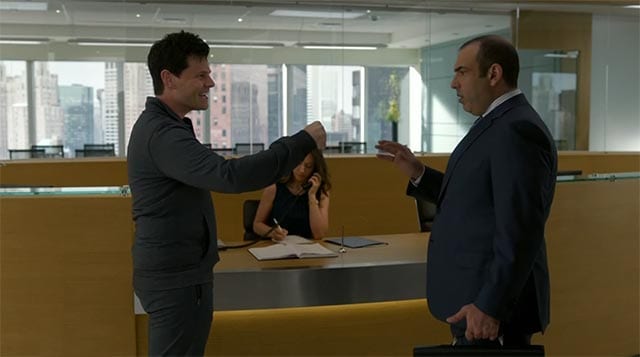 Diese Woche sieht man mal wieder gut die aktuelle Problematik von "Suits". Die zwei eigentlich komplett getrennten Schauplätze werden mit hoher Anstrengung zusammen gehalten, so dass es für den Zuschauer eigentlich egal ist (oder sein soll), dass man eigentlich zwei Jahre nichts von Mike hören und sehen müsste. Und es wird versucht, die Stimmung und Handlung möglichst schnell und oft aufzuheitern. Natürlich mal wieder auf Kosten von Louis. Der sucht Untermieter für die Firmenräume und findet einen Haufen Douchebags. Statt Saft gibt es jetzt Energy Drinks en masse. Wenigstens aber auch mal wieder einen saftigen "You just got Litt!"-Moment.
"Don't ever mess with a goddamn Harvard lawyer!" (Louis)
War aber klar, dass sich das nochmals dreht. Schade, dass solche "gut, dass wir lauter Trader hier haben!"-Dinge immer in der gleichen Episode passieren, in der sie auftauchen. Zufall aber auch!
Exkurs: Rachel erzielt einen kleinen Punktesieg an der Uni. Starke Frauen sind toll, Hooray Selbstbewusstseins-Boost und Nebenhandlungen, die die (ungemein offensichtlich) für Charaktertiefe sorgen sollen. Hach… Ne.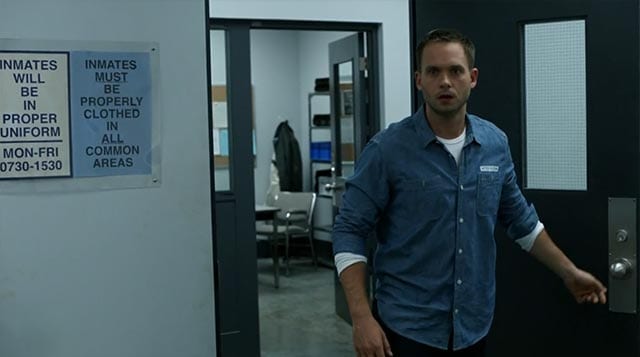 Aber wir können alle erleichtert sein: Es gibt doch noch Frühstück für Mike – Hoffnungslosigkeit mit Keks. Die Machtspielchen im Gefängnis werden zunächst brutaler und dann doch eher auf Wortebene ausgefahren. Aber natürlich findet er aus dem Nichts irgendwie ein Gegendruckmittel, das er entweder von Beginn an hätte haben müssen oder aber auf utopische Weise hat organisieren können. Hm…
"If you want my business, you have to earn it." – "What do you think, these front row Knicks tickets are for?" – "Great, I'll give them to my stepson, who is too stupid to know that the Knicks suck." (Nathan & Harvey)
A pro pos "plötzlich": Mike soll also seinen neuen Freund verraten, klar doch. Aber überrascht nicht, dass recht schnell ein direkter Ausweg geboten wird. Dass der aber erst jetzt urplötzlich aufplöppt, wirkt mal wieder seltsam…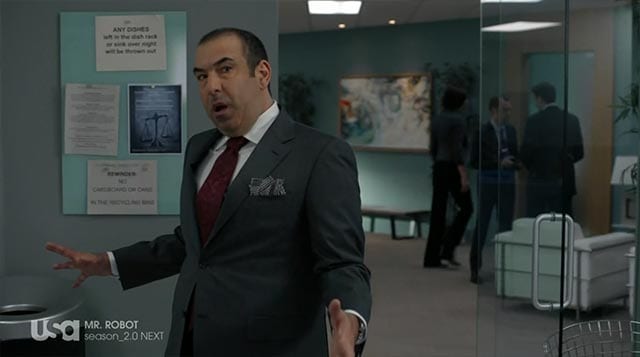 Ich weiß nicht so recht. Einige sehr offensichtlich eingeworfene Slapstick-Momente waren ja ganz nett und insgesamt war es unterhaltsam, aber es beginnt bereits wieder das Wettbieten der Deadlines im Kampf der Unmöglichkeiten samt magischem Ziehen von Lösungen aus dem Zylinder im Sekunden-Takt. Das missfällt mir, zumal es sich einfach weiterhin wie Wochen-Konserven-Dosis anfühlt. Ich hoffe, dass die Trader-Douchebags nun noch eine weitere Rolle spielen und nicht komplett außer Acht gelassen oder gar doch irgendwie raus gekickt werden, weil sie ihren Zweck erfüllt haben. Das wäre allgemein wünschenswert, wenn ein paar weitere Charaktere auftreten und Meister Douche scheint ja ein ganz unterhaltsamer Bro zu sein, der doch mehr auf dem Kasten hat, als man zunächst annimmt.
Bilder: USA