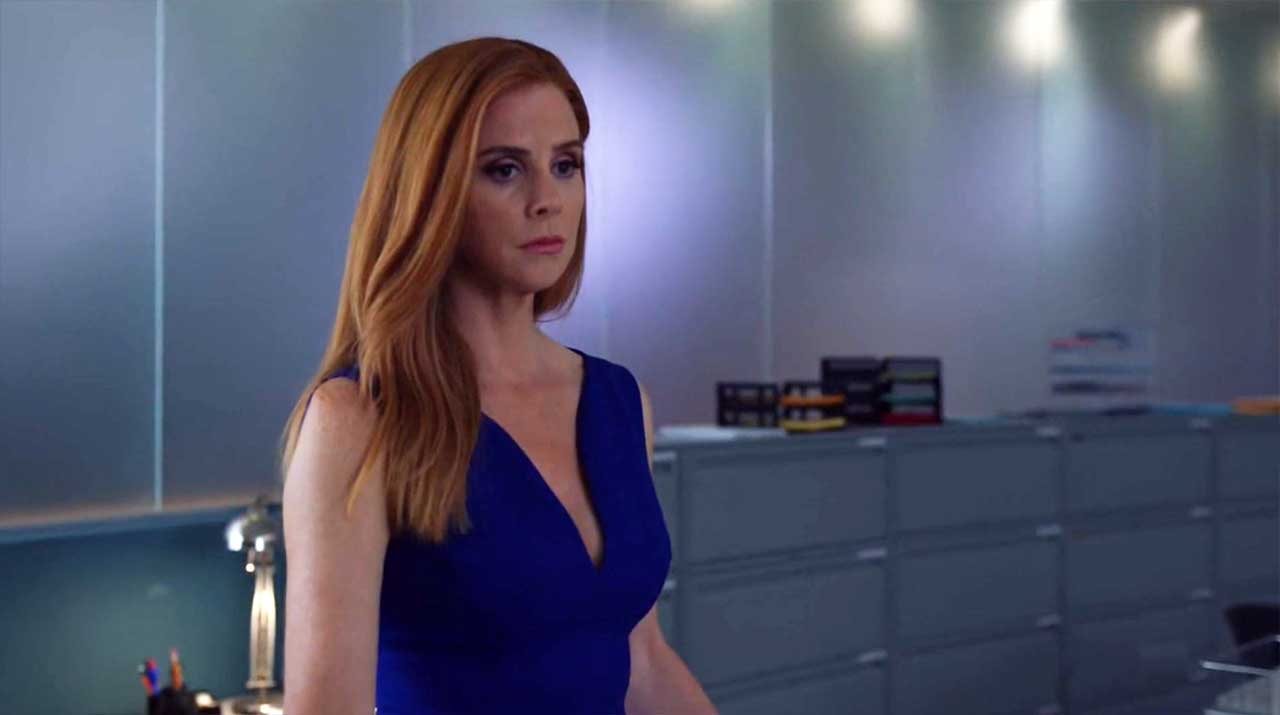 Man könnte meinen, "Suits" sei im neuen Jahrtausend angekommen oder wolle sich kurz vor Schluss noch fix eine neue, junge, hippe Zielgruppe erschließen. Wobei, ganz so positiv kommen diese neumodischen Influencer nicht wirklich weg… Der "Fall der Woche", der den Namen bislang nicht verdient hat, betrifft eine 16-jährige mit 50 Millionen Followern, die eine Marke in einem Video schlecht gemacht hat. Oh no! Gut, dass das Amerika ist und man fröhlich mit Millionenklagen um sich werfen kann…
"It was soo baaad, I couldn't post a video for a week." (Inflencerin)
"Now I have to go deliver some more shitty news to someone less understanding than you." (Louis)
Harvey übernimmt aus Gründen den Socialfall von Louis, der ihm auch noch beibringen muss, dass sein erster Klient überhaupt vermutlich bald Geschichte sein dürfte. Läuft bei ihm.
Donna sucht derweil jemanden, der ihren neuen Pro Bono-Fall übernehmen möchte. Alex kann Donnas neuen Pro Bono-Fall nicht übernehmen. Samantha übernimmt Donnas neuen Pro Bono-Fall. Ja, die Ereignisse überschlagen sich regelrecht… Denkt man, bis plötzlich ein 5 Millionen Dollar-Scheck auf dem Ärmel geschüttelt wird, als wäre es nichts. Ich wusste ja, dass Anwälte viel verdienen und die gezeigten dürfte zu den Großverdienern gehören, aber – wow! Stattliche Nebenbei-Spende. Nur doof, dass die Sache wie immer einen Haken hat, für dessen Erklärung und Entfaltung nicht genug Zeit bleibt, weshalb alles mit ein bisschen Frauenpower und -Bonding ausgebügelt wird. 0,3 Prozent zu viel Minderjährigen-Ausbeutung? Pfft, wir haben… Drohungen!
"Is this a rosé or a martini story?" – "Whisky." (Donna & Samantha)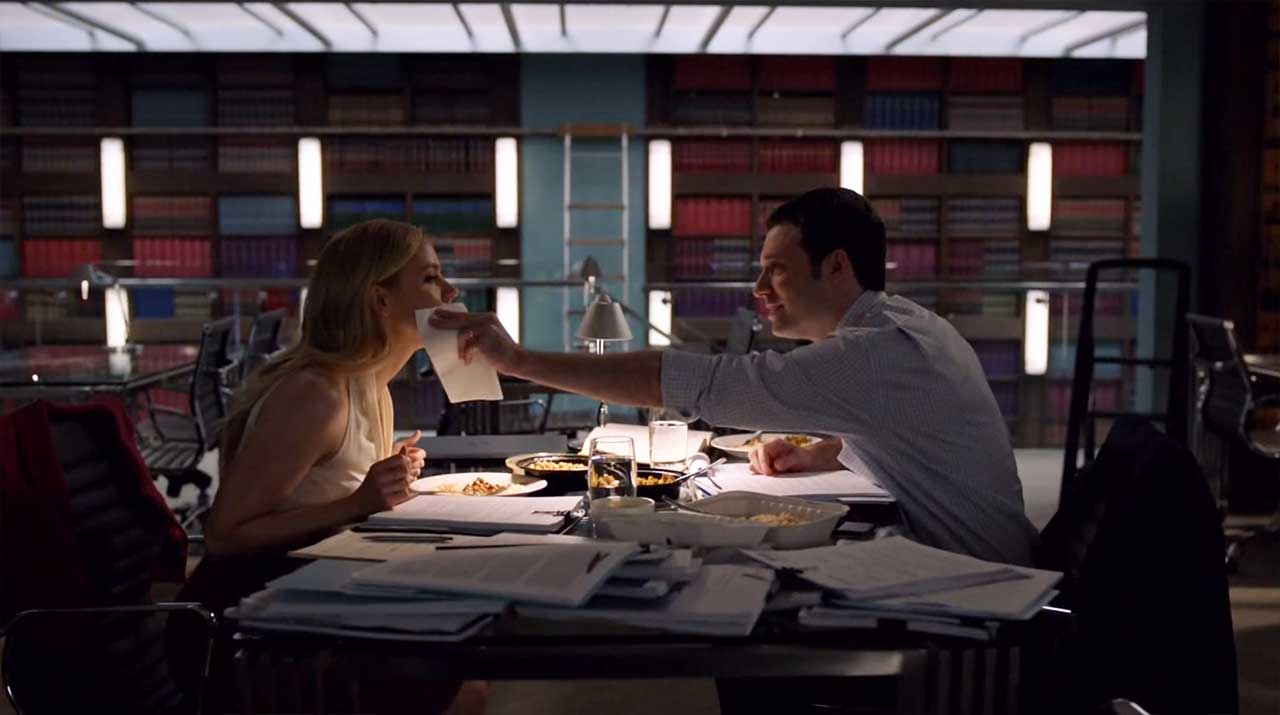 Katrina hat einen neuen Beförderungsfall und nähert sich weiter Brian an, was Donna mit ihren Büro-Spider-Senses direkt bemerkt. Drei spontane Eingebungen später (wirklich? DREI?!) gewinnen sie natürlich den Fall. Irgendwie süß ist das erzwungene Sozialisieren Katrinas aber schon irgendwie.
"Am I your first friend?" – "Kcchhhrchhhy…." (Brian & Katrina)
Ist euch eigentlich aufgefallen, dass Robert seit zwei Episoden nicht zu sehen ist? Er wird sogar hin und wieder nebenbei erwähnt, wenn man sich eine Erlaubnis eingeholt hat oder so. Komisch.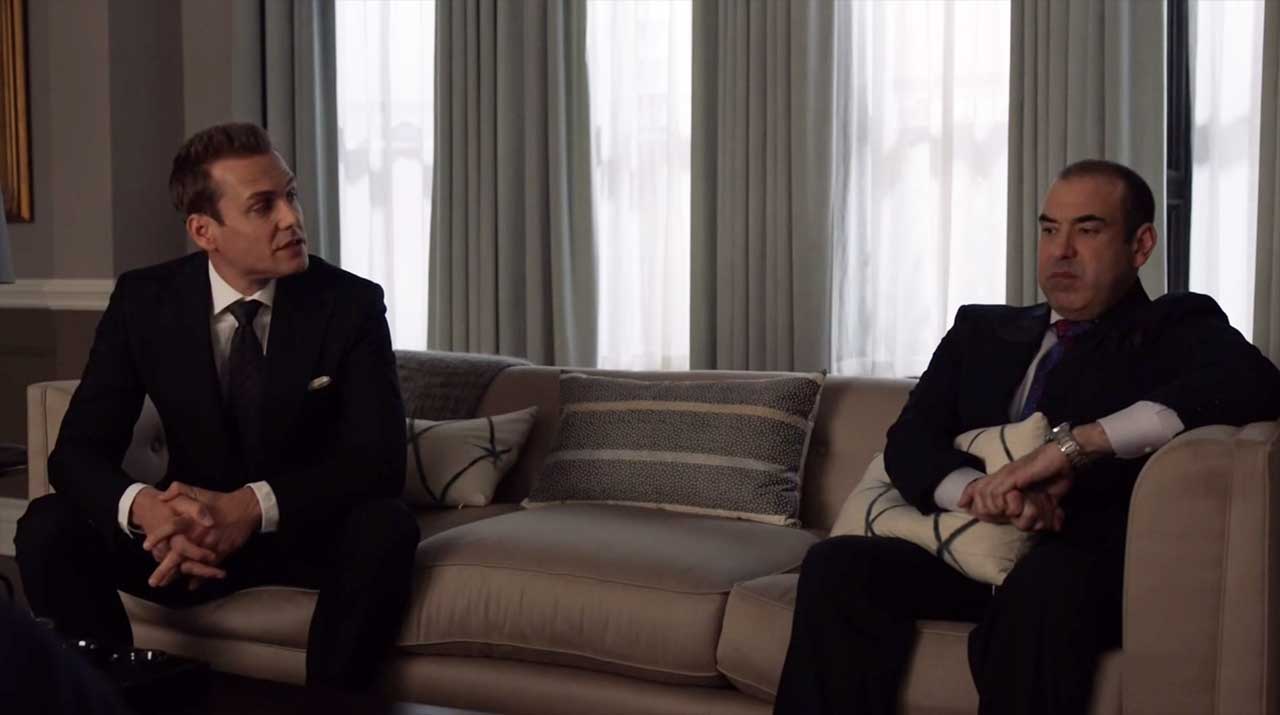 Aber kommen wir zum Herzstück der Episode: Louis und Harvey. Die Männerfreundschaft, die keine sein wollte oder sollte oder konnte (je nach Blickpunkt). Tatsächlich bekommt Louis es irgendwie hin, Harvey zur Paar-Therapie zu überzeugen, was so sensationell bescheuert ist, wie es klingt. Louis verhält sich natürlich wie ein eingeschnapptes Kleinkind, dem das Sandkasten-Schüppchen weggenommen wurde. Entsprechend haut er diese Folge mit Abstand die besten Zitate raus:
"In this instance, it sounds like Harvey may be the one in the wrong…" – "Holy shit, I need to go on and buy a lottery ticket right now!" (Psychiater & Louis)
"It's Harvey. He'd say 'I'm right, you're wrong!', touch his hair and leave." (Louis)
"Harvey, we need to talk, because our relationship needs tending." – "Our what needs what?" – "You heard me. We're in a relationship and it's not working." – "Then break up with me and go out with somebody else, cause I'm buzy." (Louis & Harvey)
Harvey ist natürlich viel reifer und bekommt seinen ersten psychologischen Durchbruch in rekordversächtigen 25 Minuten: Verlassenwerden-Angst. Gratuliere. Das hätte ich nach achteinhalb Staffeln auch diagnostizieren können. Aber zumindest hatten die beiden Kanzlei-Freunde mal einen schönen Umarmungs-Durchsuchungs-Moment und Abend.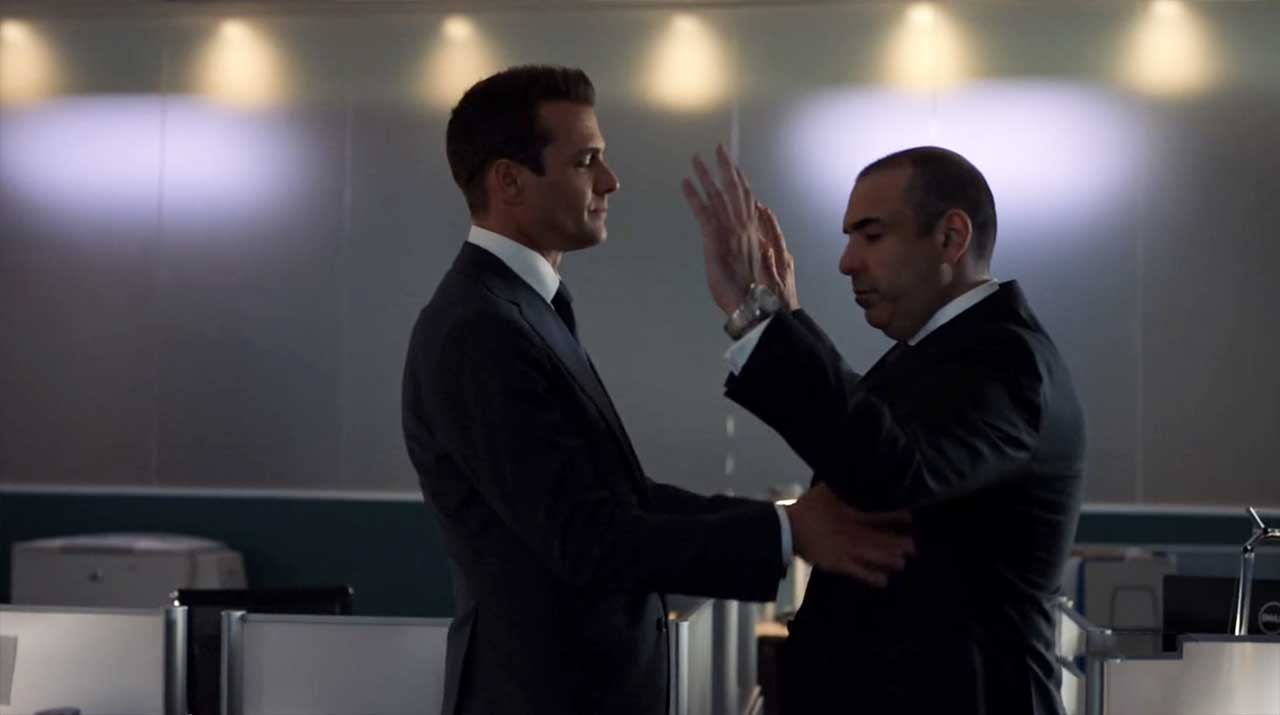 Ich scheine nicht von der "3" als Bewertung weg zu kommen. Das ist auf der einen Seite ja irgendwie schön, weil "Suits" zumindest konstant ist, aber das Niveau ist eben weiterhin bestenfalls Durchschnitt. Dabei ist weiterhin zu deutlich spürbar, wie sehr man bestimmte Zwischenmenschlichkeits-Punkte noch schnell abgehakt bekommen möchte. Das funktioniert bei Harvey und Louis diese Woche zwar noch recht gut, diese ganze Affären-Eingerederei bei Katrina fand ich jedoch unnötig. Dazu kamen mir die Fälle deutlich zu kurz und wirkten eher als Alibi für bestimmte Rahmenhandlungen, auch wenn in Sachen Influencerin ja vielleicht noch was folgt, jetzt, wo Louis den Ball wieder aufnimmt. Gefallen haben mir dagegen diese Woche äußerst viele Dialoge.

Jetzt vielleicht mal wieder "The Breakfast Club" schauen?

Bilder: bravo

-->