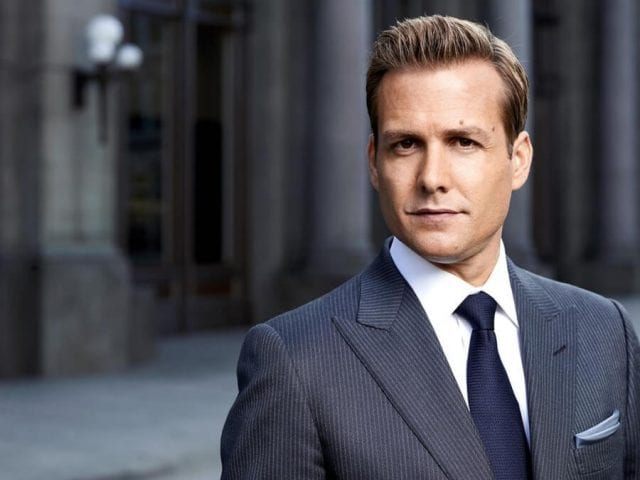 OK, eine Eigenart vieler US-Serien – gerade von Anwaltsserien natürlich – ist es, dass es dort fast nur gutaussehende Menschen gibt. In Suits ist das – mal abgesehen von Louis Litt – ganz genauso. Und es trifft vor allem auf Harvey Specter zu: perfekt gestylte Haare, immer passende Maßanzüge, stets gut kombinierte Accessoires. Doch was macht seinen Style genau aus? Und was muss man tun, um selbst ein wenig Harvey Specter zu werden? Sven Raphael Schneider von Gentleman's Gazette hat sich den Staranwalt aus Suits einmal vorgenommen und seinen Stil analysiert.
Harvey Specter's life is work, and his style is a reflection of his very specific style needs. Law has always been a conservative fashion environment, and Harvey tries to play very closely to those rules. Known for his single-breasted, made-to-measure suits with peaked lapels, big-collared shirts and windsor-knotted power ties, Harvey Specter exudes confidence through his wardrobe, at least. In fact, he wears it like armor; it's part of his personality and that's the reason he lacks the elegance of other Gentlemen of Style.
In seinem Blog beschreibt er ganz akurat Harveys Anzugstil – inklusive Vergleich über die Staffeln hinweg:
From the beginning of the show, he regularly tells his protege that it's time to dress like a man. When he shows up wearing an ill-fitting and inexpensive suit, Harvey sends Mike to his tailor and instructs him not to come back until he has bought new suits. Throughout all of the episodes, there are few times where Harvey appears in anything besides a suit or tuxedo. On those odd occasions, they are still well-fitting casual trousers or jeans with a t-shirt or a sweater. Otherwise, he is always in a suit, and, for the most part, they're all of similar design.
In der Folge beschreibt Schneider auch Harveys Accessoires, seinen Schuhstil, und erklärt, wie man die Krawatte entsprechend bindet:

Und zum Schluss geht er auf den Hair-Style, inklusive Anleitung, wie man sich selbst die Haare so schneiden lassen kann. Insgesamt recht unterhaltsame Analyse – hier bei Gentleman's Gazette.

-->