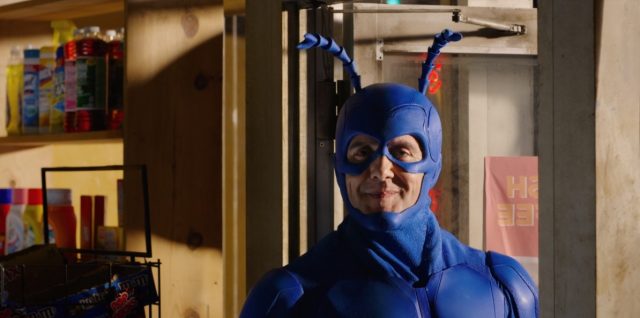 Die neue Superhelden-Satire auf Amazon Prime erzählt in 6 kurzweiligen Episoden die Geschichte eines gewöhnlichen Buchhalters, der unfreiwillig zum Sidekick des merkwürdigen Helden im blauen Kostüm The Tick wird.
Seit sein Vater, während eins Angriffs des Superschurken The Terror ums Leben kam, fristet der Buchhalter Arthur ein unheldenhaftes Leben als Einzelgänger. Nur seine Schwester, die Assistenzärztin Dot hält zu ihm. Als Arthur erfährt, dass die Stadt nach wie vor in den Händen des totgeglaubten Bösewicht Terror liegt, macht er sich auf eigene Faust daran den Mord aufzudecken. Dabei erhält er unerwartete Unterstützung vom Superhelden The Tick, der Arthur mit einem High-Tech Kostüm ausstattet. Schon bald stellt sich heraus, dass das Kostüm Teil einer Waffe ist, die jeder Schurke in der Stadt zu gern in die Finger bekommen will.
Nach anfänglichem Zögern wächst Arthur immer mehr in seine Rolle als Superhelden-Sidekick hinein und gemeinsam mit The Tick nimmt er den Kampf gegen das Verbrechen auf.
Was sich wie eine x-beliebige Superhelden-Story anhört, ist eine gelungene Parodie, die nur so vor Anspielungen auf das Genre strotzt.
The Tick basiert auf dem gleichnamigen Comic von Autor Ben Edlund, der nach einer erfolgreichen Zeichentrickserie in den 1990ern und einer TV-Serie im Jahr 2001, auch an der neuen Serie wieder mitwirkt.
Die Serie gehört zu einer der sogenannten Amazon Pilots, die nach einer Testfolge und einem positiven Feedback der Zuschauer mit einer kompletten Staffel in Produktion ging.
Angesiedelt ist sie in einer Stadt namens The City, in der das Superheldendasein selbstverständlich geworden ist. Der berühmteste unter ihnen ist The Tick. Er hat weder eine Geheimidentität, noch eine Erinnerung an sein früheres Leben. Alles was er weiß, ist das er zum Helden für Gerechtigkeit berufen ist.
Darsteller Peter Serafinowicz hat ihn wie ein Relikt aus einer anderen Zeit angelegt. Unüberhörbar spricht er seinen Helden wie Adam West als Batman in der gleichnamigen Serie aus den 1960ern. So bezeichnet er Arthur immer wieder als "chum".
"You see, chum? We got crime on the run. Can't turn back, man. What the world needs now is us. Sweet us."
Arthur, aus dessen Sicht die Geschichte erzählt wird, ist ein überzeugender Jedermann mit Neurosen und einer labilen Psyche. Da fragt man sich als Zuschauer, ob The Tick wirklich existiert oder ob er nur ein Konstrukt seines Verstands ist.
Sein Kostüm – das einer Motte nachempfunden ist – verfügt über ein Bedienfeld im Helm, das aus den Iron Man Filmen entnommen sein könnte.
"But look how tenaciously you clung to life. Like an ant lifting a peanut. You have the knack."
Der Look der Serie erinnert an eine herkömmliche Krimi-Serie aus dem Montagabend-Programm und die CGI-Effekte sind in den meisten Fällen als solche auszumachen. Aber vermutlich gehört dies zum Stilmittel der Serie, um die Absurdität von selbstjustiziären Metawesen in peinlich engen Kostümen zu verdeutlichen.
Mir haben neben dem sympathischen Außenseiter Arthur, der seine Bestimmung findet, die Nebenfiguren gefallen. Da ist zum Beispiel Superian, der in seiner makellosen und narzistischen Art deutlich an Saubermann Superman angelehnt wurde. In einer amüsanten Szene, nimmt Superian einen Schluck bitteren Kaffee zu sich und versetzt ihn dann mittels Hitzeblick mit Pumpkin-Spice-Geschmack.
Außerdem gibt es einen sprechenden Hund, der seinen selbstverfassten Roman über seine Heldentaten im TV promotet.
Sowie den unberechenbaren Killer Overkill, der stark an all die Söldner und Auftragskiller der Comic-Welt erinnert, wie beispielsweise Deadshot – dem von Will Smith gespielten Schützen aus Suicide Squad.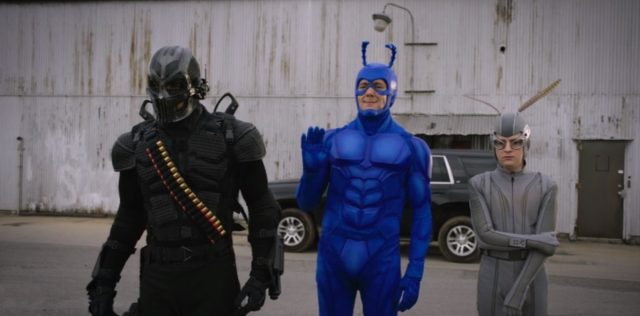 Und wenn The Terror während einer Folterszene Amazons Sprachassistent Alexa auffordert, unheilvolle Musik zu spielen, dann ist das einfach verdammt lustig.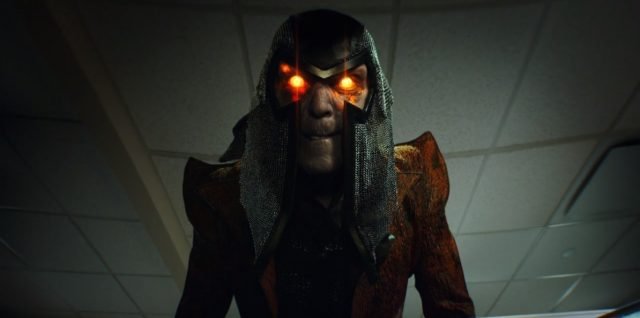 2001 gab es schon einmal den Versuch den Stoff für eine Sitcom umzusetzen, leider kam die Serie über eine Staffel mit 9 Folgen nicht hinaus. Hoffen wir, dass der neuen Serie nicht das gleiche Schicksal ereilt, denn zumindest der Auftakt macht auf jeden Fall Lust auf mehr und ist mit nur 6 Episoden à 30 Minuten recht kurzweilig.
Fazit
Unterhaltsame und actionreiche Superhelden-Komödie, bei der insbesondere Fans des Genres auf ihre Kosten kommen.

The Tick ist auf Amazon Prime im Stream verfügbar (ab 13.10. auch in deutscher Synchronfassung)

Bilder: Amazon Prime Video

-->