Wie bereits im Zuge des Trailers erwähnt, beginnt am 26. Juli die zweite Staffel von Rick and Morty. Zur Bewerbung des Starts hat sich Adult Swim etwas Besonderes einfallen lassen: die vielleicht größte Instagram-Kampagne bisher!
"I thought Instagram was just for pictures of peoples food, selfies and like… boobies?!" (Morty)
Für #Rickstaverse haben sie nicht nur einen Instagram-Kanal aufgezogen und mit der Technik bebildert, dass viele Einzelbilder ein großes Mosaik bilden, nein – sie haben 80 angelegt! Lässt man sich die einzelnen Bilder eines Profils in der Großansicht anzeigen, kann man kleine "Portale" finden, die zu den anderen Profilen führen.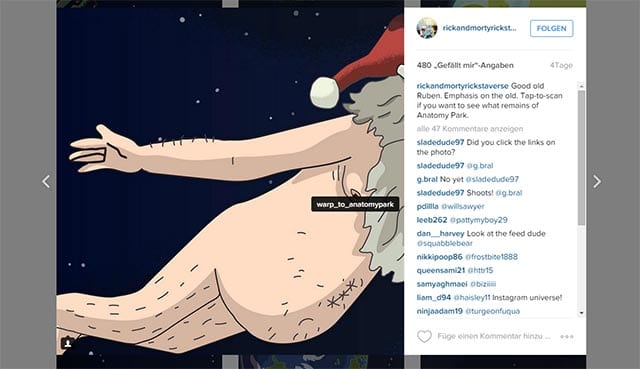 Das muss verdammt viel Arbeit gewesen sein! So kann man sich als User fleißig durch die Universen der Serie klicken und hier und da ein paar News und Neuigkeiten abgreifen und abonnieren. Aber wieso lassen wir das ganze nicht einfach von Rick selbst erklären? Ist ja schließlich seine neueste Kreation…

Rickstaverse Walkthrough | Rick and Morty | Adult Swim

via: W&V

-->