Ein Finger, zubereitet wie eine Currywurst – das ist dem deutschen Ottonormalbürger dann doch ein bisschen zu viel: Die schwarzhumorige Werbekampagne von Netflix zur neuen Comedy-Serie "Santa Clarita Diet" hat zu so starken Kontroversen geführt, dass der Streaming-Dienst die Plakate wieder abgenommen hat. Es gab wohl mehrere Beschwerden beim Deutschen Werberat, wobei es in der Regel um unzumutbare Gewaltdarstellung gint. Natürlich sind die Plakate schon etwas schräg, aber die Überspitzung der Motive kann man den Motiven definitiv abnehmen. So sieht's übrigens am Potsdamer Platz aus – witzigerweise direkt gegenüber von Vapiano… Mahlzeit!
Genius 😂😂 #netflix #santaclaritadiet #berlin #currywurst #potsdamerplatz #advertising #tvs… https://t.co/uwxxIRUPwk pic.twitter.com/wvh9vEjjJw

— Verytte🔥 (@Verytte_) February 16, 2017
Netflix sorgt ja immer wieder mal seinen Kampagnen für Diskussionen – zuletzt mit der real wirkenden Präsidentschaftskandidatur von Frank Underwood aus "House of Cards". Probleme mit seiner Werbung für eine Serie hatte auch Amazon schon – die Werbung mit Nazisymbolen für "The Man in the High Castle" war in New York einigen Bürgern too much. Aber ob jetzt bei The Man in the High Castle" oder bei "Santa Clarita Diet": Durch das Zurücknehmen der Kampagnen hat die Werbewirkung nicht nachgelassen – im Gegenteil: Die Diskussionen rücken die Serien erst recht ins Licht.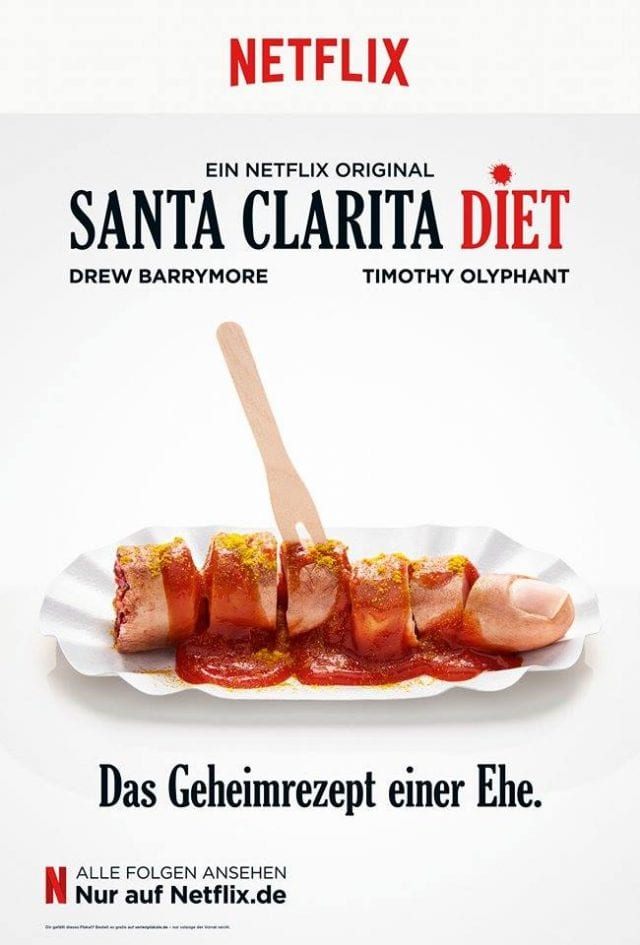 via: MeinVoD

-->