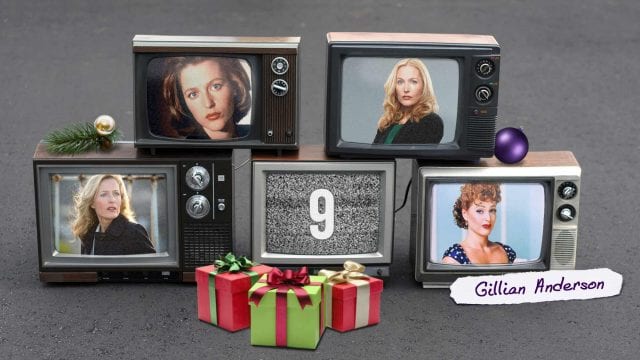 Es gibt nicht viel zu sagen und doch habe ich einige Worte. Denn eigentlich spricht ihre schauspielerische Leistung für sich selbst.
Im Rahmen unseres
sAWEntskalenders
gibt es jeden Tag eine Hommage auf einen erwähnenswerten Seriendarsteller – und immer wieder versteckte Buchstaben. Wer als erstes das gesuchte Serien-Zitat aus ihnen bildet, kann
sich einen Preis aussuchen
. Alle vier Tage gibt es einen Tipp von uns. Viel Spaß beim Durchschauen und Rätseln!
Aber zuerst der Hinweis – nachdem ich all die anderen Beiträge gelesen habe -: Dies ist keine Biografie. Oder Filmografie. Das ist pure Liebe. Und Bewunderung. Und voller Emotionen und ohne irgendwelche Fakten.
Ich feiere eine Schauspielerin. Ich werfe Konfetti. Und tue das, was ich am besten kann. Für das, was sie am besten macht. Ich feiere sie. Sie schauspielert.
Die unheimlichen Fälle des FBIs
Seit ich Teenie und gruselerprobt bin, bin ich größter Fan von ihr gewesen. Es gab keinen Mittwoch Abend ohne Akte X. Ich war verliebt in Mulder und bewunderte Scully.
Dafür, dass sie mit ihm zusammen arbeiten konnte…
Dafür, wie sie ihren Mantel trug…
Dafür, dass sie so klug war. Schon irgendwie ein Vorbild. Auch, wenn ich selten gezweifelt und lieber zusammen mit Mulder an das Unglaubliche geglaubt habe.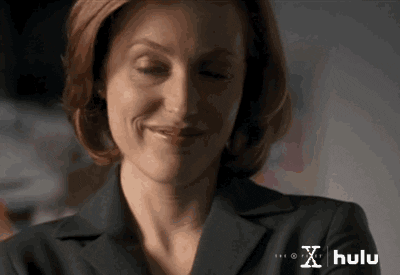 Jede Geschichtsarbeit litt darunter, dass am Vorabend Akte X lief. Ich musste es doch gucken. Denn es gab kein Streaming oder eine Wiederholung. Es gab nur diesen einen Sendetermin. Oder eben die abgenutzte Videokassette, die es dann am elterlichen Fernseher aufgenommen hat. Das war aber nur für den Notfall. Ich musste doch schließlich am nächsten Tag mit Ramona darüber sprechen können, was wieder passiert ist.
Ich glaube, das war die erste Serie, die mich wirklich süchtig gemacht hat. Vorher gab es Roseanne und Eine schrecklich nette Familie oder viele Kinderserien. Aber die schaute man, weil sie da waren. Genau wie Die Simpsons. Sie liefen einfach und man guckte es.
Aber nicht so Akte X. Oder Die Akte X Simpsons Folge. Die musste aufgenommen werden, damit man sie immer und immer wieder gucken konnte.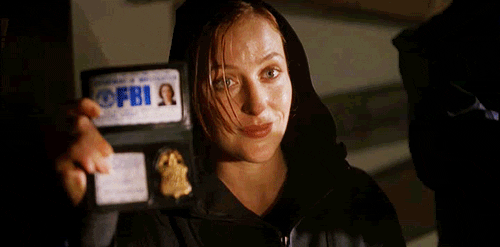 Es war toll. Doch ich schweife ab. Hauptcharakter war Scully. Und ich muss es zugeben – mit einer fantastischen, deutschen Synchronstimme. Leider wurde diese Stimme heutzutage zuviel benutzt und ist deswegen – in meiner Wahrnehmung – abgenutzt. Aber nicht so damals.
Doch mit der Zeit wurde ich älter und dann vergaß ich Akte X. Es gab keine Folgen mehr. Es gab andere Serien. Es gab Jungs. Es gab ein Studium. Es gab Arbeit. Es gab ein Leben. Und viele, viele andere Serien…
Dann gab es die neue Staffel. Leider in meinen Augen sehr, sehr schlecht. Jedenfalls die erste Folge. Die Serie hatte sich nicht weiterentwickelt und wollte da weitermachen, wo sie aufgehört hatte… Das war eine schlechte Idee.
The Fall
Und dann kam The Fall. Und meine anfängliche Teenie-Schwärmerei-Bewunderung wurde tiefe Liebe und Respekt vor einer grandiosen Schauspielerin.
Ich wüsste auf Anhieb keine andere Serien-Schauspielerin, die so gut in einer Männerwelt spielte. Und es war natürlich auch ein großer Teil ihrer Rolle, die sie so sympathisch gemacht hat. Und leider auch etwas zuviel schöne, gemachte Brüste für meinen Geschmack. Aber sie und ihre Rolle und all ihre Aussagen verschmolzen. Ich feierte sie, wenn sie gegen die Männerwelt und all die staubigen Gedanken mit revolutionären Ideen ankämpfte. Sie wollte sich nix sagen lassen. Und ich feierte, wenn sie einfach nur den Mundwinkel ganz leicht hochgezogen hat. Viel zu wenig für ein Lächeln. Aber eben trotzdem ein Ausdruck. Ein Moment. Ein Detail.
"That's what really bothers you, isn't it? The one night stand. Man fucks woman. Subject: man. Verb: fucks. Object: woman. That's ok. Woman fucks man. Woman: subject. Man: object. That's not so comfortable for you, is it?" (Stella Gibson / The Fall 1.3)
Ich denke, sie war perfekt für die Serie und die Rolle war perfekt für sie. Damit verzeihe ich auch, dass sie bei American Gods aufgetreten ist. Aber sie spielte das alles so großartig. Ganz anders als die flache, eindimensionale Scully aus den 90ern. Sie war eine Frau mit Charakter. Mit Hintergrund. Mit einer Meinung. Mit einem Ziel. Und all ihre Bewegungen, der Ton ihrer Stimme und eben die kleinen Mimiken machten sie perfekt.
The Fall: Stella and Tanya, kissing scene - SUB ITA [CC]
Ich könnte mir keine Schauspielerin vorstellen, die das so großartig gespielt hätte. Ich war begeistert. Und auch, wenn die Serie mich etwas unzufrieden zurückgelassen hat, so hat sie mich beeindruckt. Und als das Thema dieses sAWENtskalender feststand, war klar, dass ich mit ihr beginne.
Denn anders als Lauren Graham, die immer nur die Mutter mit Problemen spielen kann oder Melissa McCarthy, die nach Gilmore Girls, nur noch die witzige, tollpatschige Dicke war, hat Gillian Anderson sich nicht auf der Hauptrolle von vor 10 Jahren ausgeruht, sondern sie erweitert, das Spektrum vergrößert und brilliert!
Was auch kommen mag – ich möchte mehr sehen von ihr. Vielleicht sogar zusammen mit den Fargo-Machern, die ja nun bekannt sind, für tolle Figuren.
Mehr mehrdimensionale Frauen auf den Bildschirm! In Serien! Die der Männerwelt Paroli bieten, ohne einen übertriebenen Feminismus zu leben.
Gillian – it's true: I love you!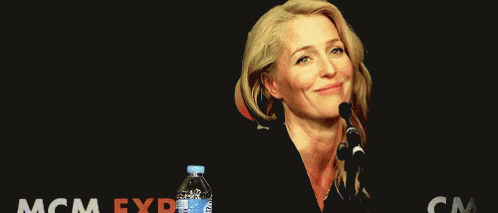 -->