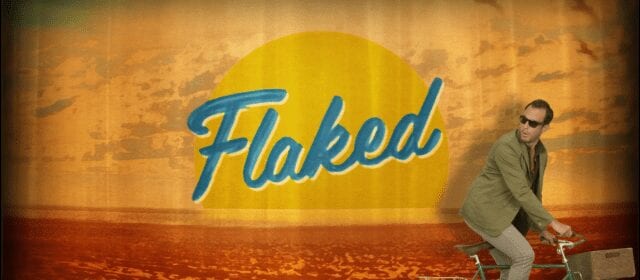 Wir hatten euch bereits über die neue Dramedy Flaked aus dem Hause Netflix informiert und jetzt kommt das passende Review dazu. Zuerst ein spoilerfreier Serientipp, anschließend ein ausführliches, mit Spoilern versehenes, Review.
Netflix hat mit Unbreakable Kimmy Schmidt, Master Of None oder Marvel's Jessica Jones bewiesen, dass sich seine Eigenproduktionen nicht vor anderen Serien verstecken müssen. Seit knapp zwei Monaten gibt es eine weitere Serie in der gefühlt endlos langen Liste der Netflix Originals: Flaked. Die 1. Staffel umfasst 8 Episoden à 30 Minuten und eignet sich daher bestens für eine wochenendliche Bingewatch Session. Wenn euch Arrested Development, Master Of None oder Love gefallen hat, könnte Flaked etwas für euch sein.
Darum geht es
Chip (Will Arnett) ist eine Art Selbsthilfeguru, den es vor 10 Jahren ins kalifornische Küstenstädtchen Venice verschlagen hat. Doch dann verliebt er sich in den Schwarm seines besten Freundes Dennis (David Sullivan) und viele Halbwahrheiten sowie kleine und größere Lügen bringen Chip immer wieder in missliche Lagen.
Darum lohnt es sich, Flaked anzuschauen
Zugegeben, man braucht wahrscheinlich mehr als eine Folge, um sich wirklich auf Flaked einlassen zu können (jedenfalls mir ging es so). Zu Beginn kommen Chip und Dennis sehr kindisch bzw. pubertär rüber, doch mit der Zeit muss man sie einfach ins Herz schließen. Chip versucht immer wieder, über seinen Schatten zu springen und bessere Entscheidungen zu treffen, fällt allerdings immer wieder in alte Muster zurück. Die Charaktere haben alle ihre Fehler und wirken gerade deshalb menschlich. Dieser Realismus macht Flaked sehenswert. Zudem gibt es einige interessante Neben- bzw. Gastfiguren, u.a. gespielt von Christopher Mintz-Plasse (Fogell/McLovin von Superbad!), Kirstie Alley und Heather Graham.
"I like this place, man! It's like an online community in real life, you know." – "Like a community?" – "Ya!" (Topher und Chip)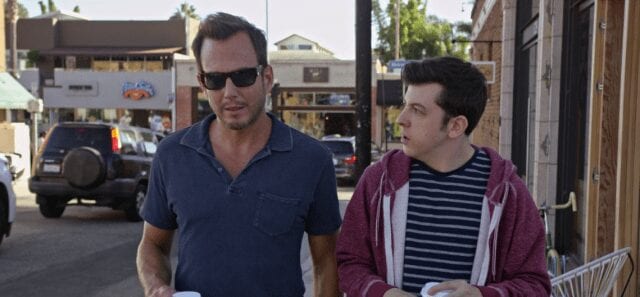 Auch die wirklich tolle Atmosphäre sollte hier an dieser Stelle erwähnt werden. Venice ist ein wahr gewordener, in Pastellfarben gehaltener, Hipstertraum, an den ich mich gerne für eine Urlaubswoche beamen würde. Dass Chip mit dem Fahrrad durch Venice' Straßen gurkt, trägt zum Charme von Flaked bei.

Alle, die sich nicht vom etwas langsamen Start abschrecken lassen, den belohnt Flaked mit Twists, tollen Charaktermomenten und teilweise sehr witzigen und skurrilen Figuren.

Auf der nächsten Seite geht's zur ausführlichen Review. Achtung, Spoiler!

Dieser Beitrag hat mehrere Seiten:

-->