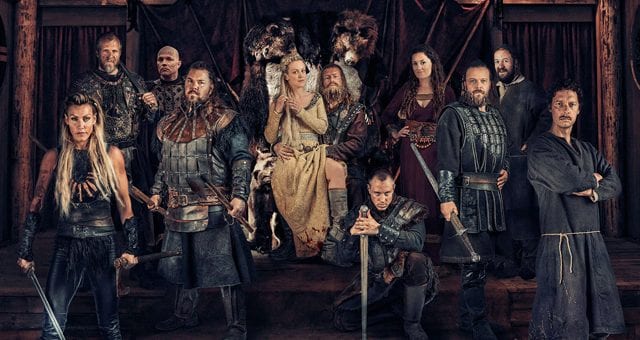 Ich bin vor kurzem beim durchstöbern von Netflix auf eine wunderbare norwegische Serie gestoßen, die wir aus unerfindlichen Gründen hier noch gar nicht thematisiert haben: "Norsemen". Die Serie stammt zwar aus dem letzten Jahr, ist aber in seiner englischen Fassung – die Serie wurde sowohl in englisch als auch auf norwegisch gedreht (nicht synchronisiert) – seit kurzem auf Netlix verfügbar und jeder, der ein bisschen den Charme britischen Humors und geringen Dosen von Slapstick zu schätzen weiß, der dürfte sich über diese Serie freuen.
Im Original heißt die Serie "Vikingane", also so etwas wie "The Vikings". Da es eine recht ähnlich klingende Serie unter diesem Namen aber schon gibt hat man sich einfach einen Alternativtitel ausgedacht: "Norsemen". Ganz schön klever, dieses Marketing bei Netflix. Die erste Staffel hat bei Netflix 6 Episoden, die jeweils ungefähr 30 Minuten gehen. Also perfekt geeignet für einen Sonntagnachmittag auf der Couch. Eine zweite Staffel wurde auch bereits gedreht und man darf gespannt sein, wie das Leben für unsere Protagonisten in Norheim weitergehen wird.
Inhalt
Denn die Handlung der Serie findet genau dort statt: in und rund um Norheim im Jahre 790. Die Probleme, die die Dorfbewohner haben sind aber mit den unseren durchaus vergleichbar. Was – hoffentlich – bei uns weniger an der Tagesordnung stehen dürfte ist der harte Überlebenskampf. Im Dorf und auf den Raubzügen. Und die Serie geht da mit ihren Figuren nicht gerade zimperlich um. Da kann es schon mal passieren, dass man genau in der Mitte des Körpers senkrecht halbiert wird. Die Serie ist blutig, nicht immer jugendfrei und steckt voller Pennälerhumor. Aber sie weiß dies in guten Dosen zu verabreichen und in einer unterhaltsamen Story zu verpacken.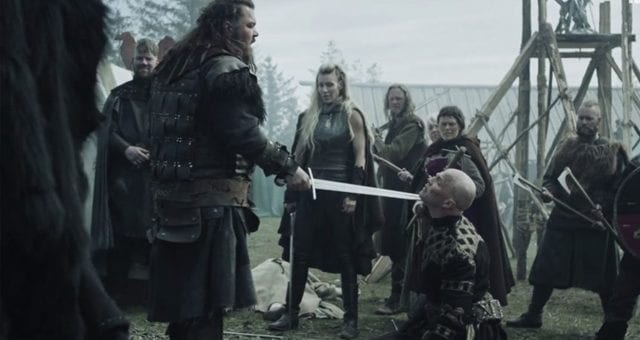 Die Serie hat zudem einige sympathische Figuren, die unterschiedlicher nicht sein könnten. Wir haben da beispielsweise Orm, der kleinere Bruder des Stammeshäuptlings Olav, der mehr als unzufrieden mit seiner unbedeutenden Rolle und zudem sehr eifersüchtig auf seinen Bruder ist, weil alle im Dorf Olav akzeptieren und er ein hohes Ansehen bei den Bewohnern von Norheim genießt. Und Orm so gar nicht, nicht mal seine Frau Frøya hält viel von ihrem Ehemann. Frøya ist auch das totale Gegenteil von Orm, muskelbepackt, kriegerisch und unerbittlich auf den Raubzügen. All das, was Orm gern wäre aber nicht ist.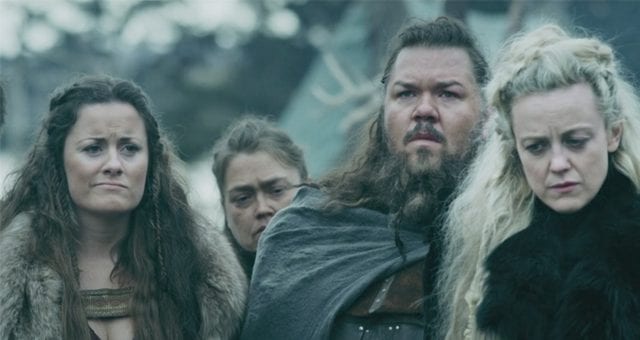 Als Orm dann auch noch der neue Stammesführer wird – warum, wieso dies nicht mehr Olav ist müsst ihr schon selber herausfinden – geht das Chaos erst zu richtig los. Denn Orm ist eher an einer kulturellen Entwicklung interessiert als als der Vernichtung anderer Kulturen. Er denkt größer, weiter. Sehr zur Freude des Zuschauers. Weniger zur Erheiterung der Dorfbewohner.
Meinung
In den meisten Berichten über diese Serie holt man immer den Vergleich zu "Game of Thrones" heraus was das Setting, dem Score und die Optik angeht und "Monty Python" was den Humor der Serie angeht. Ja, kann man so sehen. Aber für mich hat der Humor jetzt nicht ganz so den Style von Monty Python aber dennoch gab es diverse Szenen, bei den ich laut lachen musste. Natürlich sind die meisten Gags vorhersehbar, aber sie spielen es so sympathisch und echt, dass man seine Freude hat. Vor allem Kåre Conradi, der Orm in der Serie.
Diese Figur des untersetzten, zurückhaltenden, verängstigten und unsicheren Mannes spielt Conradi mit einem Verve sondergleichen. Und ich liebe sein Mimenspiel. Einfach großartig. Aber auch der restliche Cast weiß zu überzeugen und da wir nicht nur die Dorfbewohner als solches im Mittelpunkt stehen haben sondern auch Protagonisten unter den Sklaven ist das Füllhorn an Ideen und Spielräumen in der Handlung – naja- eben sehr voll. Und die Produzenten nutzen diesen Spielraum sehr gut aus.
"That's not really me … that fear-based leadership style (Olav)"
Der Humor ist trocken und meist derbe aber trifft eben auf beide Schichten zu, jeder ist mal Ziel des ganz besonderen Serienhumors. Und das mochte ich sehr. Wer also mal die Reise ins Jahr 790 unternehmen möchte und einen wirklich unterhaltsamen Nachmittag vor dem Fernseher verbringen mag – und ein Netflix Abo besitzt – der sollte unbedingt mal in diese Serie reinschauen. Ich hatte vor der ersten Folge keine Ahnung um was es in der Serie ging, ich ging eher von einer "Vikings" Alternative aus. Was ich dann aber gesehen habe, konnte ich kaum glauben. Hatte lange nicht mehr so eine unterhaltsame Zeit mit einer Sitcom.
Aber hey, dass predige ich ja schon seit Jahren. Schaut nicht immer in die USA, auch hier in Europa werden großartige Serien gedreht. Vielleicht nicht in Deutschland aber der Blick ins europäische Ausland wird einem immer wieder mit solchen Serienperlen versüßt.
Bilder: NRK/Netflix