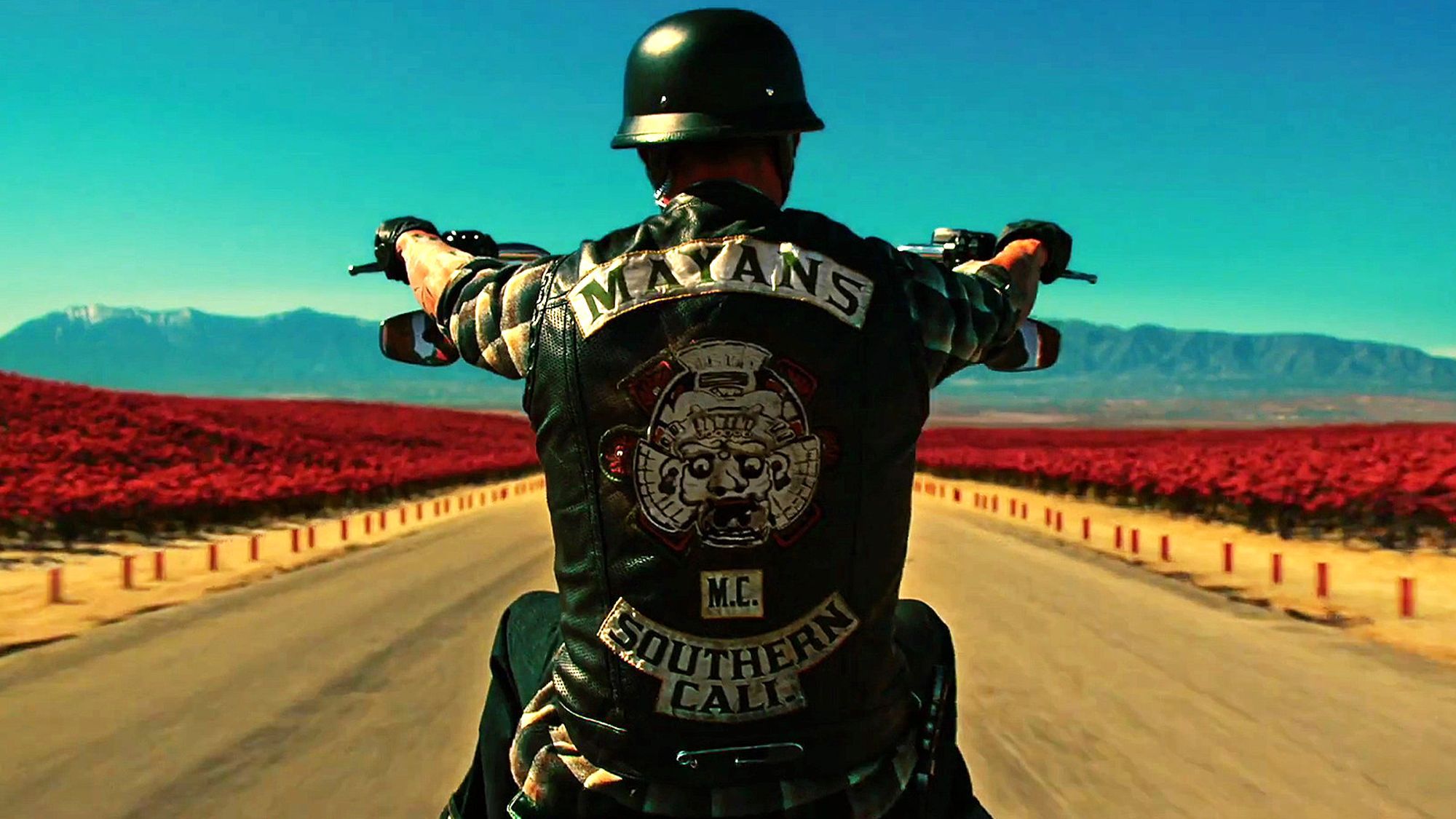 Als kleiner Junge verrenkte ich mir früher oft den Hals wenn harte Biker mit ihren lärmenden Maschinen in Pulks durch unsere Straßen donnerten und diese unsicher machten. Unsicher" fühlte sich das für einen Zehnjährigen an, doch das Gefühl blieb bis heute, wenn ich Harley Davidson Bikes mit ihren breiten Hinterreifen, der oft typischen Chopper-Form und den teils immens lauten Sound, der sich da aus den Auspuffrohren in die Ohren der Fans schleicht, sehe. Das Image des Bad Boys gehört eben zu der Marke. Wenn dann die Biker noch die Lederjacken (Kutten) mit entsprechender Aufschrift und Patches tragen und eben in größeren Gruppen auftreten, dann weiß man, es zieht hier ein echter Club, ein MC (Motorcycle Club) seine Bahnen.
"Bikers don't become friends. They become family." Unknown
Das Kürzel MC ist auch eng mit einer meiner Lieblingsserien, "Sons of Anarchy", hier als SAMCRO, "Sons of Anarchy Motorcyle Club Redwood Original", verknüpft. Sieben Staffeln lang verfolgte ich mit größtem Spaß die Geschehnisse rund um Jax Teller und "seinen" MC. Dann war die für mich coolste Bikerserie aller Zeiten vorbei, alle Geschichten waren erzählt. Vier Jahre zogen ins Land, bis dann ein Spin-Off den Weg auf unsere Bildschirme fand: "Mayans M.C.", angesiedelt in einer Welt nach Jax Teller und fokussiert auf eine andere Biker-Gang, die titelgebenden Mayans. Zwei Staffeln sind hier bisher erhältlich, aktuell u. a. auf SKY Ticket (Staffel 1 kostenlos) bzw. Amazon (beide Staffeln kostenpflichtig), eine dritte ist bereits angekündigt und soll auch noch dieses Jahr "on air" gehen. Lasst mich kurz erzählen was sich hinter dieser Serie verbirgt. Ob sich ein Einschalten lohnt, entscheidet ihr danach selbst.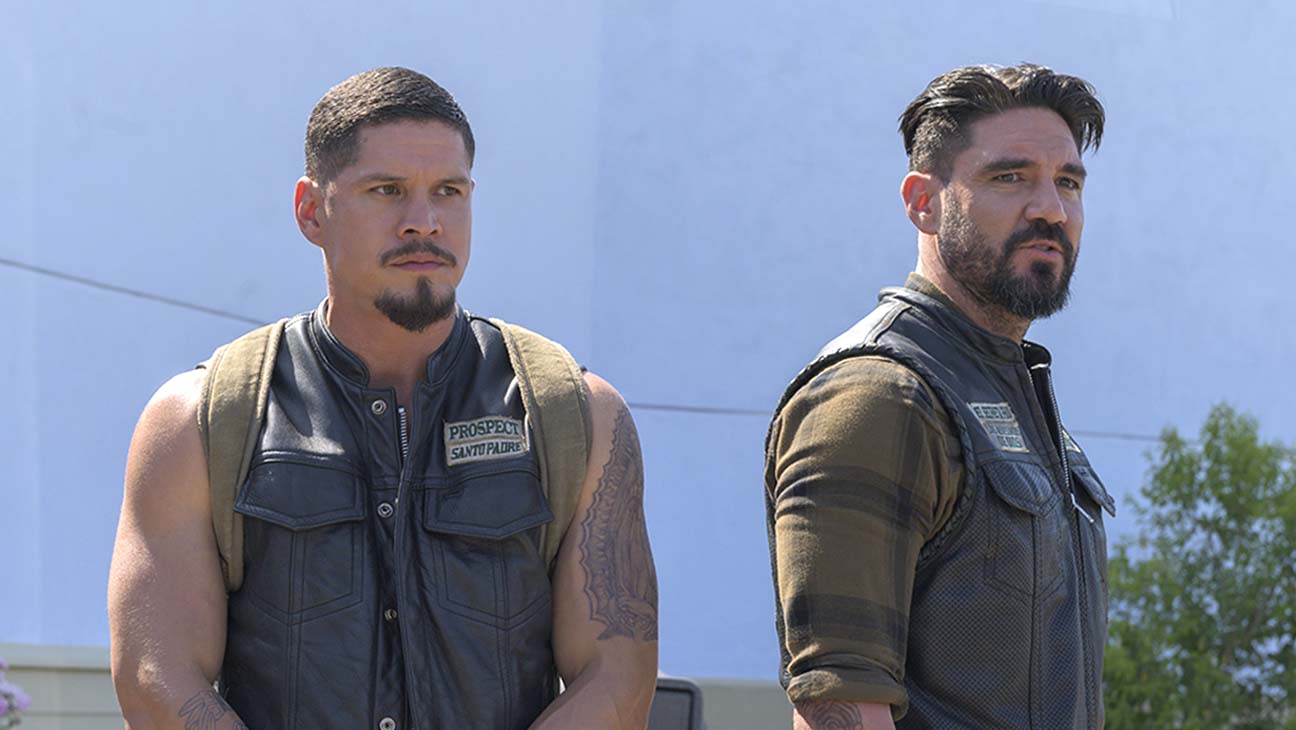 Ezekiel, genannt "EZ", Reyes (JD Pardo) ist unser Hauptdarsteller. Dieser kommt frisch aus dem Knast und versucht wieder zurück ins Leben zu finden. Wo gelänge das besser als in der Nähe seiner Familie? Sein Bruder und Vater verweilen in Santo Padre, einer Kleinstadt im Grenzgebiet zwischen Kalifornien und Mexiko. Bruder "Angel" (Clyton Cardenas) ist langjähriges Mitglied der Biker-Gang "Mayans M.C.", Dad Felipe besitzt die einzige Metzgerei in der Stadt. EZ sucht die Nähe zu Angel, schließt sich den Mayans an und muss hier, natürlich erst als sog. Prospect, niedere Dienste verrichten, bevor er sich das begehrte Mayans-Patch und damit einen Platz innerhalb der Gang sichern kann. Soweit, so gut, so wenig Neues. Das kennt man, das ist noch nichts Besonderes. Wer so denkt, dem gebe ich recht. Allerdings lässt die Story aus der Feder von Elgin James und Kurt Sutter (der auch für "Sons of Anarchy" verantwortlich war) tatsächlich wenig zu wünschen übrig. Flüssig und durchgängig kommt da "Schwung" in das Ganze.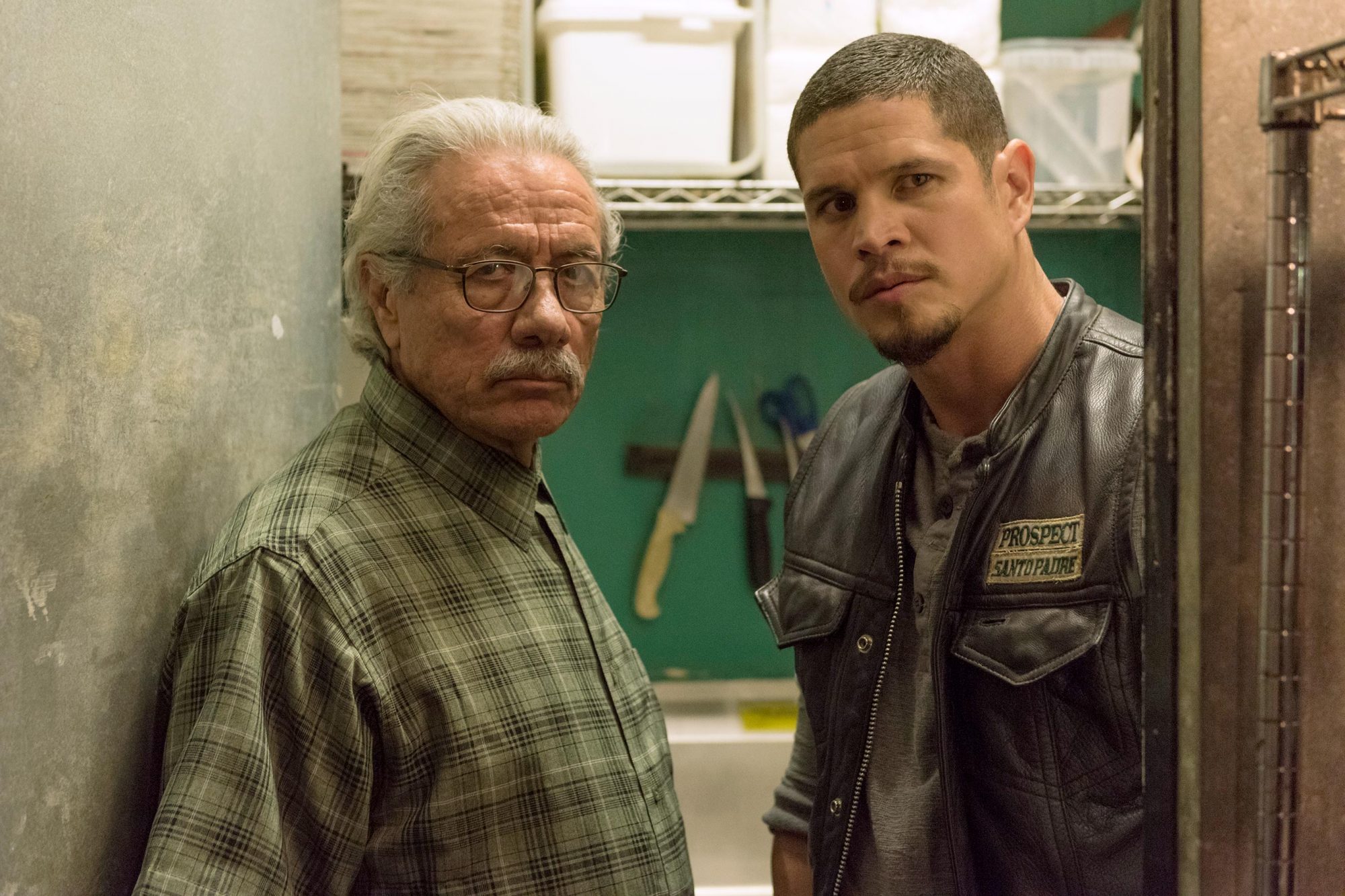 Ohne allzu viel zu spoilern darf hier verraten werden, dass Felipe Reyes nicht schon immer der harmlose Kleinstadtmetzger war, und es durchaus Verwicklungen sowohl zur lokalen Mafia als auch zur Gegenseite, den Strafverfolgungsbehörden, gibt. Irgendwie steckt Felipe da mittendrin, wie genau das dürft ihr im Verlauf der Serie selbst herausfinden. Ebenso hat EZs Bruder Angel ganz eigene Verbindungen zu einer gewissen Rebellenorganisation, die sowohl dem MC als auch der Mafia ein Dorn im Auge ist. EZ selbst hat also alle Hände voll zu tun, um sowohl sich selbst als auch seinen Vater und Bruder immer irgendwo aus der Patsche zu helfen, wenn deren Umwelt bzw. sie sich selbst in gefährliche, teils auch anfangs ausweglose Situationen hineinmanövrieren.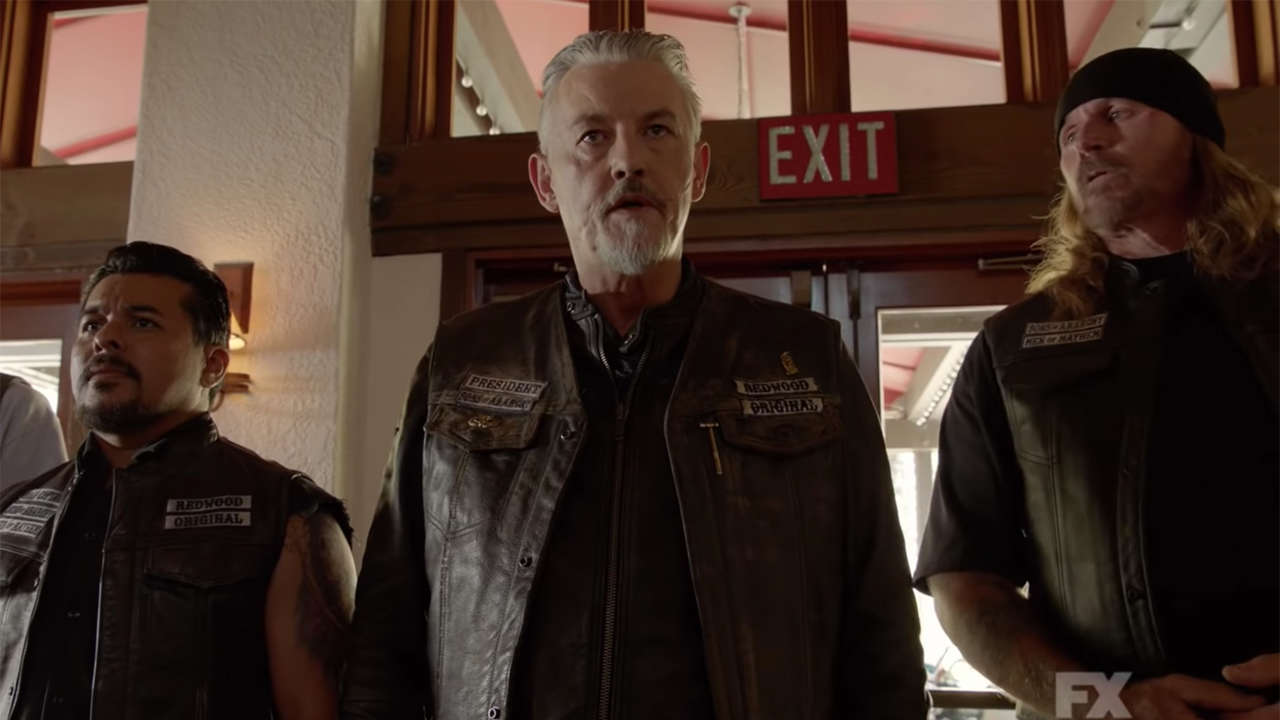 Ein Wiedersehen mit alten Bekannten, also SAMCRO-Größen, wird ebenfalls geboten. Einige SOA-Haudegen haben einen Cameoauftritt hier. So sehen wir zum Beispiel "Chibs" Telford oder auch "Happy" Loman wieder. Happys Verkettungen in Ereignisse in der Vergangenheit der Reyes-Familie werden nach und nach aufgedeckt. in "Mayans M.C." hat scheinbar jeder Hauptcharakter etwas Dreck am Stecken oder besser: Asphaltreste im Profil der breiten Walzen ihrer Bikes. Es macht Laune mit EZ und seinen Freunden abzuhängen, Ups und Downs zu erleben. Die eine oder andere Lovestory ist ebenso geboten wie harte Schlägereien oder ein gelegentlicher Mord.
"Four wheels move the body, two wheels move the soul." Unknown
Was eben, zumindest in den Augen des "Sons of Anarchy (SOA)"-Fans, zum Leben eines echten, harten Bikers gehört, wird hier gezeigt. Nur spielt eben hier der Bezug zu Mexiko statt zu Kalifornien und entsprechend die mexikanische Form der SOA die Hauptrolle, die Mayans M.Cs. Diverse Verweise und Insider auf SOA sind ebenso enthalten wie das bereits angesprochene Wiedersehen mit einigen der bekannten Hauptcharaktere. Optisch wird "Mayans M.C." auf ähnlich hohem Niveau wie SOA präsentiert, der Soundtrack ist stimmig, der Cast wurde entsprechend gut gewählt.

Ich habe mich stets gut unterhalten und freue mich auf ein Wiedersehen mit EZ und seinen Jungs vom "Mayans M.C.", sobald die dritte Staffel irgendwann einmal hierzulande gestreamt wird. Traut euch ran, ich kann es euch nur empfehlen!

Bilder: Amazon Prime Video, Sky

-->