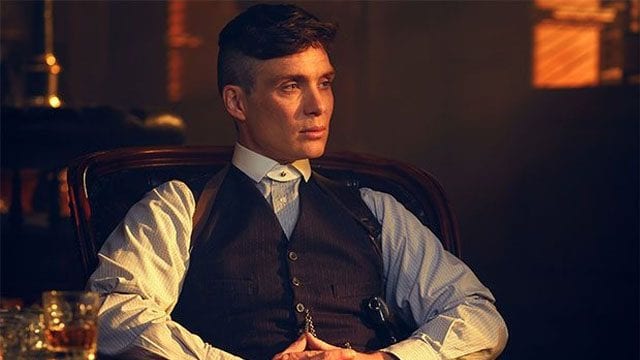 Vor einiger Zeit hatte ich einen kleinen Beitrag zu den Aussagen von Cillian Murphy geschrieben, dem Hauptdarsteller in "Peaky Blinders", der im Vorfeld des Radio Times Festivals zum Ende der Erfolgsserie rund um die Shelby Familie und ihr Familiengeschäft einige Aussagen getätigt und damit bestätigt hatte.
Jetzt legte Autor Steven Knight nach. Und wie. Im Panel zur britischen Serie "Peaky Blinders" auf dem Radio Times Festival verriet Knight seine sehr konkrete Vision vom Ende der Serie. Seine Aussagen lesen sich sehr konkret, von daher sollte man nach dieser Kurzdokumentation zu den echten Peaky Blinders, dem Vorbild zur Serie wenn man son will, nur dann weiterlesen, wenn man sich nicht unnötigerweise spoilern lassen will.
Neben dem letzten Bild der Serie, welches Knight vor Augen hat – Stichworte: Sirenen und 2.Weltkrieg – bringt Knight seine Vision zur weiteren Entwicklung der Familie im Allgemeinen und von Thomas Shelby im Besonderen zu Papier. Und in die Mikrofone. In die Welt.
"What I wanted to do was take this family, particularly Tommy Shelby and put them into respectable society. If you're born into that environment, can you escape? Can you become respectable? Can you become accepted within society?" (Steven Knight)
Knight denkt wirklich darüber nach, aus Thomas Shelby einen Sir Thomas Shelby im Laufe der restlichen Serie zu machen, ihn ankommen lassen in der Oberschicht des Landes und somit im wahren Machtzentrum des Landes, London. Das Thomas Shelby aufgrund seiner Handlungen in den bisherigen Staffeln bereits erkennen lässt, das er für seine Familie etwas Großes plant, raus aus dem dreckigen Milieu Birminghams und hinein in die bessere Gesellschaft Londons, konnte man schon wahrnehmen, aber so weit nach oben in der britischen Klassengesellschaft? Krass.
"It's a journey that lots of people have made in America. It's not a journey that many people have made in the UK. I want to keep this going until he is Sir Thomas Shelby. Can that happen? Can he do it? Can he pull it off? That's what the whole thing is, it's a question." (Steven Knight)
Ein wahrlich interessanter Gedanke, erst recht für das England jener Zeit und dem Klassendenken auf der Insel. Die Dreharbeiten zur neuen Staffel beginnen im Übrigen nächste Woche, neues Futter ist also bereits unterwegs. Wahrscheinlich dann noch ohne Ritterschlag für Tommy Shelby und seiner Familie.

Wäre das eine Entwicklung der Figur, die Euch gefallen könnte?

via: radiotimes

-->