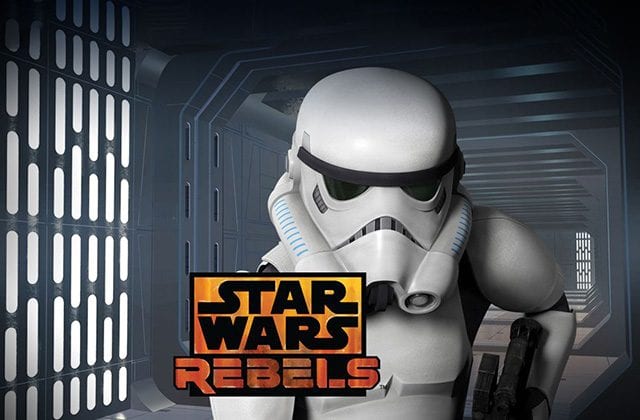 Pay-TV-Zuschauer fiebern auf Disney XD gerade den Staffelfinale entgegen, Free-TV-Zuschauer freuen sich auf die Fortsetzung der ersten Staffel: Im Mai setzt Disney die "Star Wars Rebels"-Serie auf seinem frei empfangbaren Disney Channel fort: Ab dem 15. Mai gibt es jeden Freitag Abend jeweils drei Folgen. Zunächst wird die bereits ausgestrahlte Pilotfolge noch einmal gezeigt – allerdings in einer Extended Version. Eine Woche später gibt es dann die restlichen Folgen der ersten Staffel zu sehen, die aktuell auf Disney XD Deutschland-Premiere feiern.
Star Wars Rebels ist eine animierte Serie aus dem Star Wars-Universum und ersetzt im Prinzip die Serie "Star Wars: The Clone Wars". Rebels findet zeitlich 14 Jahre nach Star Wars: Episode III – Die Rache der Sith und 5 Jahre vor Star Wars: Episode IV – Eine neue Hoffnung statt. Die Serie erzählt die Geschichte des Waisenjungen Ezra Bridger, der sich einer Gruppe von Rebellen anschließt und von ihrem Anführer, einem im Verborgenen lebenden Jedi, in der Anwendung der Macht unterrichtet wird. Im Mittelpunkt steht natürlich der Konflikt mit dem Imperium.
Am 3. April wird es die letzten beiden Folgen der ersten Staffel als Deutschland-Premiere auf Disney XD zu sehen geben. Anfang Oktober wurde die Serie um eine 2. Staffel verlängert, die sich noch in der Produktion befindet.
Bereits am 4. Mai ist der der Disney Channel beim internationalen Star Wars Day mit von der Partie. Zu sehen sein werden alle Folgen der LEGO-Serie "Star Wars: The Yoda Chronicles" (die Folgen gibt's auch direkt bei LEGO), dazu werden die beiden ganz witzigen LEGO-Mini-Movies "Das Imperium schlägt ins Aus" und "Die Padawan-Bedrohung" gezeigt. Abgeschlossen wird die Sonderprogrammierung mit der Ausstrahlung des Star Wars-Specials der Cartoonserie "Phineas und Ferb".

-->