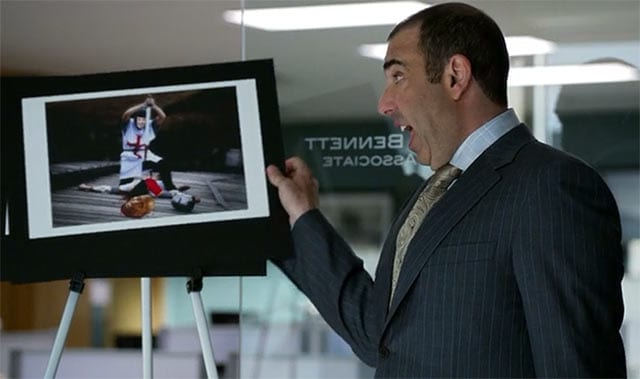 Man könnte meinen, Suits bekommt endlich wieder die Kurve. Zumindest sind in dieser Folge mal wieder Dynamik und Chemie zwischen Figuren zu erkennen. Dennoch fehlt noch die letzte Frische.
Der Beginn ist jedoch stark: Louis' Trockenübung ist herrlich daneben! Genauso wie seine Reaktion als er feststellen muss, was eigentlich abgeht. Es zeigt sich erneut, dass Katrina und er ein gutes Duo darstellen. Aus Versehen aber auch, dass er und sein neuer Erzfeind Jeff ebenso ein gutes Team abgeben könnten.
"So we have an agreement?" – "Yeah, that you don't completely suck!" (Jeff & Louis)
Die Food Truck-Szene zeigt erneut, dass Mike und Harvey die beste Dynamik haben, so langsam beginnt ein interessanter Fight – der hoffentlich nicht zu langgezogen wird. Oder Harvey keine andere Chance birgt als Mikes Betrügerdasein offen zu legen. Die Dreiecks-Konstellation zwischen Rachel, Mike und Logan wurde dagegen recht fix abgefrühstückt. Irgendwie hat man aber durch die Vergangenheit Angst, dass erneut Dinge mehrfach pro Staffel aufgewärmt werden…
"You both have a brain and a dick, and we both know that when you two are in a room together, the brains do not do the talking." (Harvey)
Wie letzte Woche angedacht, sieht man bereits jetzt, dass Mikes Gutmütigkeit der harten Geldgeilheit anderer Leute – und somit letztlich auch sich selbst – im Weg stehen könnte. Es wird sich noch zeigen, ob die Serie die große Moralkeule schwingen möchte und/oder sich auf die früheren Stärken zurück besinnen wird.
Meine Meinung:
Insgesamt ein deutlicher Anstieg zur vergangenen Season erkennbar. Es wirkt verwobener, Donnas Theater-Geschichte hatte Gehalt und es geschehen nicht mehr viel zu viele Dinge binnen einer Folge. Dennoch geschieht noch zu viel zu schnell, kleine Wendungen werden überzogen benutzt und hätte ich vergangene Woche nicht drei Kronen gegeben, wäre es heute der Fall gewesen. Aber es ist ein Lichtblick und gerade der Dynamo Louis Litt könnte letztlich die Serie durch die Staffel retten.