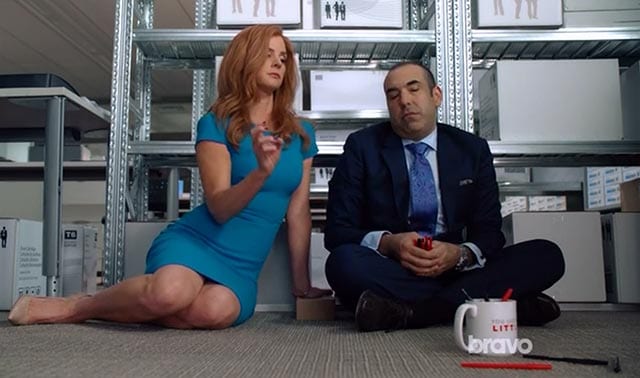 Endlich. Endlich spricht es mal jemand an! Hat ja auch nur vier Episoden gedauert:
"The hair is the same as it's always been." (Mike)
Aber nein, nicht nur, dass der Seitenhieb auf den neuen Gel-Helm derart lang gedauert hat – es war angeblich noch viel länger als gedacht. Die Panikattacke von Harvey, die Mike (letzte Woche) gesehen hat soll "einige Wochen" her sein?! Die Darstellung von Zeit ist dann aber verdammt misslungen. Und passiert dann überhaupt etwas in dieser Kanzlei? So langsam kann man dran zweifeln. Denn auch nach fünf Episoden der Staffel gibt es leider wenig Konkretes zu berichten…
"If you give me a gift everytime I have been right, I need a bigger appartment." (Donna)
Ja, es gibt gut geschriebene Dialoge und ja, es gibt auch wieder so etwas wie einen Fall und ja, vor allem der Einblick in die Psyche und das Leben von Harvey Spector ist interessant – aber das reicht nicht. Für so etwas gibt es kein Schlammgeschenk, tut mir leid.
Jessica scheint die einzige zu sein, die alles im Griff hat. Ich weiß ja nicht, was sie da den ganzen Tag macht, aber vermutlich bereitet sie einfach Back-up-Pläne für jeden möglichen Bullshit vor, den die anderen fabrizieren. Und das ist eine Menge. Einziger Lichtblick: Ein schnutziger Schlamm-Dreier war dann dich zu viel für Louis – herrlich!
Kurzes Review für eine inhaltlich kurze Folge. Darf jetzt endlich mal richtig was losgehen? Oder ist Harveys Psyche die Haupthandlung dieser Staffel? Wenn ja, ist sie deutlich zu flachbrüstig geraten…
Bilder: USA