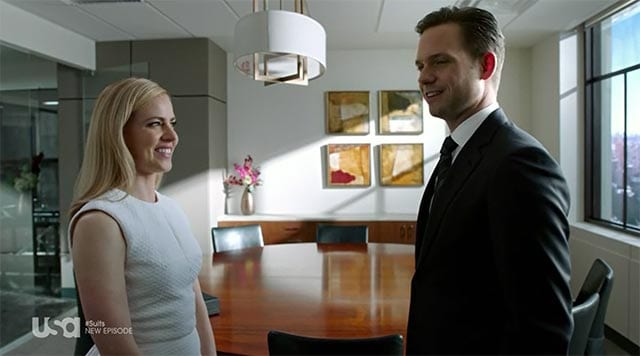 Shiiiii-iiiit, aber Suits zeigt auch diese Woche mal wieder, dass so recht niemandem eine vernünftige Handlung für die fünfte Staffel eingefallen ist. Dazu verdreht die Serie mal wieder Charakterzüge, wie es gerade in die kleine Handlung passt und versucht mal wieder, alles durch ein paar nette Sprüche und Dialoge auszugleichen. Doch langsam fliegt die Taktik auf…
Der Anmachversuch von Harvey war doch zum Beispiel arg billig, oder nicht? Aber dass sie Louis' Schwester ist, macht es interessant – unglaubwürdig, aus dem Nichts kommend, aber interessant.
"Yeah, it's like looking at me with a wig, I heard it a thousand times…" (Louis)
"Believe me, Louis, the last thing I wanna do, is sleep with your sister." (Harvey)
Die erneute Schwächephase der Serie zeigt sich auch darin, dass ich mich tatsächlich freue, Katrina mal wieder zu sehen. Aber okay, das sieht Mike ja ähnlich. Aber es war auch nicht alles schlecht: Der abhörende Louis war super, ebenso wie Rachels "lovely" Verteidigung Esthers gegenüber Jessica. Das hatte eine Lockerheit und Dynamik, die an die Anfänge erinnert hat.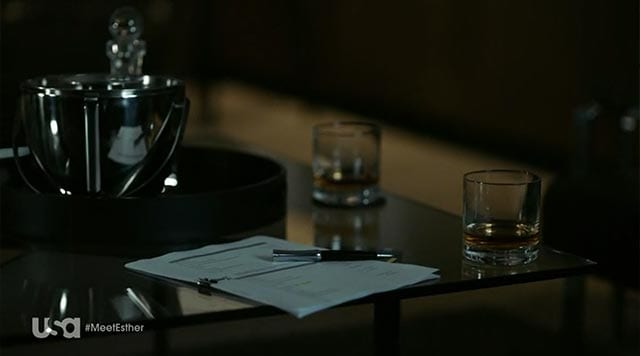 "You know it would be easier for both of us if you could be wrong every once in a while." (Louis)
Zweite seltsame Sache bzgl. Harvey: dass er sich offenkundig wie ein verliebtes kleines Mädchen verhält. Dritte Sache: Wie schnell Harvey von verliebtem Mädchen zu knallhartem Anwalt gewandelt ist, war seltsam. Aber hey, das kriegen wir durch einen Schnitt geregelt! Ist er halt wieder in seinem Element und Anwalt Harvey ein anderer Mensch als Mensch Harvey. Klar doch…
"I didn't go behind your back – I went over your head!" (Robert Zane)
Dass Klienten nicht leicht wichtige Dinge wie ein mündliches Versprechen an den Anwalt weiter geben, ist ebenso unglaubwürdig. Alles geschieht nur, um weitere Schleife in der Folge zu haben, damit sie komplex wirkt – obwohl sie es nicht ist. Eher so platt wie Rachels Fruchtbarkeit? Zumindest sah ihr Blick bei dem plötzlichen "Tochter-Hinweises" von Mike so aus…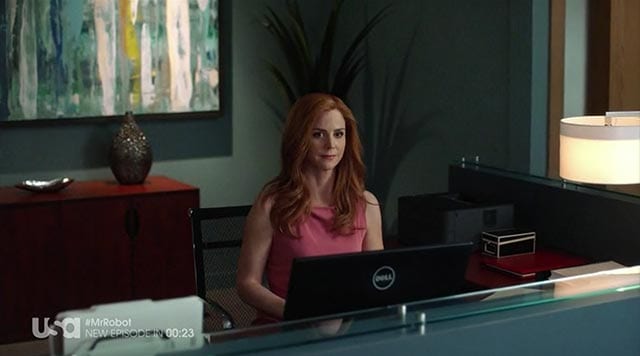 Am Ende wieder viele Schlenker in alle Richtungen, die etwas konstruiert und unnötig wirkten. Alles ganz nett, gute Dialoge (z.B. das harte Anfahren Mikes gegen Jessica) aber der Zug in der Staffel geht leider noch komplett ab… Die übergeordnete Handlung hat sich entweder gut versteckt oder ist arg langweilig. Was ist zum Beispiel mit dem Hansel, der die neue Geld-Struktur einführen wollte? Nur ein Impuls-"Gegner" für zwei Folgen? Was ist mit den großen Fällen, macht mal wieder die ganze Welt Pause, damit die Leute hier ihre Pro-Bono-Mini-Fälle lösen können? Sorry, aber da hätte man vielleicht eine längere Pause einlegen sollen, denn so wiederholen sich dramatisch Fehler aus Season 4.

Bilder: USA

-->